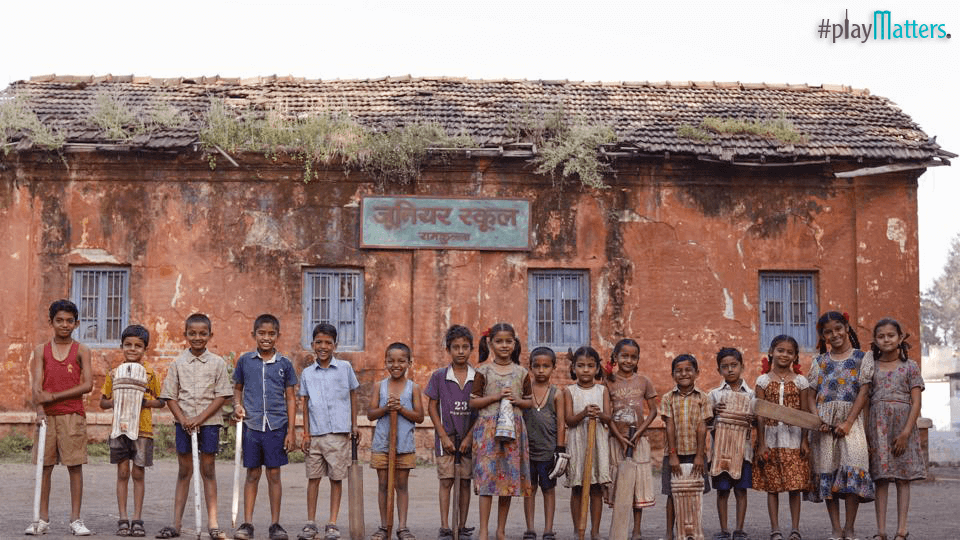 Every gully, every naaka and every street of India has a #childhood memory closely linked to the game of #cricket. Sneaking out of the house to play with colony friends, running to hide after hitting a six at the neighbourhood aunty's window, fighting to win a 'one tip one hand' like your life depends on it, gathering junk to build stumps for the upcoming tournament, aspiring to be Sachin, Dhoni, Virat and finding a place on the Indian cricket team (often thinking oneself to be a cricket star!), and praying furiously at the television for India to win the next #WorldCup! The game of cricket has a deep connection with every child in India, proving to be more than just a game.
This week we speak to children positively impacted by cricket, discussing their passions, aspirations and opportunities linked to the game. We discuss with experts and specialists hows sports and play are intrinsically linked to a child's development and growth, teaching them many a life lessons, and acting as a crutch in difficult circumstances. And we open up for discussion on why #playmatters as an indispensable ingredient in creating safe and protected childhoods for children.
Girls don't play cricket. Says who?
#playmatters #WorldCupCricket
#PlayMatters – In Conversation With Sudeshna Chatterjee, On Promoting A Child's Right To Play
In conversation with the power-lady Sudeshna Chatterjee whose vision and ambition are gaining momentum in addressing a huge challenge in the child rights agenda – play. #playmatters #WorldCupCricket
Outdoor Classroom Day International Play Association (IPA)#EquityforChildren The Real Play Coalition
"What do you feel about boys and girls playing cricket together?"
Aryan – "Cricket is a game which can be easily played by boys and girls together."
Durvesh – "More girls should play cricket."
Sarthak – "And it'll be more fun."
#playmatters #WorldCupCricket #littlehumansLittle Humans
Credit: Vipul Kumar
#PlayMatters – Where Children Play Cricket
Along the banks of the ganges, during the shutdowns in Kashmir, across the open fields in Bihar, in the narrow bastis of Dharavi and Chandni Chowk, and during monsoon in Mumbai, the culture of cricket is inherent in every corner of India. In a game, almost synonymous to religion in our country, there are no boundaries of gender, age or caste… the only boundaries that matter are the sixes and fours. #playmatters#WorldCupCricket
#PlayMatters – Given A Sporting Chance – Article 31 & Its Actualization For India's Children
Concerned that a child's right to play was neither fully understood nor engaged with, particularly by Governments, the Committee on the Rights of the Child produced a General Comment in 2013 that fully explains Article 31, addressing this right.
Havovi Wadia, Director, Impact at Magic Bus elucidates through years of experience, the importance and need for a child's right to play, so that together, we can actualise this right for India's children. #playmatters#WorldCupCricket
#PlayMatters – Monisha Finds An Equal Footing In Her Community Through The Game Of Cricket
"If you respect us, you will listen to us and if you listen to us, you will protect us. So please protect us!" said Monisha as a representative of her team at the Street Child Cricket #WorldCup, held in England in May 2019.
What the opportunity to play and win a game (mixed-gender) of cricket did for 14-year-old Monisha might never find the appropriate words, but it gave her wings, a new perspective to life and the courage to dream, not a luxury afforded by many street children across India. #playmatters Street Child United Karunalaya #IamSomebody #LittleHumans Little Humans
#PlayMatters – Team Captain, Paulraj Finds An Identity Beyond Being A Street Child
Having fought difficult life challenges, Paulraj, a 17-year-old boy raised on the streets of Chennai, resolved to excel at the sport of cricket and led India to victory at the Street Child #WorldCupCricket!
So what if we didn't make it to the finals at the ICC Cricket World Cup, our children's team from South India did! #PlayMatters Street Child UnitedKarunalaya #LittleHumans Little Humans
#PlayMatters – Cricket In The Time Of Conflict
When cricket is about breaking free.
#playmatters #WorldCupCricket
#PlayMatters – Sonali Khan's Learning-Through-Play Ambition For Children In India
A visionary leader in the development sector, with a profound understanding of how to harness the power of media for social change, Sonali Khan leads Sesame Workshop India educational mission in India to create innovative and engaging content to help children grow smarter, stronger and kinder.
Here are some of her insights and thoughts that contribute immensely to the learning-through-play ambition for children in India. #playmatters#WorldCup
Playgrounds: Where Gender Isn't A Part Of The Game
#PlayMatters – The Girls Of Team North India & Their Experience With A Gender-Equal Cricket Team
The girls of team North India and their experience with a gender-equal cricket team.
#playmatters #WorldCup #HopeFoundationKolkata SavetheChildren India
When a willow-wooded bat replaces weapons. #playmatters #WorldCup
Everydaychildhood- Playgrounds of Mumbai through Gopal MS's lens
Playgrounds of Mumbai through Gopal MS's lens #playmatters#WorldCup
#PlayMatters: The Boys Of Team North India Who Bring Street Children To The Mainstream Through Cricket
"I am very glad to be here today as a street child who got the opportunity to come to Lord's to play cricket and to have my voice heard on behalf of other street children. We do not have the right to identity and gender equality and do not have access to education and healthcare. No child should work to earn for his or her food. We call on the government to act on these issues and to ensure that all children have these rights," said a member of Team North India as they represented their country and its street children in England this year.
#UprootedChildhoods – Claiming Spaces For Play: Mumbai's Children & Youth Lead A Promising Movement
Discussions on the right to play invariably need to take into account not only need for access to play spaces, but also the existence of such spaces in and around their homes, and the free use of such spaces without any discrimination, bullying, or risk of harm. In recent years, however, access to play, both in and outside the house, is increasingly under threat. Against these circumstances, Youth for Unity and Voluntary Action – YUVA's Children & Young People collectives across the city of Mumbai have been leading a powerful moment to claim their rights. #playmatters #WorldCup
#PlayMatters – 5 Young Sportspersons In India You Must Follow
The current generation of young Indian sportspersons has not only helped India make a mark in the global sports arena but also set inspiring examples for the next generation, reiterating the growing importance of sports and play culture across the country.
Many children and youth have been positively impacted by their chosen sport, some have excelled at it, others have found their passion and still others a means of expression. Here's a look at the youth sports icons who inspire us every day. #playmatters #WorldYouthSkillsDay
#PlayMatters – Nagalaxmi Finds Inspiration In Mitali Raj To Represent India In Mixed-Gender Cricket
Being born in Madurai, Nagalaxmi's mother abandoned her and three siblings, leaving them with her grandmother, who in turn grandmother sent two of the girls to shelter home, keeping the boys under her care. Ever since then Karunalaya 's shelter home has been Nagalaxmi's only home.
Here is where she prepared to participate in the first Street Child #WorldCup held in England earlier this year. Nagalaxmi finds inspiration in Mitali Raj to represent India in mixed-gender cricket. #playmatters Street Child United Magic Bus
#PlayMatters – The Story of Struggle & Success of Team South India Through The Eyes Of NGO Karunalaya's Founder
Did you know? After 1983, the ONLY Indian team to have won the Cricket #WorldCup at Lord's were India's street children, this year!
This is the story of a team that found a coach 15 days before their departure to England for a World Cup tournament. This is the team that had no money to buy a cricket kit, invest in training, buy tickets to reach England or even pay fees to play the match. This is the team that had no official documentation to procure a visa or passport. This is the team that practised cricket for a year and proved that there is no substitute for hard work. And, this is the team that became the voice of over 2 million children living on the streets of India.
Q)And who is your favourite cricketer?
A) Hitman, Rohit Sharma! It is such a delight to watch him play his graceful strokes. He is currently the top leading scorers in the Cricket World Cup and I hope he finishes the tournament with the most runs.
Q)Dhoni or Virat? Who is the better captain?
A) Dhoni, anytime! It is amazing how Dhoni stays so calm in pressure situations. I would have wanted Dhoni to captain the Indian team in the World Cup but anyways Dhoni constantly guides Virat with field placements and strategies from behind the stumps. And this is so much fun to watch.
#playmatters #littlehumans Little Humans
Credit: Vipul Kumar
#PlayMatters – From Child Labourer To Cricket Star, Surya's Determined Journey Off The Streets
Surya's rescue by Karunalaya, a nonprofit organization working for the protection and development of street children, helped him find a shelter home to live in. His interface with sports and play through the organisation's program, helped him bring discipline, focus and routine into his life, key takeaways and skills during his cricket practice sessions over a year. Despite a difficult childhood, 17-year-old Surya Prakash was a key player in the South India Team that represented the country at the Street Child Cricket World Cup in England earlier this year. #playmattersStreet Child United #WorldCup
Cricket = religion. For you too? #playmatters
The power of sports and play in childhood. #NelsonMandela #playmatters
#PlayMatters – How Sesame Workshop India Uses Play As A Pathway For Social Change
How Sesame Workshop India uses play as a pathway for social change. #playmatters