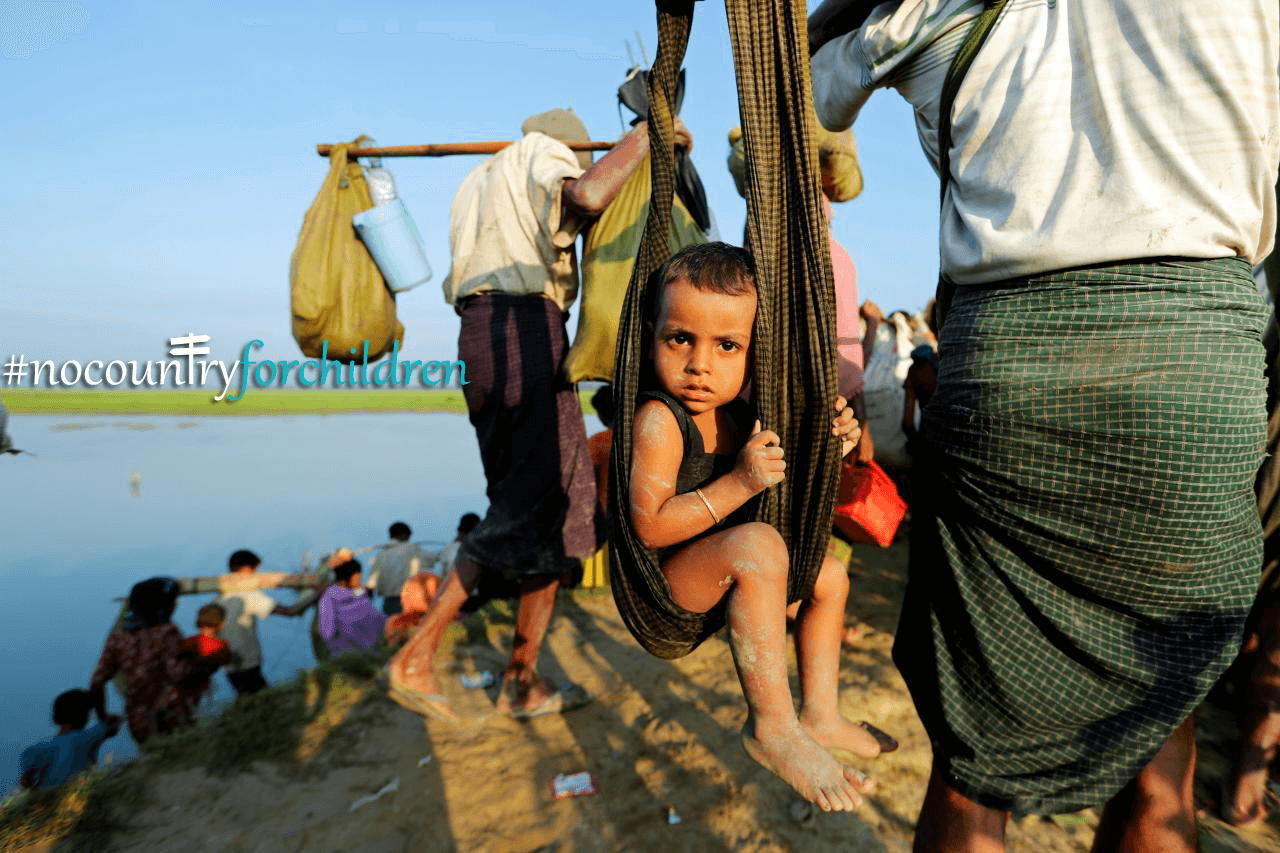 #NoCountryForChildren
For most of us, home is where our parents are, where the comfort and safety of our bed gives us a good nights sleep, where neighbours are family and family are neighbours, where the sound of the milkman's arrival and a letter at the front door are all too familiar. Where there is warmth, love and a sense of belonging.
But for #children living in an unknown land, having crossed over borders, away from home and war – some without parents, others without their belongings, they often find themselves trapped in their status as 'refugees'. The connotations of this word come with far lying implications – bereft of access to nutritious food, safe playgrounds, nurturing schools, adequate healthcare and almost defenseless to abuse and violence, falling right back into a war of struggle, survival and identity.
#NoCountryForChildren – In Conversation With Two-Time Pulitzer Prize-Winning Photojournalist Muhammed Muheisen
"Children are the real victims of conflict," says Muhammed Muheisen Two-time Pulitzer Prize-winning photojournalist, founder of Everyday Refugees and Former Chief Photographer Associated Press for the Middle-East, Pakistan & Afghanistan. Having photographed the capture of Saddam Hussein, the funeral of Nelson Mandela and Yasser Arafat, amongst other defining moments in world history, most recently Muheisen has focused his lens on the #refugeecrisis across Europe, often capturing the innocent cheer and simplicity of a child's life, staying away from cliches that such scenes often present.
In conversation with the man himself, whose images of refugee children carry their voice to the rest of the world. #nocountryforchildren #everydayrefugees #withrefugees
#NoPrisonForChildren - Escaping Violence
While many lost their lives, others live on to tell stories of horror and loss. Of homes burned down and family members killed. Of less food and poor healthcare. Of no schools and no playgrounds. Of bad dreams and scary boat rides. Of tears, scars and a new unwelcoming home. Of an unforgettable#childhood.
We hope for every child, a safe home (away from home). #nocountryforchildren #withrefugees
#NoCountryForChildren – What It's Like To Be A Rohingya Refugee Child In New Delhi
The #rohingyacrisis may only be making headlines now, but since as far back as 2012, a small group of Rohingya #refugees from Myanmar have been surviving in a 'settlement' in the Madanpur Khadar area of New Delhi on a piece of land donated by the Zakat Foundation (an NGO in Delhi which utilizes charity for various social development activities). But while these 250 odd individuals (over 50 are children, many under the tender age of 10) may have been here for over 5 years, they continue to live in fear. With the uncertainty of the Indian government's position on matters of immigration, the possibility of being deported back to a place where they will surely be persecuted, if not worse, haunts them. It is in these fringes of the city that Shreeradha Mishra ventured into, for a first-hand account of a very specific section of their community – the children. #nocountryforchildren #withrefugees
#NoCountryForChildren - Malak and the Boat / Unfairy Tales
"Malak and the Boat" is the story of 7-year-old Malak fleeing with her family from war-torn Syria and braving a dangerous journey across the Mediterranean…also the story of many children who are compelled to leave home. "I had a lot of friends, now there is no one left," says Malak.
Watch this animated film by Unfairly Tales UNICEF that give us a sense of the fear refugee children face everyday. #nocountryforchildren#withrefugees
#NoCountryForChildren – How Art Interventions Can Help Displaced Children Cope
Children thrive on security and find comfort in certain predictable routines of life. But what happens when this life and this world is turned upside down? Chandrika Rao in conversation with Priyanka Patel, the looking glass a Storyteller, Psychologist, and an Educator who uses various art forms in her interventions with children, that can be very effective in helping them to cope with the realities of displacement. #nocountryforchildren #withrefugees
#NoCountryForChildren - 'Don't send us back, shoot us here': Delhi's Rohingya football team with no tomorrow in sight
For a group of 17-odd Rohingya youngsters, tucked away in a corner of south-east Delhi, playing football is not about "life and death" but avoiding the issue, if only for a few precious hours every weekend. #nocountryforchildren #withrefugees
#NoCountryForChildren – 7 Instagram Accounts That Will Make You Look At The Rohingya Crisis Through A Child's Eyes
7 Instagram accounts that will make you look at the #rohingyacrisis through a child's eyes. #nocountryforchildren #withrefugees
#NoCountryForChildren – Waiting Their Turn
From queuing up, fighting for food with others as hungry as them, scrambling through piles of donated clothes, helping their families fetch water, living in lamentable, life-threatening conditions, susceptible to illnesses and diseases, tending to their siblings, finding sanctuary in temporary schools, battling unpredictable weather and being vulnerable to harmful situations that visuals cannot capture, these photos represent only a single moment captured in the strenuous, burdensome lives of children, waiting their turn to the most basic rights, instead of living an untroubled #childhood #nocountryforchildren #withrefugees
#NoCountryForChildren – Refusing To Be Their Home
It is difficult to forget the photographs that have come to represent the series of crises across the world, that have triggered waves of human beings seeking 'refuge'. It is such a big, drastic word – driven from your home because you fear for your life. In that one word everyone seems the same – all those fleeing. Yet, even among those who flee, there are some who are better equipped to survive and deal with the extreme stress of the situation.
What of young girls? What of younger children, still so dependent for care on parents or caregivers? It makes me wonder – if 1500 children reach Bangladesh every day, how many don't? Havovi Wadia writes about the #refugeecrisis in context to #childhood and what we can do about it. #nocountryforchildren
#NoCountryForChildren – Including Youth In The Conversation On The Refugee Crisis
"The Youth is in no way, incompetent, or unaware of the global migration crisis, in fact they are integral to it. We just need the chance to be at the frontline of integration polices for refugees, and we hope that the situation will improve. It has to; we've already lost too many lives" – Yeshna Dindoyal, a youth advocate and law student, urges global leaders to include youth and children in the conversation on the #refugeecrisis. #nocountryforchildren #withrefugees
#NoCountryForChildren - Child Refugees Of South-East Delhi
In the heart of South East Delhi lies Madanpur Khadar, now home to 250 "boat people". Stripped of their citizenship and fleeing persecution in their homeland, many Rohingya Muslims used the porous border with Bangladesh, to make their way into India, along with their children. Eking out a living in temporary camps, they reside on a piece of land donated by @ZakatFoundation. When one steps into this camp, you can't miss the desperate conditions in which children spend their lives. "Where is your home?" I asked a little child, as I made my way through the camp reeking of poverty, who instantly pointed to a dingy makeshift slum. What must he remember of what was once his home, or his journey to a new unaccepting place? How long will his memories remain before they begin to fade? Does he long for his familiar childhood home or is he making a home out of this unfamiliar place? … I wondered as I met face to face with these little children going about their day. #NoCountryForChildren LittleHumans
Credit: Shreeradha Mishra