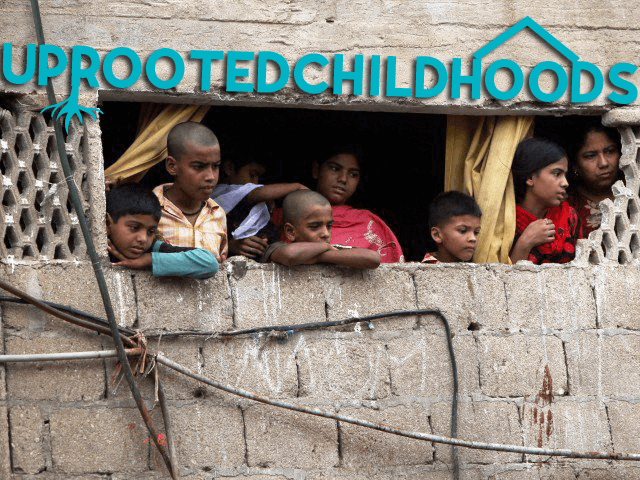 "Home is not a place, it's a feeling," said Cecelia Ahern. Of the 65.5 million people living in inadequate, insecure homes across India, 8.1 million are children (0-6 years); no estimates exist of child count up to 18 years. Rough estimates peg the entire child population to be about 40–50% of the total vulnerable population.
Homelessness or the lack of adequate housing for children across the world and in India may be a transitory phase or a lifelong struggle that sees no end. It means living in makeshift homes and unstable structures built with bricks, mud, plastic and tin, or roofs of corrugated metal. It means battling changing weather, scarce services and resources. It means living in constant fear of being shunned and plucked out from one's homes, to spend nights without any shelter. It means losing one's most prized possessions, be it a pencil box or a cosy blanket. It means living without comfort, of knowing that today's home might be tomorrow's eviction site. And it means keenly perceiving that one's childhood is not equal to that of another.
Some of us were lucky to have never experienced or even imagined such conditions while growing up. For those who aren't … those pushed into cramped resettled homes, in makeshift tents, or onto the streets, we need to fight, fight so that they spend not a moment longer on the streets or in inadequate homes than they need to, because homelessness and its many different forms are an affront to the rights of children. Let's protest against existing unjust housing practices (which, in turn, lead to other violations) and push for adequate homes and conducive environments for all children.
#UprootedChildhoods is a collaboration between Leher and Youth for Unity and Voluntary Action – YUVA, attempting to spark dialogue on a critical yet oft invisibilised concern—the views of children on housing. The campaign draws from YUVA's in-depth interventions with children over the years across cities, and Leher's focus and commitment to child rights, with a preventive approach towards child protection.
This week, we hear of the daunting issue of housing not from activists, builders, smart city planners or urban thinkers, but from children themselves who are at the forefront of the brunt of unequal housing.
Little Humans - Gulsabha Idrisi
"Mujhe ek alag kamra chahiye… I want a separate room of my own. There should be a separate toilet, kitchen and study room for us at home," appeals 12 year old Gulsabha from Ambedkar Chowk in Ambujwadi, Mumbai who lives in constant threat of her home being evicted. #UprootedChildhoods #MakeTheShift #Right2housing #RightToTheCityYouth for Unity and Voluntary Action – YUVA
Little Humans - Ganesh Jha
"We don't have a single light or water in our home, not even a toilet. We worry a lot when they break our homes, because we don't have money to build new ones," says 10 year old Ganesh Jha of Ambujwadi, Mumbai who smiles even at the thought of a 'dream home'. #UprootedChildhoods#Right2Housing #RightToTheCity #MakeTheShift #LittleHumans#HousingforAll Youth for Unity and Voluntary Action – YUVA
Growing Up With Evictions
Bulldozers. Crumbling walls. Rubble. Fallen electric poles. Lost possessions. Vanished memories. Broken childhoods. A home lost forever.
Evictions are an everyday phenomenon in our fast developing nation, and children its worst victims. From denial of food, water, health, education, a number of child rights are violated when children are evicted from their homes and left homeless. The sudden loss of a secure home, being uprooted from a familiar community, exposure to harsh weather, loss of schooling, child labour, unsafe conditions … the list of wrongs inflicted on children is endless. Here's what growing up with evictions feels like. #UprootedChildhoods #Right2Housing #MakeTheShift #RightToTheCity#Housingforall Youth for Unity and Voluntary Action – YUVA
Why children MUST be included in the housing discourse.
When Children Rebuild Their Lost Homes Even At Playtime
First we dug a hole, then we got the sticks together which would form the frame of the house. We had to cut them precisely, breaking them with a spear which we managed to get from one of our family members. We tied the sticks together with a string, and then we attached paper on the roof of the house. It was ready to be used,' she said confidently. When asked where she managed to get all the material to build this house, she said she used what was lying around her, pieces of her own home and her neighbours, left behind after the demolition. #UprootedChildhoods#Right2housing #RightToTheCity #MakeTheShift Youth for Unity and Voluntary Action – YUVA
Little Humans - Usha Bisoi
"People in school behave badly with me because I live in a basti (informal settlement). I can't stop fearing for the safety of our house at all times. What if we get evicted again?" says 17-year-old Usha Bisoi from Shanti Nagar FCI Colony, Bhubaneshwar. #UprootedChildhoods #Right2housing#RightToTheCity #MakeTheShift #HousingForAll #LittleHumans Youth for Unity and Voluntary Action – YUVA
In Conversation With Rouble Nagi On Misaal Mumbai & Its Vision To Make Better Homes For Children & Families in Informal Settlements
"All of us living in this world have a right to a neat and clean home," says Rouble Nagi, founder of Misaal Mumbai. Why must families and children living in informal settlements (bastis) have to endure such dire conditions? Working with people in slums talking to them on sanitation, hygiene and education, and together, beautifying their homes with paint and murals, Rouble's work with #MisaalMumbai promotes housing rights for children in these ways. Waiting until the Government provides permanent homes to each family, under the #HousingForAll Scheme, Rouble works to make Mumbai bastis more liveable for its dwellers.
Little Humans - Khushboo Borasi
"Baar baar aate hain…Todo! Todo! Chilate hain." Meet Khusbhoo Bosari of Bhuri Tekri, Indore who misses her neighbourhood friends who are looking for a new home to stay in after theirs was razed to the ground, "Acha nahi lagkta hain…hum saath mein khelte hain, lekin majboori thi toh unko jaana pada." #UprootedChildhoods #Right2housing#RightToTheCity #MakeTheShift #HousingForAll #LittleHumans Youth for Unity and Voluntary Action – YUVA
Unequal Childhoods
A look at what India's 8.1 million children (0-6 years) experience daily.
Little Humans - Madhuri Dedhe
"Jab policewale aate hain, humme bahut dar lagta hain.. Woh bolte hain…Kal yeh ghar tootne wala hain…tomorrow we are going to break down this home," narrates 12 year old Madhuri Dedhe of CBD Belapur, Navi Mumbai. #UprootedChildhoods #Right2housing #RightToTheCity#MakeTheShift #HousingForAll #LittleHumans Youth for Unity and Voluntary Action – YUVA
Fear, Footpaths & Football- Mary Fights Back
Born and raised in Mumbai's Matunga, Mary has been living on the streets with the threat of eviction looming over her life from a very young age. Despite being eligible for rehousing, everyday poses a new fear. Amidst the odds of no permanent home, looking for new homes everyday – one day living under a tree and then next day some place else, changing schools based changing locations, poor access to nutrition and basic hygiene, Mary, through her love and dedication for football, made her way to becoming a football ranker in Maharashtra, and dreams of representing India one day.
Little Humans - Priyanka Shivnure
"Mere sapnon ka ghar building mein hoga, jisme bada hall aur bada room hoga," beams Priyanka Shivnure of Belapur, Navi Mumbai, from ear to ear at the thought of a dream home. #UprootedChildhoods #Right2housing#RightToTheCity #MakeTheShift #HousingForAll #LittleHumans Youth for Unity and Voluntary Action – YUVA
Claiming Spaces For Play: Mumbai's Children & Youth Lead A Promising Movement
Children's right to an adequate home comprises of not just the four walls of a home, but the environment they grow up in, and the basic amenities and facilities made available to them. Within this framework, the right to play is an right. No discussion on the #Right2housing is complete if the right to play is not addressed.
In recent years, however, access to play, both in and outside the house, is increasingly under threat. Against these circumstances, Children & Young People's collectives organised across the city of Mumbai by Youth for Unity and Voluntary Action – YUVA have been leading a powerful movement and claiming spaces to play. #UprootedChildhoods#RightToTheCity #MakeTheShift #HousingForAll Youth for Unity and Voluntary Action – YUVA
Little Humans - Vinay Murlidhar Gupta
'I live in Lallubhai Compound, Building 17, with my family. The light goes off in our house anytime, coming back after an hour or two', says Vinay Murlidhar Gupta. 'There have been some improvements in the community in recent years, but much more needs to be done'. #UprootedChildhoods#Right2housing #RightToTheCity #MakeTheShift #HousingForAll#LittleHumans Youth for Unity and Voluntary Action – YUVA
Children Demand 'Liveable' Homes In Lallubhai Compound
Children are vulnerable to a range of threats when their right to an adequate home is not fulfilled. But here's a children's collective that is driving change through their own efforts. Sparking conversations on their rights and requirements, including that of housing, they are compelling their communities and local authorities to stand up and take note. Having participated in this change maker group has been a rewarding and empowering experience for most of them who have seldom had a platform to voice their concerns. Meet the members of Bal Adhikar Sangharsh Sangathan (BASS) at Lallubhai compound who vision for lasting social transformation is teamed with participatory action. #UprootedChildhoods #Right2housing #RightToTheCity #MakeTheShift#HousingForAll Youth for Unity and Voluntary Action – YUVA
The Question Of Adequate Homes In A Rehabilitation & Resettlement Colony
Adequate housing for children is more than just a roof over one's head. While many children may live within the four walls of a home, and not a makeshift structure in an informal settlement (basti) or on the road, if their living conditions are scarce, unhealthy and unsafe it is hardly a conducive environment to grow up in. Here's assessing the living conditions at Vashi Naka, a rehabilitation and resettlement (R&R) colony, against indicators of adequate housing. #UprootedChildhoods #Right2housing #RightToTheCity#MakeTheShift #HousingForAll Youth for Unity and Voluntary Action – YUVA