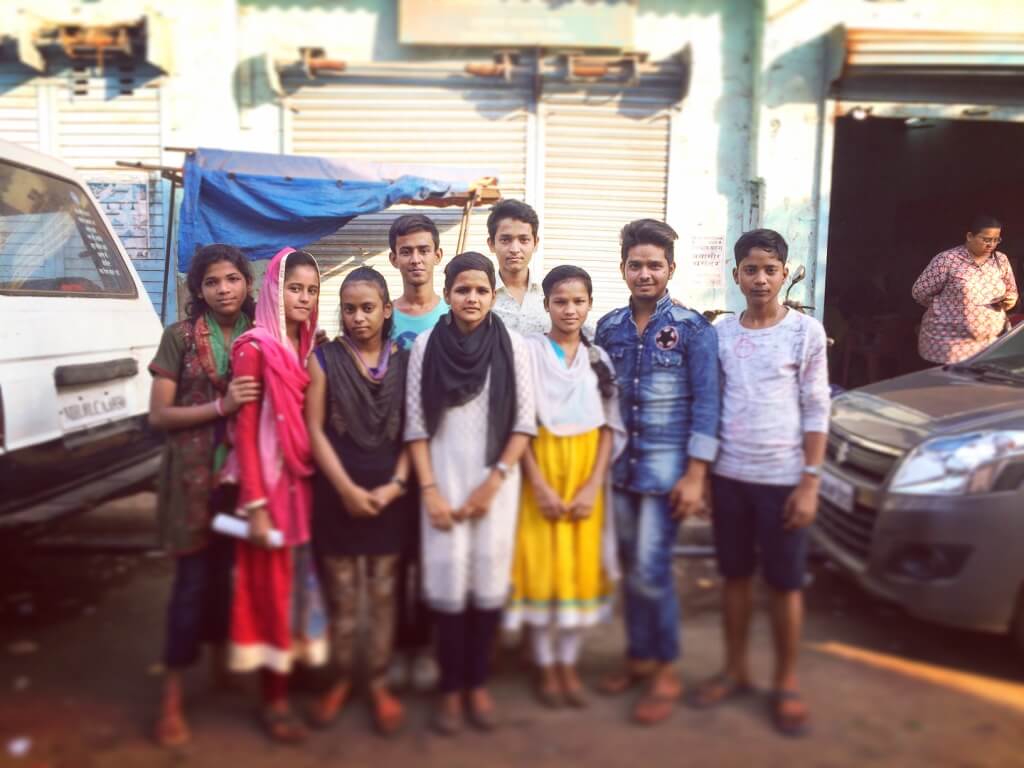 Little Humans Of Mumbai-East Ward
Introducing the Little Humans of M-East Ward
The city of Mumbai's well kept secret, opens up like a can of worms when you step into the M-East Ward, Mumbai. It reveals how little it fulfils the dreams of people, who have to busy themselves with making real their most basic rights, quite contrary to its epithet of 'city of dreams'.
"M-East ward has been a place where people don't demand their rights. They have resigned to their realities and make no attempts to change it," says Hasina Shaikh who has spent her childhood at M-East Ward and is now a field officer for Apnalaya India. "But things are changing," she adds and looks rather optimistically at the Little Humans in the room.
Little Humans of M-East Ward- Arbaaz Shah
Dressed in all denim, with hints of gold streaks in his hair, and a silver bali on his left ear, Arbaaz has swag like any other 17 year old in Mumbai city. Meet the lead volunteer of the Bal Panchayat in Sanjay Nagar, M-East ward, whose way with words, keeps you hooked and whose determined efforts to build a toilet (giving access to a population of 2000-2500 people) in the community is gaining momentum.
#littlehumans #littlemumbaikars #worldtoiletday Apnalaya India Mission 24
Little Humans of M-East Ward- Ibrat
This 11th grader of Indra High School has the confidence of a Ted Talker and the zest of an activist. She has answers to every question, and solutions to every problem. She's quick, clever and empowered. This young girl battles gender barriers at home and outside, but nothing diminishes her spirit to take on the road less traveled.'Touching a girl, trying to hold her hand, calling out names… 'Yeh chhed-chhad nahi hain, yeh VIOLENCE hai!' she says firmly. Ibrat wants to grow up to be a journalist and report stories from ground zero. #littlehumans #littlemumbaikars Apnalaya India Mission 24
Little Humans of M-East Ward- Sufiyan Ansari
Sufiyan's face reveals his innocence, but conceals his age. This 17 year old has a glint in his eyes and a power in his sing-song laden voice that he modulates at the speed of light. His childlike mischief and enthusiasm to get things done, make him a valuable member of the Bal Panchayat. Sufiyan is currently working on getting the neighbourhood cleaned up, after a pipe burst in a nearby toilet and dirty water made its way into homes. #littlehumans #littlemumbaikars Apnalaya India Mission 24
Little Humans of M-East Ward- Kulsum
A resident of Indranagar, Kulsum is articulate, mature, self-assured, despite being one of the few children who doesn't attend school. For this 16 year old, the Bal Panchayat is a place to learn, imbibe and find her own ground. She collects signatures from the community members, to show officials who can assist in repairing broken gutters. #littlehumans #littlemumbaikarsApnalaya India Mission 24
Little Humans of M-East Ward- Dilnawaz
His crisp white shirt and somber demeanour are telling of his turning into a young man. To 17 year old Dilnawaz, his analysis and action taken through the Bal Panchayat mean serious business. His work today focuses on 'chawl' development. #littlehumans #littlemumbaikars Apnalaya IndiaMission 24
Little Humans of M-East Ward- Rizwana
She's shy and reserved, but 16 year old Rizwana has a lot to offer to the Bal Panchayat with her behind-the-scenes work. The youngest member of this group, uses her thirst for knowledge and numbers for fact finding, before she suggests action on any issue. #littlehumans#littlemumbaikars Apnalaya India Mission 24
Little Humans of M-East Ward- Faizan Khan
Like most millenials, 16 year old Faizan, uses his smart phone like an extension of his body. His swiftness with taking and showing photos extends itself to gathering proof of before and after actions achieved through the Bal Panchayat. #littlehumans #littlemumbaikars Apnalaya India Mission 24