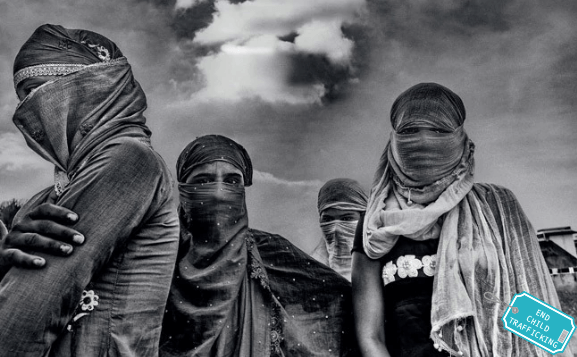 STOP THE TRAFFIC
I am a person,
not a potato
to be picked and packaged
and sent to market
to be sliced and diced,
chopped up and ketchupped
on the other side of the world.
I am a child
and I am not for sale.
I am a living conscience,
not a cargo.
I travel passenger,
not freight.
I am not cattle,
not contraband,
not a catalogued commodity.
I'm not the bottom line
for those who trade in tragedy
and profit from perversity.
I am not a can
to be recycled.
I am a child
and I am not for sale.
I am a thinking individual
not a rare exotic bird.
I am your sister,
not an inmate for your zoo.
I am not merchandise,
not meat,
not a meal ticket.
I was mothered,
not manufactured,
begotten,
not created.
I am child
and I am not for sale.
It's time to end this trade
in human tragedy,
to terminate this travesty
of a global economy.
Let the red lights
of your cities
be put to better use
to stop the traffic.
Write it in your lights
across your seared conscience:
I am a child
and I am not for sale.
– Gerard Kelly
*The word human has been replaced by the word child
This week stay tuned as we talk to experts, activists and campaigners on prevention of child trafficking on #WorldDayAgainstTrafficking
Why The Public Needs To Join In On #ChokeTheDemand
Delhi's first interactive mural experience was created in collaboration with Change.org and The Missing Art Project to shake the status quo on the current conversation (or the lack of it) around the commercial sexual exploitation of children in India. Through the use of art and technology, massive wall murals were created in 3 locations across Delhi, with the aim to to trigger conversations about the high demand for children in the sex industry, missing from the public narrative.
How Leena Kejriwal Is Using Art & Technology To Create Awareness On Female Trafficking
Have you spotted a life-sized black coloured silhouette of a girl on your city walls yet? The Missing Art Project founded by Artist Leena Kejriwal has been making noise in the city of Delhi (and others) for the right reasons – challenging status quo on trafficking for sex and seeding conversations on demand for minor girls in the commercial sex industry. Influenced by her proximity to Sonagachi, and her photography expeditions in red light areas across India, Leena uses her visual might and innovative technology to draw attention to the all-pervasive issue of female trafficking.
Priti Patkar's Personal Memoir On Working With InterGenerational Trafficking In India
A fearless thought leader, pioneer and change-maker who has given over 3 decades of her life to the issue of intergenerational trafficking, her contribution to founding Prerana Anti-Human Trafficking, leading several path breaking social interventions in Kamathipura, and constituting a panel set up by the Supreme Court to recommend rehabilitation measures for women involved in human trafficking, Priti Tai's (as she is fondly known) contribution to the looming issue of human trafficking remains unparalleled. Don't miss her honest and heartfelt memoir on working with intergenerational trafficking in India this #WorldDayAgainstTraffickingInPersons #EndChildTrafficking#FightTrafficking
The Child Trafficking Challenge Addressed Through Public Campaigns
While many of us remain unaware of what falls under the ambit of trafficking, the process, people and places involved in making it possible, and its proximity to our lives and the lives of our children, here are some anti-trafficking initiatives and campaigns that attempt to make a place in our minds and hearts and push us to join the crusade against it. #WorldDayAgainstTraffickingInPersons #EndChildTrafficking#ChokeTheDemand #FightTrafficking
Twitter Reflections On The Trafficking Of Persons (Prevention, Protection & Rehabilitation) Bill, 2018
While many hail the arrival of the Anti-Trafficking Bill and hoot at its approval in the Lok Sabha, many others criticise it for being neither clear not comprehensive, calling for a rethink and relook at a Bill that can potentially change the lives of millions of victims, perpetrators, implementers and law enforcers.
Activists, law makers, NGO's and common man took to twitter and shared their reflections on this highly contentious bill. Now, raise your voice to the Rajya Sabha to not pass this Bill in its current form. Ask for a Parliamentary Select Committee to discuss the Bill. #WorldDayAgainstTraffickingInPersons #ChokeTheDemand#EndChildTrafficking #AntiTraffickingBill2018