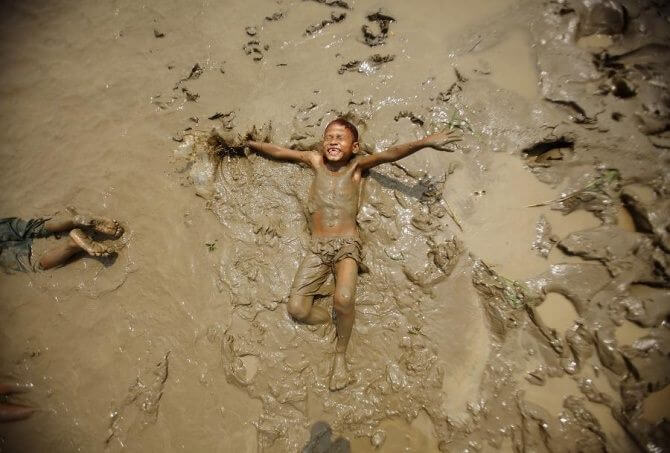 The lions of Punjab
With 898 females per 1000 males, Tarn Taran, in Punjab, known for its history of militancy, isn't exactly a place that boasts of gender equality. What is remarkable is witnessing young girls in jogging tracks training to take on traditional male roles in the armed forces #feelgoodfriday #genderequality#empoweredgirls #lionsofpunjab Motherland
Ananya, a school on a farm
This is a #school where street children of varied age groups and cultural backgrounds sit together and share stories, where they are taught through contextual teaching and not textbooks and where they spend their childhoods in a warm and comforting environment.
Ananya is the seed that didn't lay its foundation on conventional teaching but on life skills, on humane interaction and on true meaningful learning.
Read about their unconventional approach to #education #feelgoodfriday
India becomes polio free
We've only heard that #India fought #polio and won. Let's take a look at how we pulled off one of the greatest public-health coups in history, saving hundreds of thousands of #children from paralysis and death #feelgoodfriday
Read more: http://ti.me/1fs3CoX
Garbage dump turns into a public park for children
Collective action can turn even a garbage dump into a public park for children! Watch how a community in Bangalore made this a reality in their neighbourhood #feelgoodfriday
Breaking barriers
Can you imagine an LGBTQI support group in an Indian #school? Here's one school in #Delhi leading the way. Know more about the student-led initiative 'Breaking Barriers'. Such inspiration! #feelgoodfriday
Using Football To Change The Lives of Youth in Punjab
Football isn't just played at the Worldcup2014. While Punjab was beginning to grapple with the problem of drug addiction, here was a man who set forth to revive sports in his village and drive affected children towards a better path. Read how Gurmangal Dass is using #football to change the lives of #youth in Punjab #feelgoodfriday FIFA World Cup#fifa2014
The 13 year old who climbed Mount Everest
For all you mountain climbers out there, here's the story of a 13 year old girl who climbed Mount Everest and became the youngest person to do so! Don't miss this one! #feelgoodfriday
Turning trash into toys for learning
In this inspiring TED video meet Arvind Gupta- toymaker, engineer, scientist, educator, inventor, mentor. He popularizes science among #children by showing them quirky ways to convert trash into useful toys.
The one we like the best is the simple slate he makes, using wool and velcro, for blind people…with 12 million blind children in our country that's an innovation we can use! tedtalk #inktalks #feelgoodfriday
Using the KBC format to draw students back to the classroom
Did you start watching Kaun Banega Crorepati Official this week?
Meet Kamlesh Zapadiya, a primary school #teacher from Rajkot who uses the kbc format to draw #students back to his classroom. Will his innovative learning technique make some of these kids slumdog millionaires? #feelgoodfriday
Little reporters of Assam
Little reporters of Assam are quietly blowing winds of change. Through their newspaper Mukta Akash they highlight issues big and small that affect their lives-absence of hand pumps, no clean toilets, broken bridges, poor education and early marriage #feelgoodfriday
Daag ache hain
Happy childhood! #daagachehain #feelgoodfriday
Two blind sisters see for the first time
Mother! I can see! I can see!
2 sisters who were blind since birth, can now see. A nonprofit 20/20/20 shows us how free surgeries can be miracles in the lives of visually challenged #children.
Feel the magic as Sonia and Anita see for the first time! #feelgoodfriday
The mother of a 100 orphans
She was an unwanted #child and faced an abusive #childhood. Today, she is the #mother of 100 orphans… The unusual life of Sindhutai is an inspiration to us all! #feelgoodfriday
A new hangout for young booklovers in Bangalore's slums
An interesting initiative to convert tea stalls and provision stores into reading joints has taken a new step in inculcating #readinghabits among lesser privileged #children.
Don't be surprised if you see a kid flipping the pages of an interesting book rather than just buying toffee at your nearest provision store #feelgoodfriday