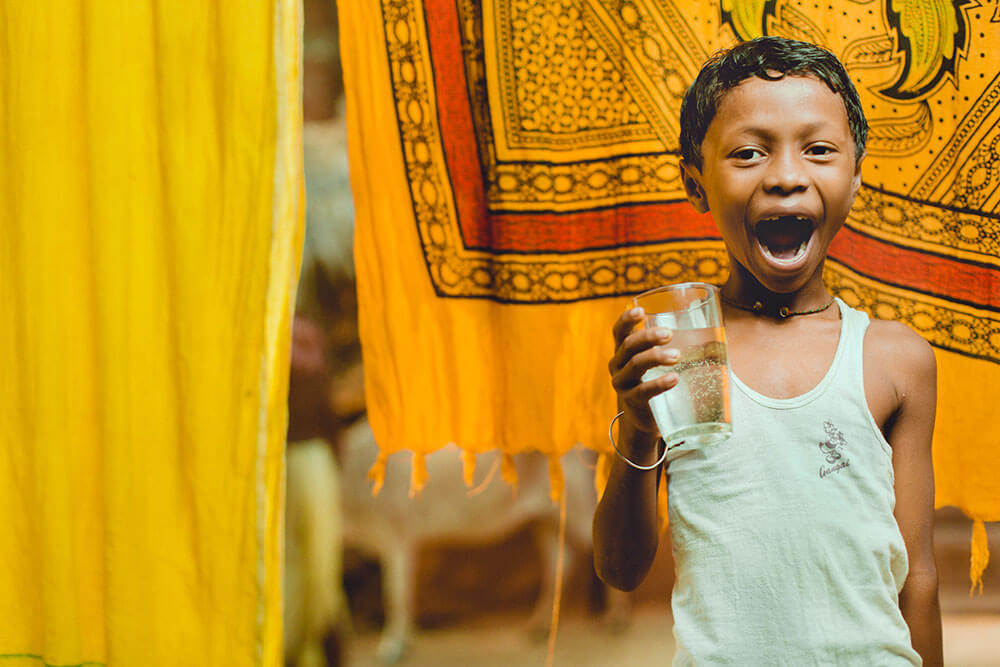 Children of Drought
Leher
A serious drought has been developing across India, placing people in danger including millions of children. Child Rights activist Kailash Satyarthi recently stated that the current drought like situation which has affected 160 million children in India, should be declared as a 'national emergency'.
A quick scan of the news reports shows an increase of children being forced into child labour, trafficking, child marriage, the devadasi system [dedicating girls to service in temples] with children increasingly dropping out from school and migrating in large numbers due to the crisis. According to the noble laureate in an article in the Scroll there has been a 22% rise in the number of children who dropped out of school and a 24% rise in child trafficking in drought-hit states. According to the government's data, almost a quarter of the country's population has been hit by the drought especially in these 10 States- Maharashtra, Chattisgarh, Madhya Pradesh, Karnataka, Telangana, Andhra Pradesh, Rajasthan, Odisha, Jharkhand and Uttar Pradesh, declaring them drought hit this year due to a severe water deficit.
When demand far outweighs supply, the economic, agricultural and political impact of this begins to corrode the cohesive fabric of society as villages, neighbours and even family members fight over whatever little water is left to be shared, putting at risk the littlest member of communities –our children. In the coming week we bring you stories on the #childrenofdrought. Stay tuned and join in on this much needed conversation.
In photos: Children in search of water
The punishing weather is taking a toll on children. Parched water sources, deaths due to sun stroke, closed schools, halted outdoor activities and migration are inundating daily news as India and its children face one of the worst water crises in the last 10 years. With their villages reeling under the scorching sun and facing an acute water shortage, many are forced to look for ways to support their families in gathering water, often from far-off places.
Here are some images from across the country that depict the drudgery that some children have to go through on a daily basis just to drink a few drops of water #childrenofdrought
#helpthefarmer

Burdened with crippling debt and three years of drought, hundreds of farmers have ended their lives this year alone. What remains out of sight in this desperate #farmersuicides, is the trauma, burden, fear and worry left behind with the families of every farmer, especially their #children. Here's a beautiful film by @skymet that makes you feel the desperation of a daughter as her father steps out everyday, into drought lands. #helpthefarmer #childrenofdrought
Parched lands… Putting lives of children at risk
The Rajya Sabha declared 266 districts in 11 different states to be drought affected in their session last week; Chattisgarh, Karnataka, Jharkhand, Odisha, Madhya Pradesh, Maharashtra, Andhra Pradesh, Telangana, Uttar Pradesh, Rajasthan and Gujarat are reeling under the fight for water and survival. Amidst these states are also a large number of children who have succumbed to adverse effects of the drought, that seldom make it to top news. Check out this infographic for news on #childrenofdrought.
In pics: The children of Maharashtra's drought
Prasanna D Zore and Uttam Ghosh of Rediff.com have been doing an incredible job of following up on stories of children affected by drought in Maharashtra. Last week they reported how 12-year-old Yogita Desai died of a cardio pulmonary arrest after she collapsed while fetching water and how 9-year-old Sachin Kengar drowned while filling water from a well in drought ravaged Marathawada.
Undaunted by such tragedies, scores of other children continue to brave the scorching heat to draw water from unguarded wells.
In their latest series as they travel across Beed through Vida, Sabalkhed, Wanjarwadi, Watanwadi, Kolher, Poitanda and Talwada they speak to many young children, perhaps in search of an image or a defining moment to stir the collective conscience of an uncaring nation! #childrenofdrought
The water warriors
The ongoing drought across 11 states in India makes daily headlines, reiterating the need for quick and innovative solutions to conserve water and take collective action for people directly affected by it. While children are undoubtedly the most affected and vulnerable to the ravages of drought, it is heartening to see children across Maharashtra take on the lead as water warriors, saving water one drop at a time (literally!) and bringing promise and hope in times of despair. #childrenofdrought
#waterchangeseverything: 5 campaigns by charity water that you must follow
Drought does not come alone. It comes with an overflow of problems. The starting point– access to clean drinking water. Amidst this dry-spell, a New York-based non-profit charity: water works to fulfil this mission. Here's a listicale of their innovative campaigns and visual narratives that will compel you to take notice of the water crisis in India (and around the world!) and support the belief that water does change everything.
#childrenofdrought#charitywater #waterchangeseverything #fightdirty#thecraziestthingwecandoisnothing #748million #givehope
Drought-ed into prostitution
As the drought tightens its grip and the struggle for everyday survival becomes increasingly difficult, the devdasi tradition of dedicating girl children to Goddess Yellamma is making a comeback. Yogesh Pawar travels to the parched lands of Karnataka and Maharashtra to document lives caught in a vicious cycle of poverty and desperation.  #childrenofdrought
Impact of drought on children
Nobel Laureate Kailash Satyarthi scathingly observes in today's op-ed in The Times of India 'It is essential that our parliamentarians come together for a day of discussions, focussed exclusively on the need to protect and prioritize children. It is not too much to ask.' The onset of drought is slow but its impact prolonged and multi-dimensional. Long spells of drought mean dehydration and heat strokes, being withdrawn from school and compelled to work on the field or outside, migrating with parents to cities, taking care of elders or younger siblings while parents go to work, casteism and discrimination, trafficked for higher incomes or married off early to reduce the burden on one's family… The grave impact faced by  #childrenofdrought.
Lens man Ravi Kanojia dies on assignment covering drought
As we covered #childrenofdrought last week, we were deeply saddened by the tragic news of lens man Ravi Kanojia's sudden demise as he reported the drought situation for the Indian Express from the field. What makes Ravi special for us is that his imagery pushed the agenda for children during the course of his career. Here's a look at his remarkable work, that is going to leave a lasting impression for years to come.