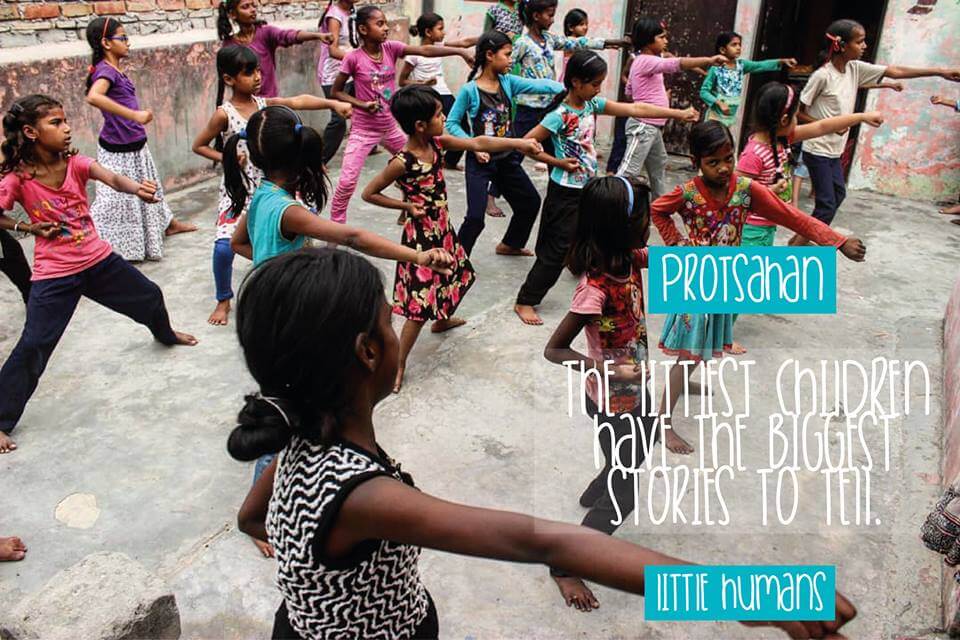 "Girls are one of the most powerful forces for change in the world: When their rights are recognized, their needs are met, and their voices are heard, they drive positive change in their families, their communities, and the world," said Kathy Calvin, United Nations Foundation. When girls are empowered, communities thrive and economies grow.
This week, meet the girls of PROTSAHAN, an action and advocacy based NGO fighting child abuse in underserved communities of India with a strong focus on adolescent girls, who are challenging gender norms and setting precedent for other girls in their communities. #girlrising #littlehumans
Storytelling with puppets
"I liked going to school, but I never understood what the teachers were saying," says the little 8-year-old Kanissa. "But I love coming to PROTSAHAN, because here I can understand mathematics, Hindi and English through stories. The puppet shows at Protsahan help me do that, and I remember the stories all the time. I can make stories with these puppets also now," she adds.
Protsahan uses the power of Photography, Filmmaking and Cinema, Design, Performing Arts, and Meditations to heal and transform broken childhoods. There have been many cases where the children are misunderstood by the traditional methods of teaching. Storytelling, puppet shows, dance, theater etc. help them get past these blockages and regain their confidence with which they can start building a strong foundation in studies. #littlehumans
Theater and Dance workshops
"I want to be an actor, but not in the films. I want to be a theater actor, because theater is where the real storytelling is that can touch the hearts of the people," says a very confident 15-year-old Poonam. Poonam comes from a family with very limited means. She has always been very prodigal in her studies, but it's the performing arts, especially theater that has caught her attention.
Coming from a community that hardly ever pays any attention to the girl child, Poonam used to believe that she may not actually be able to fulfil her dream of becoming an actor. She also believed that she wasn't good looking enough to become an actor. But the theatre and dance workshops atPROTSAHAN have helped her regain her confidence and build up her self-esteem to turn around that attitude of pessimism. Now she is confident that she will be what she wants to be in life. "People will always tell us things like I'm not pretty. But I don't believe them. I know I'm a good actress and a great dancer. I've already won many awards, and one day I will win a national award."#littlehumans
First steps in journalism
"My parents used to stop me from going to PROTSAHAN. They would always say that 'you just go there to waste your time in doing paintings and photography'. But now we can show them that we are learning a lot more at Protsahan than what other girls are learning in school. We've made our own newspaper, we are journalists now," says a proud 13-year-old Mahabano.
Under Project Lightbulb at Protsahan, where experts are invited to share their skill sets with the girls, our girls learned that they can lead the change in their community with the help of 'human centered design thinking'. They set out to identify the problems within their community that affect them the most, spoke to the community members, and came up with solutions that are best suited for them. In doing so, they had devised local solutions for local problems. The community newspaper is the first step in the direction to involving the people from the neighbourhood and persuade them to move forward towards a better standard of living through small efforts. "Our newspaper tells the stories from within our community. It shows everyone what we do, what we learn at Protsahan every day. And one day, it will bring in the change that we want to see around us for sure," she adds. #littlehumans
Learning photography
"I come from a Muslim family. In my family, girls are not supposed to work, especially in the month of Ramzan. Picking up a camera and becoming a photographer was out of the question for me. But four years ago, when I picked up the camera for the first time and learned photography, I knew I will be a great photographer one day," says 14-year-old Nazia with a big smile on her face.
Project Lightbulb at PROTSAHAN invites specialists and experts from various fields to our center in Uttam Nagar to train our girls in different life skills. We believe in the power of creativity to nurture a young mind, and give it the direction it seeks in life. Under this project, we've invited many highly skilled photographers and film makers from around the world who've trained our girls in the finer nuances of the art form. "I've done so many photo exhibitions in my neighbourhood. My parents are very proud of my skills, and now they too encourage me a lot. They even let me to go for my first professional paid shoot during the month of Ramzan. Now I'm going to learn business and accounting in 12th grade so I can start up my own photo studio one day." #littlehumans
I am safe because 'I' safeguard 'me'
Everyone calls me "Chhoti", because I'm tiny. Then one day, Gunjan didi came to PROTSAHAN to teach us karate. I've seen Shahrukh Khan in the movies doing Karate. He's very strong, and he can defeat all the bad guys easily. Why? Because he knows Karate.
Gunjan didi is our karate coach now. I love going to the karate classes, because now I can safeguard myself, I can also be like Shahrukh Khan from the movies. Gunjan didi tells us that we don't have to fight all the time, we just have to stay fit and make sure that when the need arises for us, or for someone else around us, we can defend ourselves and those people who can't defend themselves. That's what karate training is for. It is also helping me to stay fit and I've started getting good marks in studies, because now I can concentrate better in the classroom." #littlehumans