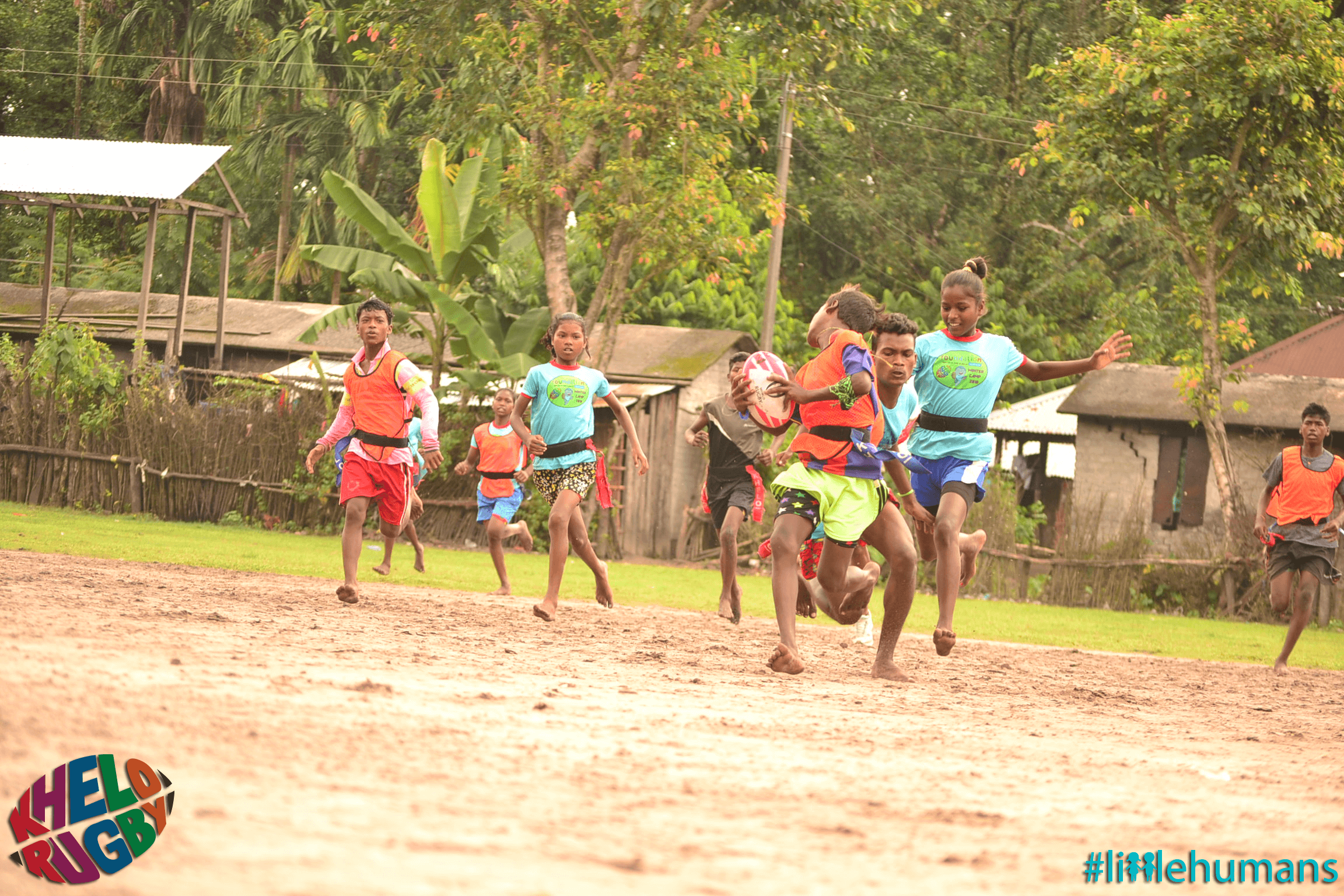 Khelo Rugby
Saraswatipur, a cluster of picturesque villages situated around sprawling tea gardens in the north of West Bengal is about 30 kms away from Siliguri. Positioned on the banks of the Teesta River, on the edge of the jungle, one can't miss the view of the Himalayas on a clear day. The predominant line of work is at the tea estate – picking and processing tea leaves. From a population of 2000 people, 1500 people are employed by the tea factory, passed down across generations.
Today, this tucked away little village is being known for more than just its tea. News from the region boasts of the burgeoning young talent on the rugby field. In 2012, Father George Matthew was transferred to Saraswatipur to head a local parish. He noticed the athletic potential of the children and reached out to the Khelo Rugby team, to bring the program to the village. Within few weeks, two coaches moved to the village and the program was set up within a month. Ever since, the program has seen unprecedented success with the children of Saraswatipur playing for the West Bengal state and national Indian rugby teams.
Khelo Rugby brings adventure, challenge and excitement to the lives of children. Present in Kolkata and parts of West Bengal, this program has also made its way to Afghanistan and Pakistan, reaching out to children from disadvantaged communities by incorporating sports as a social development tool. Managed by youngsters themselves, Khelo Rubgy is building this program with elements of hygiene and road safety too.
This week, we bring you stories of Little Humans from Saraswatipur for whom the rugby field is now second home.
Sonali
Sonali is 12 years old and is in the 8th grade at Katalguri Junior High School. She loves History because she wants to learn about how people lived a long ago. Her mother says she is very dedicated to her studies, but wait eagerly each afternoon to play rugby.When she turns 18, Sonali wants to join the Air Force and she knows that being physically fit is a critical component of this. She admires those who have volunteered to serve their country and wants to follow in their footsteps.#littlehumans Khelo Rugby
Debaraj
Debaraj lives in a small hut with his parents right on the edge of the tea fields where both of his parents work. Debaraj has big plans for his future. His favorite subject in school is English and when he grows up he wants to become an English teacher. #littlehumans Khelo Rugby
John Paul
John Paul has swag, both on and off the field. In the mornings, he takes a bike to school along with the older Saraswatipur children. Both his parents pick leaves at the tea garden, but when he grows up, John wants to be a forest ranger like his uncle. #littlehumans Khelo Rugby
Rehan
Although Rehan is a reserved person, he's quite the opposite on the rugby field. He was introduced to Khelo Rugby by a friend 3 years ago and has been playing rugby ever since. Speed is essential in rugby and Rehan is fast enough to play every position on his team. #littlehumans Khelo Rugby
Eliyas Kharya
Eliyas's passion is playing rugby. He has been playing for 4 years and never misses practice. His favourite positions are center back and flanker and he is always chosen to throw the ball in during line outs. He brags that he is the best passer on his team and can pass accurately to his left and his right.#littlehumans Khelo Rugby