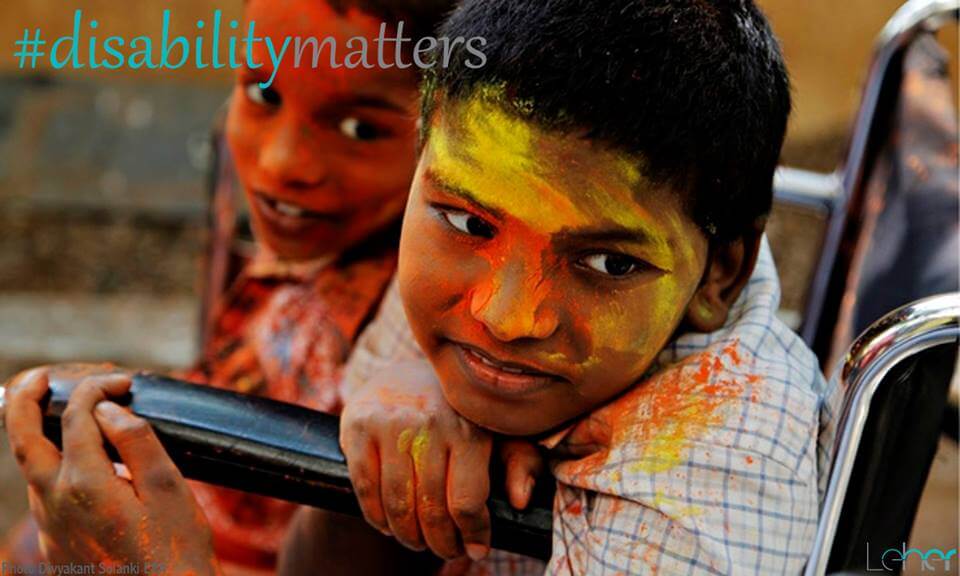 I have no legs,
But I still have feelings,
I cannot see, But I think all the time,
Although I'm deaf, I still want to communicate,
Why do people see me as useless, thoughtless, talkless,
When I am as capable as any,
For thoughts about our world.
—Coralie Severs, 14, United Kingdom
"It's about Ability", UNICEF
"We are all disabled in a way – wrong calculations, big feet, runny nose…from a bird's point of view we are all disabled."- Sabriye Tenberken, co-founder of Braille Without Borders
How many of us can tell who has entered the room based on the way they walk or smell? How many of us can walk into our office when the lights are off? How many of us can tell who it is by touching their hand? How many of us can paint with our eyes shut?
And yet, the discourse around the disabled is seldom about their abilities.
Every child is born with special abilities, and should have an equal chance to a happy childhood. There is a need to shift the discourse around children with disabilities to focus on what needs to be done to ensure each one of them can develop their special abilities, and participate in their families and communities. All children must be included in every sphere of life, without any exception, and that must begin with a conversation.
This week, Leher in collaboration the Helen Keller Institute for Deaf & Deafblind, Mumbai, bring you a series of posts focused on issues related to children with disabilities. Stay tuned for #disabilitymatters
Akshay
"Are you scared of anything? Ghosts?""No! They don't exist!"
"Sometimes I feel scared of people who can hear."
"Why is that?""Because they don't understand sign language."
"Do you ever feel angry with the fact that you have a disability?"
"No. Once you learn how to handle your problem, you are at par with someone who does not have the same problem. Deaf and normal people are equal." 
#littlehumans #disabilitymatters #worlddisabilityday
Confident and self assured, 15 year old Akshay is one of the most talented students in his class. During a competition held in Pondicherry last year, not only did he win a prize for his painting on Abdul Kalam, but he also won a singing competition despite being hearing and speech impaired.
Photo credit: Anushka Dalal & Nikita Chatterjee, Helen Keller Institute for Deaf & Deafblind, Mumbai
Raj
"What is your name?" "R-A-J Raj." He writers on Shamim teacher's palm.
"How old are you?"
"Yesterday was my birthday. I had cake and balloons. And the balloon went 'bhuuuummm!'"
"But you didn't answer my question Raj!" she smiles understanding his disinterest in the question.
"Raj is 8 years old." she answers as he looks away into the distance.
"Which is your favorite chocolate?"
"This one!" he points to his pocket.
"Raj is going to share the chocolate with everyone today, isn't he? *He gives her the chocolate with a huge grin on his face*
"No no its okay you only have it." she teases him"Isn't chocolate bad for your teeth? Show us how many teeth you have!" *He grins widely to show his teeth*
"Where do you live?"
"In the hostel."
"Who do you miss the most?"
"My mother." *He opens his family book and points at his brother's photo joking that it is his mother*
#littlehumans #disabilitymatters #worlddisabilityday
Raj is one of the youngest and most loved child in school. His sense of humour and contagious laughter draws not only the teachers but even the older children to him. 8 year old Raj has a loving family, very accepting of his disabilities. Everytime he visits home, he teaches them sign language so that they can all communicate better. Raj was born Deafblind. After a corneal implant, he now has low vision in one eye. An enthusiastic and eager learner, Raj's literacy skills have improved remarkably after joining Helen Kellar. Raj also loves eating bananas which is easy on his semi sprouted permanent teeth!
Credit: Nipa Bhansali, Helen Keller Institute for Deaf & Deafblind, Mumbai
Mohammed
"Describe the most beautiful girl in school?""Hawwww!!" he exclaims and gets very shy. "No one!" he says embarassed.
"I know you look at the girls!" pipes in Vanita Ma'am"Nahhhh… I don't talk to girls very well!" he says trying to avoid her question."Do you plan to marry?""Yes… but only when I have completed my education and have a job!"
"What do you believe the government should do for persons with disablities?"
"Build more steps and ramps in public places so that people on wheelchairs can travel easily… And also, increase the sound of horns so that we can hear!"
#littlehumans #disabilitymatters #worlddisability
17 year old Mahammed is Deafblind and wants to grow up to be a computer teacher. He was born Deaf and slowly started to lose his vision in his early teens. Like any other teenager, he does his share of mischief but generally is a very well-mannered boy. Mohammed is not scared of anything, except of being alone.
Credit: Nipa Bhansali Helen Keller Institute for Deaf & Deafblind, Mumbai
Rupali
"Who is your favourite actor?"
"Hritik Roshan!" she blushes.
"Why do you like him?"
"He's very good looking!"
"Would you grow up and marry him?"
"No, I want to marry a Deaf person like myself."
#littlehumans #disabilitymatters #worlddisabilityday
Rupali is a confident, smart and sensitive young girl. She takes a lot of interest in extra-curricular activities in the school and is always at the forefront.
Credit: Anushka Dalal Helen Keller Institute for Deaf & Deafblind, Mumbai
Sanyog
Santosh
Khadija
"I am afraid of cats."
"Why is that?"
"Because I can't hear them coming."
#littlehumans #worlddisabilityday
Khadija's family discovered that she was Deaf only when she turned 3 years old. Since most children start to speak between ages 1 and 2, her parents were expecting her to do so too, but since she didn't they sensed that something was wrong. Her best friend in school is Dhruvi who has the same disability. Khadija comes to school on a bike and loves it!
Credit: Nipa Bhansali Anushka Dalal
Ayush & Amjad
"I made it! No! I did!"
#littlehumans #worlddisabilityday #disabilitymatters
Ayush and Amjad are friends and classmates. During class they built a Lego structure but insist that the other hasn't made it.
Credit: Nipa Bhansali Anushka Dalal
Rajesh
"Are you scared about your tenth grade exam?"
"Not really. I'm fully prepared."
"What do you want to do after your exams?"
"Drive down to Shirdi to meet Saibaba."
#littlehumans #worlddisabilityday #disabilitymatters
Rajesh is 18 years old and preparing for his board exams. He is a state level swimmer and has won many medals over the years.
Credit: Anushka Dalal Helen Keller Institute for Deaf & Deafblind, Mumbai