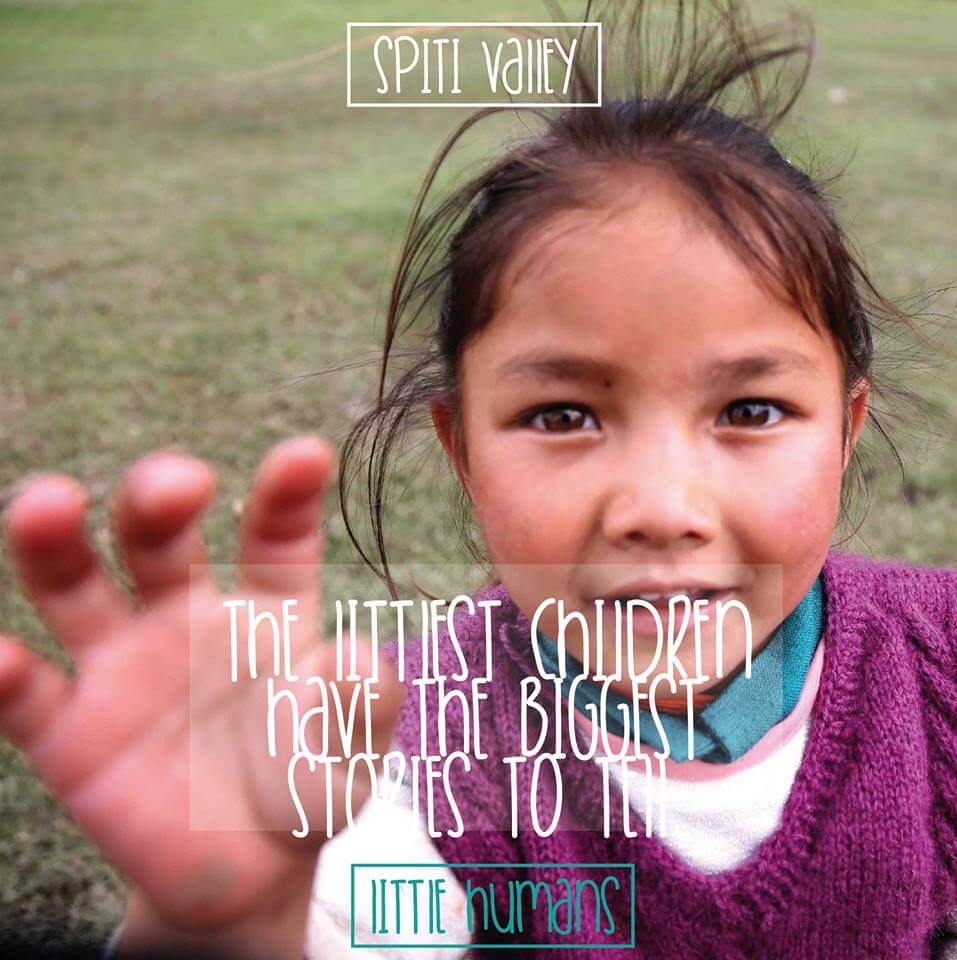 Spiti, the land between #India and Tibet, is fringed by the Himalayan mountains. Many of us have explored monasteries unchanged for centuries, met maroon robed lamas and been awestruck by the regions stupendous beauty. But there's more to #Spiti than meditating monks, the hulking himalayas, and an impossibly blue sky. The 'land of lamas' has stories of struggles, dreams and age old practices that belong to the little humans of the valley.
Amongst the top 10 inspirational female travellers on HuffPost Women Deepti Asthana Travelography, photographer and travel blogger, recently started an initiative @womenofindia. Her appetite to discover new stories and explore the cultural and social fabric of new places got her face to face with the children of Spiti. What Deepti brought back were stories of #littlehumans of the valley, that are often blown over by the cold winter winds.
Jitu
On an early morning in Dhankar, a village in the Spiti valley of the Himalayas, the sun was up behind the misty mountains and the air was crisp, when I met Jitu, a little shepherd boy. The dew drops glistened in the soft sunlight as Jitu tried his best to herd his sheep, while also imitating their sounds.
"Jackie! Sunny!", called out Jitu. "Who are you calling out to?" I asked. He laughed uncontrollably and said, "I have named my favourite sheep after Bollywood filmstars!" Accompanied by his father each morning, grazing his herd of mountain sheep is a daily chore for Jitu. In Spiti, animals are one of the primary sources of income, as agriculture is scarce at high altitudes.
Jitu was very quiet and shy, perhaps because his father was with us. Most of my curious questions on their lives were answered by Jitu's father. But when I asked "What do you want to study?", Jitu immediately replied saying "I want to be a children's doctor!" At first I was a little surpised at his specific interest in treating children, but his father read my inquisitve face and said "Jitu's little brother has polio and cannot walk. In the remote areas of Spiti getting proper treatment is very difficult. It gets worse in winters as most of the villages lose road connectivity and in urgent situations a patient has to be very lucky to be airlifted by the government to reach a hospital. Air rescues are rare. For most people it's either an ardous journey on foot or a painful wait for months before they can reach the nearest town and see a doctor. I really hope Jitu grows to be a doctor." #littlehumans
Photo credit: Deepti Asthana Deepti Asthana Travelography
Tanzin
The unusual sight of a little girl playing with a hoolahoop at a height of 4,400 m above sea level, greeted me as I ambled into Langza village. Langza is a small fairytale like village in Spiti surrounded by the mighty mountains and inhabited by only 30-40 homes. As I searched for the only available homestay named 'Tanzin homestay' in the village, I chanced upon Tanzin herself, the girl whose father ran the place.
Over the next few days I spent a lot of time with her… we walked a lot in the jungles and to far-off villages in search of mushrooms and fossils. Tanzin turned out to be a great guide and knew many interesting spots in her neighbourhood. We spent a day munching on green peas and making sketches while sitting in the fields. During our conversations, I learnt that unlike other children of Spiti, she wants to grow up to be a photographer. "Why do you want to be a photographer?" I asked. "I want to take pictures of clouds when they take different shapes – deer, peacock, and mouse sometimes," she responded convincingly. I could see the artist in her… and living in Spiti would definitely be a great place to start shooting. I promised to bring back a camera for her the next time I visited. #littlehumans
Photo credit: Deepti Asthana Deepti Asthana Travelography
Children of Malana
In the famous Malana village, I entered a shop to buy some chocolates. "Ma'am, you shouldn't step inside the shop. Please wait outside," said the teenager manning the shop, rather sternly. "Is there a problem?" I asked, stunned by his unwelcoming words. "We are kings, therefore, only Rajputs are considered our equals and can enter", he replied. Malana claims to be a 'free village' in India run by its own rules. I decided to not mull too much over this incident and walked on towards a group of children. A little girl smiled at me when she saw the chocolates in my hand. I smiled back relieved that at least some children were oblivious of my 'outsider' status.
But I smiled too soon… she was telling me to put the chocolate on the ground with her little finger. I complied and placed some chocolates on the ground, to see her grab it gleefully. Even before she started to eat it, her older brother came out and scolded her for taking chocolates from an outsider. I realised that while untouchability might be abolished from other parts of the country, in free Malana, it was visibly alive. The next generation were raised to take it forward. #littlehumans
Photo credit: Deepti Asthana Deepti Asthana Travelography
Tashi
Little Lama
Sacrifice and abstinence might be the defining features of monastic life, but there are always moments of complete innocence that remind us; children are children no matter where they are, be it in a monastery or in a city.
I met a little lama boy at the 1,000 year old Key Monastery as he sat on the grass watching the sun drop behind the mountains. Due to his curiosity aroused by my camera equipment, he walked up to me and politely asked me to take a good photo of him. "I would love to!" I exclaimed. "I don't have a single good picture of me, will you give me a copy also?" he asked. Unfortunately, I was not carrying a printer and told him I would send it to him by post. Delighted and satisfied with my promise he asked me rather innocently, "Can I watch TV on your camera screen, I have a remote". I smiled and proceeded to explain to him how a camera worked. #littlehumans
Photo credit: Deepti Asthana Deepti Asthana Travelography
Girls of Sherab Choeling Nunnery
Most girls and women of Spiti lead a difficult life. They are marginalised and bereft of most social and educational opportunities. His Holiness the Dalai Lama, took note of this and started the first religious educational project for Spiti women.
Sherab Choeling Nunnery is in Morung village. Here, the nuns follow a 17-year study program. The curriculum is designed to educate the nuns in Buddhist philosophy, meditation, the Tibetan language and literature, in addition to basic education in English, Hindi and Math. Girls of different ages, 5 years to teenagehood, live with each other harmoniously. Their day starts early with prayers, followed by classes and extra-curricular activities. The little girls at the nunnery invoked in me a deep respect towards them, as they choose a life of abstinence and spirituality. They seemed happy and content where they are, and have no intention to leave their practice as nuns to get married or start a family. Despite many young girls seeking admission to Sherab Choeling, due to lack of facilities and sponsors, not all gain entrance. Yet, it's a step forward for the girls of Spiti to realise their most basic rights. #littlehumans #humansofspiti
Credit: Deepti Asthana Deepti Asthana Travelography
Children of Harvest
Often while strolling in the fields, I met with children and their families. Harvest season made people of the village very busy. One such afternoon, I met a little girI who left a lasting impression on me. When I met her she was taking tea for her family who were picking green peas in the field. We walked together a long way, we climbed rocks and walked through fields before we reached them. She was holding my hand, in her little hand, as if helping me navigate through unknown terrain. Her thoughtful and kind gesture touched me deeply. Soon we joined her family, we chatted and I shared a meal with them in the field, while my little friend hovered around me playfully. While I carried some goodies for her and her siblings, I knew nothing would match the warmth with which this little girl had welcomed me. Soon after, it was time for me to leave them and continue my journey while they got back to their daily routine. But while I walked away I couldn't help but think what it would be like to meet her many years later. Would she be able to speak to me in Hindi? Would we have a lot to talk about then? Would she change when she grew up? I decided that moment that I would return to meet her with a pretty dress because saying goodbye seemed a lot harder than I had imagined. #littlehumans
Credit: Deepti Asthana Deepti Asthana Travelography
Tarun and his brother
Bollywood Lover
"Can you take pictures that make me look like a filmstar?", Tannu asked me expectantly. I happened to bump into her on my way to Langza, when she walked up to me and offered to carry my tripod. She was dressed in jeans, atypical to the the traditional dress code in her village. Although she lived in a remote land, cut off from city stardom, she was as star struck and updated on Bollywood as any other children. Being a film buff myself, we talked of our favourite movies, songs and actors, finding a common link in an almost uncommon circumstance. As I took her leave, I invited her to Mumbai, hoping that the city of dreams would make place for her dreams too. #littlehumans
Credit: Deepti Asthana Deepti Asthana Travelography
Little Mothers of Spiti
A woman in Spiti enjoys a unique position in social status. Besides keeping the hearth, she contributes equally, if not more to outside work. They do all the laborious work, such as carrying loads, weeding and harvesting the crops. While women are busy in the work all day around, the responsibilities are also shared with the little girls. One of the unique responsibility is to take care of their siblings while their mother is away for work. I call these girls- little mothers as they know all about babysitting. While my visit in Lahlung, a small village in Spiti; I meet these two girls who were chatting in the neighborhood carrying the babies on the their back.
Manu and Asha are in the same school and friends with each other. As the summer holidays were on, they were taking care of their siblings in day time. I asked them if they do get tired of hanging baby on their back. They laughed out and said no, we don't even feel if there is something tied on our back till the time baby starts crying. I asked them what do you do then? And they replied the babies in Spiti don't cry much, they mostly play, eta and sleep. And I really wondered if that's true. I remember one of the babies crying out loud in past few days, but most of the kids are playful and smiling. I waived bye to the girls and gave them goodies for the small babies.
They were so busy gossiping about their classmates that I could easily freeze a frame having them lost in conversations. I was really impressed by their maturity and handling such responsibility in tender age. Most of the time they carry babies all day long and also go to fields as well in the mid-day during lunch time. That is probably the reason that they grow up to be such strong women who are mulit-tasking and also help earning money for the family. Most of the women supports men by running a home-stays which is a great way to earn money through serving the tourists. #littlehumans #humansofspiti