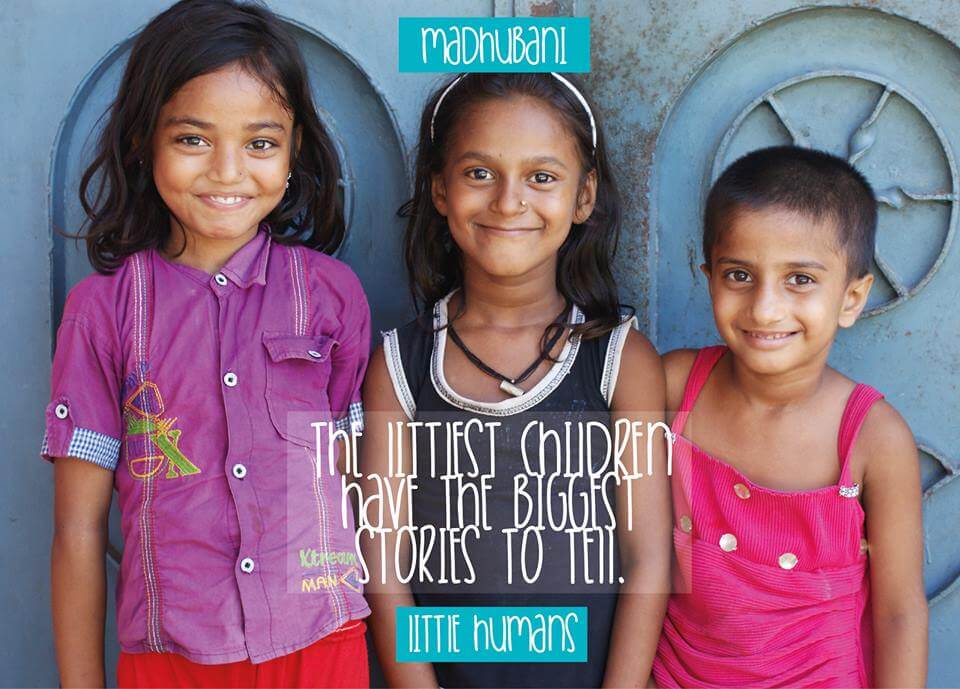 Adolescent Girls Of Madhubani
In India the number of girls and adolescents who are married off early, trafficked, out-of-school, underage domestic workers, victims of abuse, violence and discrimination, run into millions. A long-standing patriarchal society has contributed largely to the bleak status of the girl child who grows up to become dependent, unhealthy, and deprived of opportunity… the consequences of which reverberate throughout their lives, affecting societies and generations to come.
Today, girls are changing the story. Smiling, confident and energetic, adolescent girls across India are breaking stereotypes, battling age old mindsets, challenging traditional roles, benchmarking their own standards, building a life away from discrimination, violence and neglect.
Meet the girls of Madhubani whose new thoughts and actions are slowly gathering steam, translating into social, economic and political independence and proving (against popular belief) that adolescence is an age of opportunity. #adolescentgirls #girlchild #genderequality
Follow us Little Humans this week for these stories. #littlehumans
Radha
"Have you thought about getting married?"
She giggles and responds very self-assured, "I am only 14! I am not going to think of marriage now. My older sister is 19 and still not married!" #girlsnotbrides #girlchild #adolescentgirls#girlsofmadhubani #girlpower #genderequality#littlehumans
Rakhi
"There are so many girls in this village who marry young and then get beaten up by their husbands. When I get married, if my husband tries to hit me I won't even give him food… why should I? And I wont change the childs clothes also! Bhai! Hum kyun kuch bhi karenge? If you don't do that's the only way the husband will learn!" #girlchild#adolescentgirls #girlsofmadhubani #girlpower#littlehumans #genderequality
Satyavati
"Where is your school located?"
"My school is 4 km from here, in another village."
"Has the distance been a problem ever?"
"It is far, but I have a bicycle, and I ride it to school every day."
#girlchild #adolescentgirls #girlsofmadhubani#girlpower #littlehumans #genderequality
Gunjan
"They have a problem if I dance… why but? I love dancing!"#girlchild #adolescentgirls#girlsofmadhubani #girlpower #littlehumans#genderequality
Chandni
"Are there separate toilets for girls and boys in your school?"
"No, there are no separate toilets for girls and boys in my school. In fact, the one common toilet we have is also not in use, as it does not have a running supply of water."
"What do you do during your menstruation cycle?"
"It gets difficult to attend school during menstruation cycle, but I manage somehow. I love studying, so I go anyway."
#girlchild #adolescentgirls #girlsofmadhubani#girlpower #littlehumans #genderequality
Shruti
"Ladki ko ghar mein hi padhai karni chahiye…par kaise?" #girlchild #adolescentgirls#girlsofmadhubani #girlpower #genderequality#littlehumans
Shalini
"What do you want to become when you grow up?"
"My friends want to grow up to be teachers, but I want to be a model!" she poses.#girlchild#adolescentgirls #girlsofmadhubani #girlpower#genderequality #littlehumans
Saraswati
"A boy can hit a girl, so then why can't a girl hit a boy?" #girlchild #adolescentgirls#girlsofmadhubani #girlpower #littlehumans#genderequality
Rajnandini
"What do you think about getting married?"
"I will think of marriage only when I have done something in life," she says rather confidently." #girlsnotbrides #girlchild #adolescentgirls#girlsofmadhubani #girlpower #littlehumans#genderequality