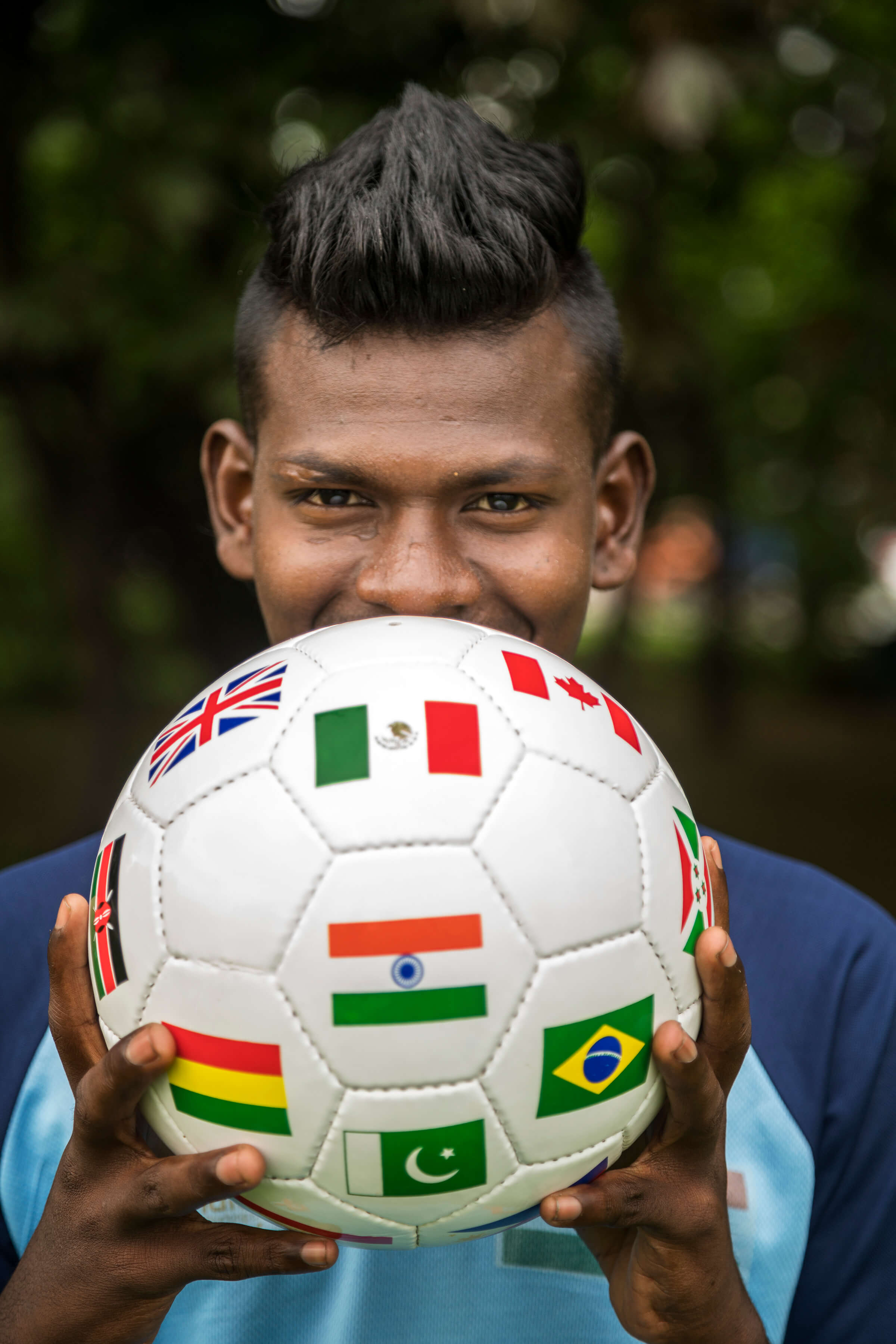 From The Streets To the Street Child World Cup- In Conversation With Footballer Kannandos
More than 200 young people from across the world headed for Moscow in advance of the World Cup 2018 to play football and speak out on street children's rights at the Street Children's World Cup. Amongst them was Kannados Dasaradhan, a young boy from Chennai, who ran away from home at 7 years and made his way back to a life off the streets, with the help of his favourite sport – football.
In conversation with young Kannandos, whose ultimate goal wasn't only a trophy, but getting off the streets, expressing how sports and a level playing field are effective goal keepers for some of the most stubborn social problems across the world.
1. Tell us about your life. What was it like back home when you where younger? Why did you run away from home?
I was the first born child to my parents in Vaniambadi, Vellore. I saw a lot of violence and abuse at home. My father was an alcoholic and physically abused me frequently. The repeated quarrels between my parents affected my studies. I lacked interest in studying or going to school. Severe thrashing and verbal abuse by my father, and teachers at school, forced me to runway from my home when I was 7-8 year old.
2. Where did you runaway? What was life like on the street? How long did you spend living at the Railway station?
I boarded a train without buying a ticket and did not have any clue where I am going. I was just a small child alone and hungry on the train. Tired and exhausted I was looking out for something to eat and was given only leftover food from the railway pantry. If the cops or railway officials found me, they would kick me out of the train or use me to clean toilets and train floors. I was unable to say no to them. After reaching the Chennai central railway station, I continued my life on the railway platforms for 6 months…I was generally beaten up by the police for traveling without a ticket.
3. Narrate some of your experiences while living on the street and how you dealt with it?
As the police used to beat me occasionally, I disliked the railway station and roamed in and around it. Then I travelled in a train without a ticket and got down at Arakkonam junction. I hunted for jobs around the place, asked people whom I met, and finally I got the job of cleaning tea glasses with a tea shop near the railway station. I earned Rs.10 as a daily wage. After collecting Rs. 40 over four days, I moved on to Jonnarpet junction.
4. Who were your friends at the time? Were there any people you could depend on?
I made friends with a lot of children like myself, Pratap, Ravi, Balaji who were working to make a living – they were fruit sellers, chips vendors and drinking water packet vendors; I became associated with a group of children who were involved in stealing iron scrap. I was never dependent on anyone… Once I got my share of what we had stolen, I went my own way.
5. What made you move from your life on the street to a shelter home?
During a terrible monsoon in Chennai, the railway station got flooded, but I had no choice but to live at the station. The trains were not moving out, nor were they coming in…the station was almost at a standstill. This was the time when a volunteer from Karunalaya approached me and spoke to me. I got convinced to go along with the volunteer to the Karunalaya shelter. On reaching the shelter, I slept for the entire day…something I hadn't done in a long time. I felt a sense of security that day.
6. How did you get convinced to go to school? How did life change?
I was counselled about the importance of education and motivated by the people at Karunalaya about the merits of attending school regularly. Though I was scared about how I could be punished at school, I decided to start going anyway. On a couple of instances, I was beaten by my school teacher and as a result, started bunking classes. I came back to Karunalaya, complained to them and refused to go back to school. I was counselled further on why attending school meant I had a future off the railway station. At first I struggled to be attentive in class from but later I grew interest in my studies and completed my 12th grade, and a course in Radiology. From stealing at Railway stations to feed myself, I now had an education degree. Life changed completely.
7. When did you play football for the first time? Describe how you felt that day?
I was enrolled at the Karunalaya Sports for Development Program in the year 2013 for the first time. At the time I felt unhappy because I had to run 10 laps during warm ups which was a difficult task. After I started playing the game of football all my unhappiness and irritation was relieved. Gradually, I took a keen interest in football…I began to love it!
8. How did you get access to a football field? Who trained you? When did you realize that you want to grow up and play football?
Many children at Karunalaya were preparing for the Street Child World Cup 2014. I too was selected for the same, and got access to the football field frequently, to play. I was coached by Mr. Aldroy, a licensed coach. It was while I was watching the India Super League, that I was even more inspired to play football. The eminent players at the ISL made me dream of becoming the super man of soccer someday.
9. Where is your family today? Do they know of your accomplishment of making it to the Street Child World Cup?
I have lost both my parents. I am alone with my younger brother who stays at Karunalaya. My younger sister is being taken care of by my grandmother (father's mother) and she lives in my native place Vaniyambadi. Yes, my brother and sister are aware of my visit to the World Cup.
10. Tell us about your journey with football and how you got selected for the Street Child World Cup. What was it like going to Moscow?
My interest in football grew after I was put face to face with the sport at Karunalaya. I took to the field and acquired the relevant skills to improve my game. I was made the Captain of Team India that participated in Street Child World Cup– 2014 at Rio, Brazil. It was a great achievement. I realized that hard work and perseverance always yields results. I was then invited by Street Child United, a UK based organization, to participate as alumni at the Street Child World Cup 2018 in Moscow, Russia. It was a wonderful experience to meet the former street children around the world. We shared our valuable experiences and stories. We also interacted with the British ambassador for Russian embassy, a true privilege. My journey in football has changed my journey in life.
11. How has football changed your life?
Football enabled me to identify with my life problems and sort them out. Through football my life style was changed and improved. It motivated me to strengthen my mental ability to achieve something in life.
12. Who is your favourite team / football player? Why?
I love the Brazil football team… it's my favourite! Their playing style and commitment is unmatched. My most favourite footballer is Gilberto Silva because his story is extraordinary – he came from a poor family and went on to represent the Brazil team that won the World Cup! I was also lucky that he watched some of the matches I played, and gave tips on how to improve our game, how to play as a team and be organized in tackling the opponents… which was invaluable advice!
13. Who do you think will win the World Cup this year? Why?
I think that Germany will emerge as winners this time, because they have individual skills and team coordination which is very important to give your best in the international arena. In my view, they are the best today.
14. What do you want to be when you grow up?
One day, I want to represent a reputed football club.  After my football career I want to become a "D" licensed coach. At present I am working as a child rescue staff of Karunalaya. So far I have rescued 300 runaway children from the Chennai Central railway station. I have coached the team India girl's team that participated in Street Child World Cup -2018, Moscow, Russia, and am also coaching street children who have interest in football.
Photo Credits : Vicky Roy
Words By : Nipa Bhansali/Leher
Nipa Bhansali has worked on Communications for Development for 9 years, she is a trained photographer, passionate about all things visual and a team member of Leher. Follow her on twitter @nipabhansali.