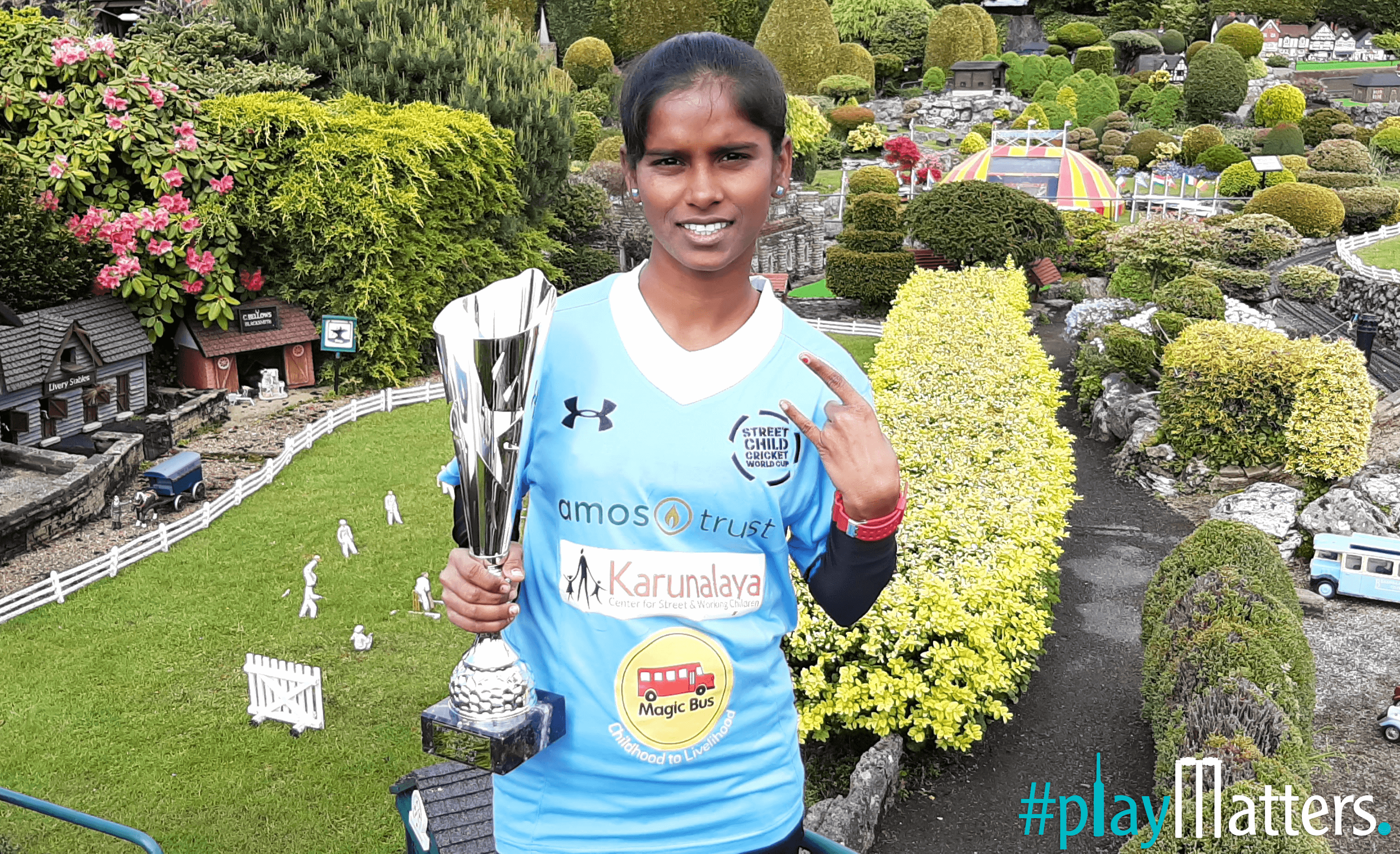 #PlayMatters – Nagalaxmi Finds Inspiration In Mitali Raj To Represent India In Mixed-Gender Cricket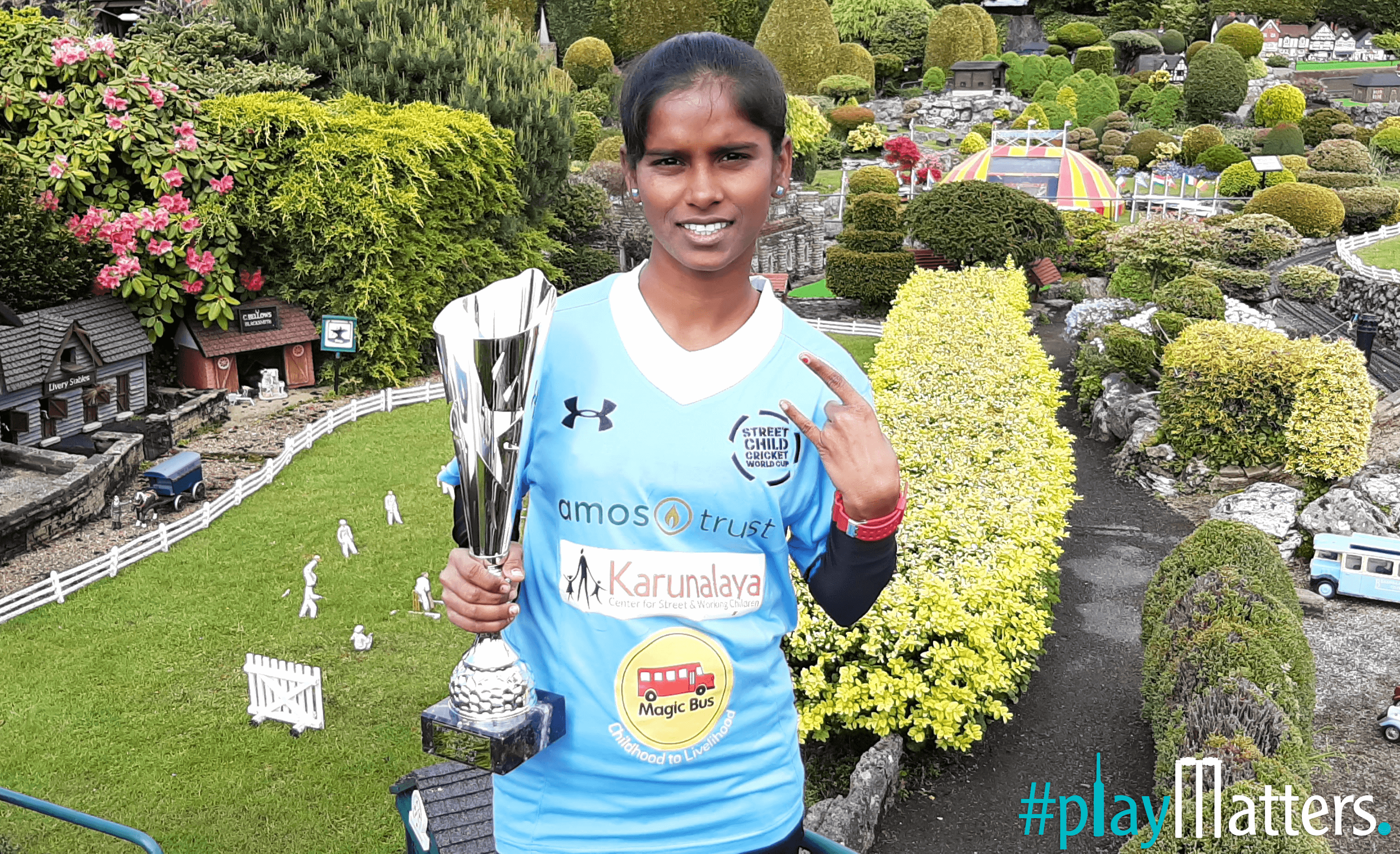 Raised in a shelter home run by Karunalaya, a nonprofit organization working for the protection and development of street children, Nagalaxmi never let her circumstances come in the way of picking up the bat and ball to excel in the sport of cricket.
Being born in Madurai, Nagalaxmi's mother abandoned her and three siblings, leaving them with her grandmother, who in turn grandmother sent two of the girls to shelter home, keeping the boys under her care.
Ever since, the shelter home has been Nagalaxmi's only home. Here is where she prepared to participate in the first Street Child World Cup held in England earlier this year. Being a part of Team South India, her consistency, practice, focus and rigorous training for almost a year made her an asset to the team.
Today, Nagalaxmi is proud to have the power of choice to make her own decisions, something she realised when she played a match in a mixed-gender team. She aspires to become a social worker and help children and people from her community to fulfil their rights and find an identity.
Team South India is a mixed-gender team comprising 4 girls and 4 boys from Chennai and Mumbai, supported by Magic Bus and Karunalaya.
Q) Tell us your name, what do you like doing in your free time?
A: I am Nagalaxmi. I love playing football in my free time!
Q) Congratulations on winning the first ever Street Child World Cup! How was your experience?
A: I am so proud and happy to be winning the first ever Street Child World Cup. I never thought I would represent India and go this far; this is such a beautiful feeling.
Q) Tell us about your travel to England. How was it meeting different boys and girls from across the world? Did you make friends with them? Tell us about it.
A: I was fascinated to meet people from different countries, cultures and have conversations with people from diverse backgrounds. The team from Tanzania was the best as they were extremely friendly. You know, everyone was nice to us.
Q) Who is your favourite cricketer? Why? 
A: Mithali Raj! She plays so well and I can resonate with her journey, her struggle to be the best at her game. For me, she is on par with Virat Kohli and I look up to her because she followed her passion to become a cricketer. It is my dream to become a cricketer like her.
Q) Dhoni or Virat? Who is the better captain? Why? Tell us about your team captain too.
A: Dhoni! I think he treats each player with respect and holds the team together. Our team captain too was just like him, he lead the team well and always supported us. Even our vice-captain was nice, he would never scold us, was patient and we learnt a lot from him.
Q) Sachin or Virat? Who is the better batsman? Harbhajan or Bhumra? Who is the better bowler?
A: Sachin, for sure! He is like God! Bhumra is a better bowler!
Q) Are you watching the World Cup this year? Which country do you believe has the best chances of winning? Why?
A: I do not have access to a TV to follow the World Cup this year…
Q) What do you aspire to be when you grow up? A cricketer or something else? Why? What is it about cricket that you prefer over other sports?
A: I will either become a cricketer or a social worker. I want to help people so that they get their rights and a platform to showcase their talent. If I become a social worker, I will be able to help children from the streets and communities. I hope more children like me get an opportunity to go to England and get the exposure I did.
Q) If you were captain and you had to pick the World Cup Team, who would you pick? 
A: My team will have a mix of my friends, male and female cricketers, retired cricketers and some talented cricketers who play in the league matches. Apart from me in the team, my friend Paulraj will also be in the team. I will have Mithali Raj, Smriti Mandhana, Dhoni, Rohit Sharma, Virat Kholi, Dada (Saurav Ganguly), Bhuvaneshwar Kumar and Mani Kumar.
Q) You must've grown up watching only men and boys playing international cricket. How was your experience in playing in mixed-gender teams? What are your thoughts on it? Why do you think (or not) that girls and boys playing together is important?
A: Yes, I have only known about men and boys playing cricket. Playing in a mixed gender team made me realise that both men and women are equal. As a girl, I was given power and had full control over my decisions. It shows that both, men and women are equal. I was at par with all players including the boys and that made my performance better and it boosted my confidence.
Q) Are you going to be watching the Women's World Cup Cricket? Why/ Why not?
A: I do not have access to a TV to watch the match regularly… I do want to watch the Women's World Cup, but I do not think I can watch it.
Q) Tell us the best thing about playing cricket? What is the most fun part about it? What have you learnt from playing cricket? 
A: Everything was so good about playing the match! I never knew I was a good bowler. Even in the final match, I bowled well and we were able to win the match! One thing I learnt while playing cricket was to never give up and that anything can happen till the end of the game. Many people appreciated me because I won the Street Child World Cup Trophy. It developed confidence in me.
Q) Is cricket compulsory in schools? Should it be? Why so?
A: I think cricket should be made compulsory in schools. In my school, there are many games available to us, but not cricket. If that happens, I will get time to practice and get better at my game…
Q) How has your life changed after going for the Street World Cup?
A: You know, more than me, my sister was happier to see me reach this far. I am proud to see her happy. I do not have parents and so, going to England, playing the match and winning the first ever Street Child World Cup was a big thing in my life. It also helped me get admission in college under the sports quota. Now, if I study well and get an even better education, it will help me go a long way in my life.
Photo Credits : Karunalaya NGO
Words By : Karunalaya NGO