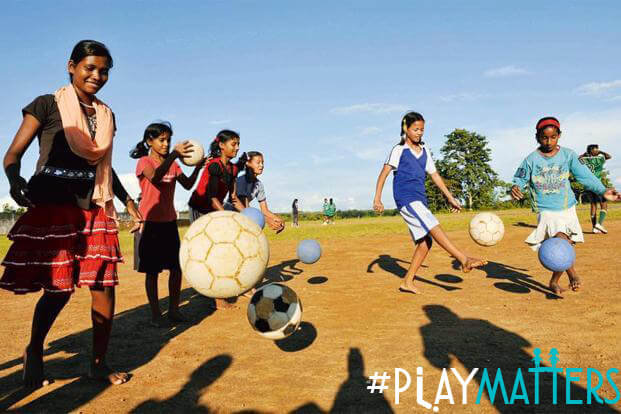 Making a run for it- 5 children who have battled their circumstances
"Sport has the power to change the world. It has the power to inspire. It has the power to unite people in a way that little else does. It speaks to youth in a language they understand. Sport can create hope where once there was only despair. It is more Mandela powerful than government in breaking down racial barriers." – Nelson MandelaCan cricket and football, hockey and athletics, swimming and wrestling change the lives of children? Yes. Sport and play can no longer be considered a luxury within any society, rather an important investment in the present and future, particularly in developing countries. Here are 5 impressive stories of children battling their circumstances, telling us that #playmatters for their childhood.
1. Moving the goalposts – Kusum Kumari
"I want to feel free like the boys!" said Kusum, as she delivered her talk at TEDx in Mumbai at the age of 13. The auditorium was packed, her delivery was flawless and her voice never faltered. She shined.Coming from a rural village in Jharkhand, Kusum had never read a English book chapter before. Kusum Kumari had no great agenda in mind when she started playing football aged 9, near her home. She just wanted to have fun. Now 16, she is pushing the boundaries of what can be achieved by girls in a state notorious for human trafficking and child marriage. With the support of Yuwa, an NGO that uses girls' team sports as a platform for social development, Kumari and her team-mates have challenged the widely held idea that girls belong at home. They have gained recognition in their community and on football pitches abroad. "Before I joined Yuwa, I did go to school – but at that time I was not going every day," says Kumari, whose sister dropped out of school to get married when she was about 15. Kumari says she began focusing on her studies after meeting women through Yuwa who had pursued careers as diverse as journalism and hair-styling.Her parents are subsistence farmers, her elder brother works as a driver in Ranchi, and her sister is married. Her parents, were very suportive when she started playing football and was chosen to go to Spain. However, This parental support was not always a given, and still isn't. When Yuwa began in 2009, most parents were not ready to let their daughters out to play. Who will help them with housework? With the cooking? With working in the fields? Or more disquieting concerns: What if the girls are trafficked? Kusum has fought against many odds, being a girl and growing up in Jharkhand. Her house got electricity just over a year back, but that did not stop her from topping her class, being a bit of a math whiz, and a feisty footballer. She plans to attend university so that she can become a social worker and help other girls. "I'll teach them that education is very important, and I will tell them: 'If you want to play any sport, that will help you to understand things.'"
2. On a plane to Durham – Rupesh Borade
From the age of 6, Rupesh Borade has been living in a children's home in Mumbai with the trauma of having seen his mother being burnt alive by his father who went on to commit suicide. What changed this 16-year-old's life — like that of 31 others between the ages of 14-16 at the home in Chembur's Anushakti Nagar — was a visit by Mumbai's former opening batsman Sahil Kukreja in 2012 to mark his late father's birth anniversary.Rupesh had never boarded a flight before in his life. But last year, after rigorous training and hard work, he was selected for a cricket scholarship with Durham University in England, thanks largely to the efforts of Cricket Beyond Boundaries (CBB), a charity that has been facilitating short-term exposure trips for young and promising cricketers from India, and Sahil Kukreja.Back at the home where he lived, the other children were motivated and given a new dream with Rupesh's example. Today, access to sport, guidance and opportunities, Rupesh has better memories to the treasure for the rest of his life.
3. Child labourer to Bengal team captain – Bhima Chettri
Bhima Chettri was a victim of child labour not too long ago. Today, she is representing Bengal in hockey and even captain of the state's Under-14 girls' team. Bhima, a resident of Rimbick in Darjeeling, was 7 years when she had been sent to Kalimpong, about 100km away, under the pretext that she was being sent to school, when actually she was to help a family with their domestic chores. Life was difficult for her until 2012, when she received help from Bal Suraksha Abhiyan Trust, an organization working against child labour in Kalimpong. Bhima's employers were approached and convinced that they were doing the wrong thing. Thereafter, Bhima was sheltered at a home run by the trust and sent to St.Micheal's school in Darjeeling.That's where Bhima played hockey for the first time, and it changed her life forever. From being selected for the team to being made captain of the Bengal team at the 61stNational school games, her journey at such a young age changed only due to her introduction to sports.Today, studying in class 8, she visits her family once in a while, that comprises her parents, four sisters and five brothers. Hockey continues to provide hope in her life everyday, but she wants to join the police instead of building in a career in hockey, so that all the evils of society can be ended. She believes that the police can do a lot but in many cases they look the other way.
4. From Odisha Slums To Train With Bayern Munich – Chandan Nayak
A child who grew up in the Sabar Sahi slum of Bhubaneshwar, Odisha, 11 year old Chandan made big news recently. Selected to be training with football legends at Bayern Munich Football Club, one of the world's top football academies and clubs for two whole months, Chandan is probably the youngest in the crowd of 14-16 year-old teenagers.Chandan comes from a broken family. His father had deserted him at a very young age. His mother works as domestic help at various places and is just about managing the family. She has sacrificed a lot to ensure that her children are brought up in a proper way. Chandan's love for football got him selected amongst 70-80 other street children. His biggest challenge however was sufficient nutrition to be able to perform well, increase his strength and build his fitness, which was difficult to do given the fact that the only meal available to him was the mid-day meal in school. Chandan coming from a poor family stands as a sign of bravery having fought against all odds, proving his talent.Chandan doesn't speak English but had a few words to add in Hindi and Odiya. "I am very excited to go to Germany and I promise to beat every strong player there. I want to learn everything I can and represent India in the best way possible. I will play well and study hard also," he said. It is stories like Chandan's that will inspire other children form such backgrounds to enter sports and take it up as a discipline.
5. With HIV, to the Children's Olympics – Babu Seenapa
Babu's story is the story of a child sports champion advocating for a winning attitude among HIV-infected children. Babu hails from a small village in Hoskote taluk from Karnataka in India. 15, male and a marathon runner, there are two things that are most striking about Babu. The first is the conviction he carries in his gait. And the second is the fact that he was born with HIV and orphaned at an early age. For the first time in the history of Children's Olympics in 2015, two HIV positive children participated, Babu being one of them.Babu's parents died when he was just six and his aunt brought him in the year 2008 to Sneha Home Care, a residential facility in Sarjapur, Bangalore run by Sneha Charitable Trust (SCT) for HIV infected children. He spent eight years in Sneha Care Home and now lives in Snehagram, Krishnagiri in Tamil Nadu, a residential facility for children above the age of 14 run by the same trust.Sneha Care Home and Snehagram together have cushioned the hardship-filled lives of vulnerable children who are infected and affected by HIV/AIDS- either they are left orphaned by parents who died of HIV/AIDS and/or are HIV positive themselves. Snehagram mentors these children to excel in academics, sports and other extra- curricular activities, imparts life skills and vocational training and builds leadership skills besides laying emphasis on their nutrition, health and ART adherence. It gives them avenues to achieve good health while giving them the infrastructure and support to realize their life aspirations and think beyond just HIV.Babu talks about the harrowing days following his parents' death and the hope he regained after he was brought to the care of Snehadaan/Snehagram. In his own words, Babu sums up the value of the change Snehagram brings in the life of the children it protects, educates, cares and nurtures –"After my parents' death, coping with dejection and ill-treatment from other family members who harboured misunderstandings and myths about HIV and its transmission, was one of the biggest challenges for me…Snehagram moved me away from my home and the suppression there after my parents' death and changed me from an ordinary child who didn't think much to a child who has leadership skills, experience of having served as the Prime Minister for two terms in the Child Parliament, and aspirations to touch the sky. The International Children's Games is the sky I want to touch." His brave approach got him rare applauds at the World AIDS conference in Melbourne, Australia last year where he gave a talk on Children with HIV and their life as an adolescent. Babu's representation at the Children's Olympics in Netherlands has motivated other HIV infected children to take on sports too.
Photo Credits : Diwakar Prasad