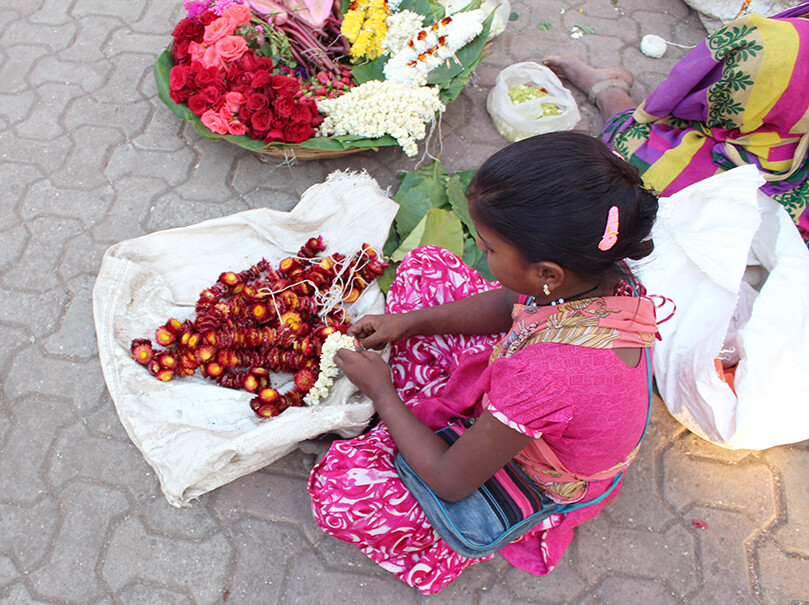 LittleHumansOfMumbaiStreets – A Hard Day's Night For Chaaya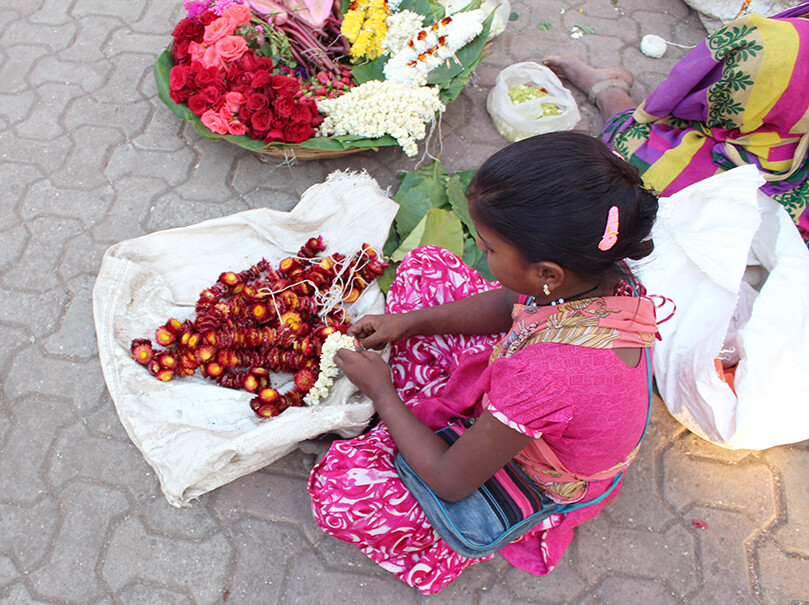 Little Humans, in collaboration with Prerana, brings to you the stories of vulnerable children from the streets and communities of Mumbai who are either forced into, rescued from or are found begging. 
Close to a traffic signal at Dadar in Mumbai, on the dusty pavement, 13-year-old Chaaya (name changed) sits huddled, meticulously tying one flower after the other to weave a gajra (garland). There are days, when she has to skip her school to sell these gajras to contribute towards her family's income to make ends meet.
 "Hi! How are you?"
"I am good."
"Do you go to school?"
"Yes, I am in Class VI now."
"Do you go every day?"
"No, sometimes. One or two days a week."
"Why?"
"I have to work."
"What work?"
"I make and sell gajras."
"Who gets the flowers for the gajra?"
"Sometimes, my mother or I go to the market to buy flowers. We have to wake up early, get the material and start preparing gajra."
"This is what you do every day?"
"Yes."
"When do you go to school then?"
"I have school in the morning. If my mother goes to the market and brings the material, I am able to go to school."
"Your mother doesn't go every day?"
"No, sometimes she sleeps till late, which is why I have to go."
"What about your father?"
"He does not help. He is a daily wager and wastes all the money in drinking." 
"Do you like to study?"
"Not much, I don't understand what is taught in the school. But I do want to study and complete at least Class X. My parents won't let me study further."
"Why so?"
"Girls in my community get married once they turn 18 years."
"Do you want to marry?"
"I don't have much of a choice in that. I have to get married."
"Would you like to tell us about your day at work."
"So, I get up early in the morning. My younger sister and I go to the market to fetch flowers and other materials for gajra. I come back and start making the garlands. I make about 100-200 of them per day. By afternoon, I go to the nearby railway station to sell them. I earn around 200-300 rupees, excluding the material expenses. There are times when we don't have to sell. We get work from others to complete certain number of gajras and we get paid. The material is provided and I don't have to sell, though the number of gajras are more. We have to make 1,000-2,000 garlands in two days. We get paid well, but it is a lot of work."
"Who uses the money you earn?"
"I give it to my mother. We buy food from the money my mother, sister and I earn by selling gajras. My mother cooks good chicken. You should try it."
"Do people ever give you food?"
"Yes, they do. People come and distribute food. Or sometimes leftovers. We don't eat the leftover food."
"Do you get bored of working?"
"Yes, I do. But I have to if I have to eat."
Photo Credits : Prerana
Words By : Prerana
Prerana is a civil society organization that started its work in 1986 by addressing the issue of intergenerational trafficking in the sex trade. It subsequently addressed larger issues around sex trafficking, gender-based violence, child sexual abuse and child protection, and has been instrumental in bringing policy-level changes through its strong advocacy. You can follow them on instagram and twitter.