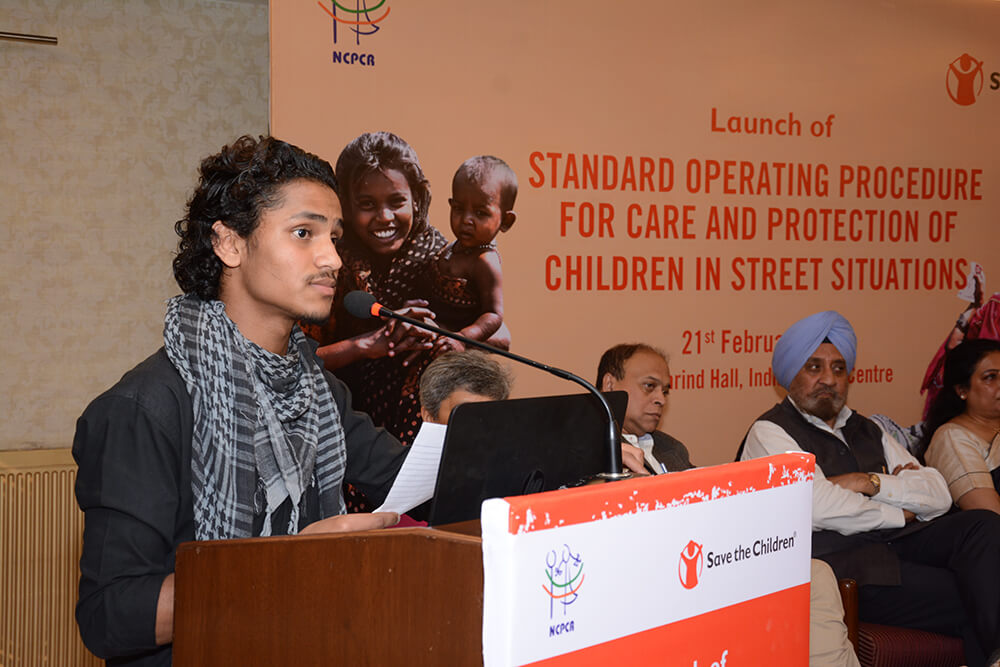 The #LittleHumans Living On India's Streets – Salmaan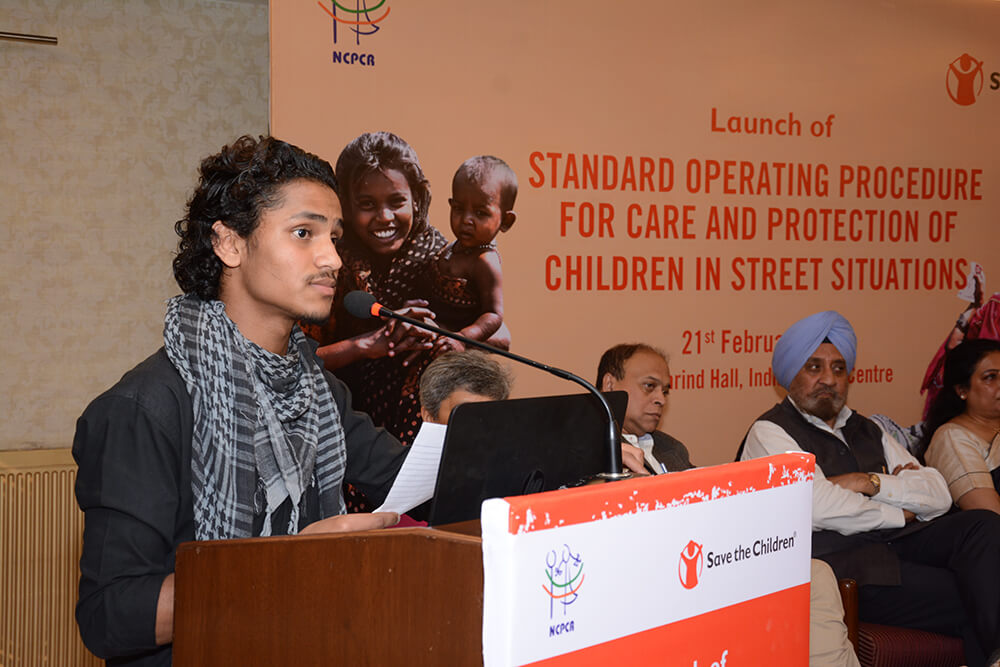 Salmaan was rescued by a local NGO as a teenager when he ran away from home due to extreme situations with his family. He survived the streets at a young age and then started living in a NGO run shelter home, Salaam Balak Trust, where he found theatre as an avenue to let out his anger and frustrations.
He wants to grow up to become an actor and has taken on several roles in films, at a young age. He is passionate about child rights, especially the rights of children living on streets. He has advocated at several places for their rights along with international fundraisers, government officials, at rallies, concerts and Save the Children events. 
Addressing a full house, at a recent event , 15 year old Salmaan says, "Today I want to talk about those kids, who you see everyday – on the pavements and at the red lights, knocking on our car windows. For these children, I have written four lines," he continues.
"Hum jaise bachhe sadko par (children like us, living on pavements)
Shehero mein, roaming par rehne wale (we are like wanderers in the city)
Hum badi badi imarathe dekhte hain (we see high rises everywhere around us)
Lekhin ye baath sach hai, ki imarathe hamare liye nahin ban gaye hai (but the truth is that these buildings are not built for us)."
You may wonder, why I am talking about them – because I have also faced the same problem, before I managed to come out from that life," shares Salmaan, outlining the stark realities of life, having survived the streets of North Delhi, as a child.
"Under the scorching sun, with our feet burning, out in the rain and in the cold, we face many problems, even violence. At an age when we are supposed to go to school and get to play with friends, we are forced to earn a living. We never find a place where we are welcome or feel safe from harm. Don't we have the right to dream and aspire for a better life, just like other children?" he questions. What bothers him the most, however, is the constant denial of identity – "Chhotu (small child), kale (dark-skinned), gudiya (doll) – these are just some of the names we are called every day; but never by our real names."
#TheInvisibles is an initiative by Save the Children to provide identify and claim rights for children living in street situations, committed to making them visible citizens of society.
Children in street situations are defined as per the Standard Operating Procedure for Care and Protection of Children in Street Situations. An SOP by NCPCR and MWCD in collaboration with Save the Children. Children in Street Situations are categorised as: Abandoned or Orphan Child, Missing or Runaway Child, Street 'Connected' Child / Community Child on the Street, Child begging on the street.
Photo Credits : Save the Children
Words By : Save the Children
Save the Children India's leading independent child rights organisation which has changed the lives of more than 10 million underprivileged children since 2008.