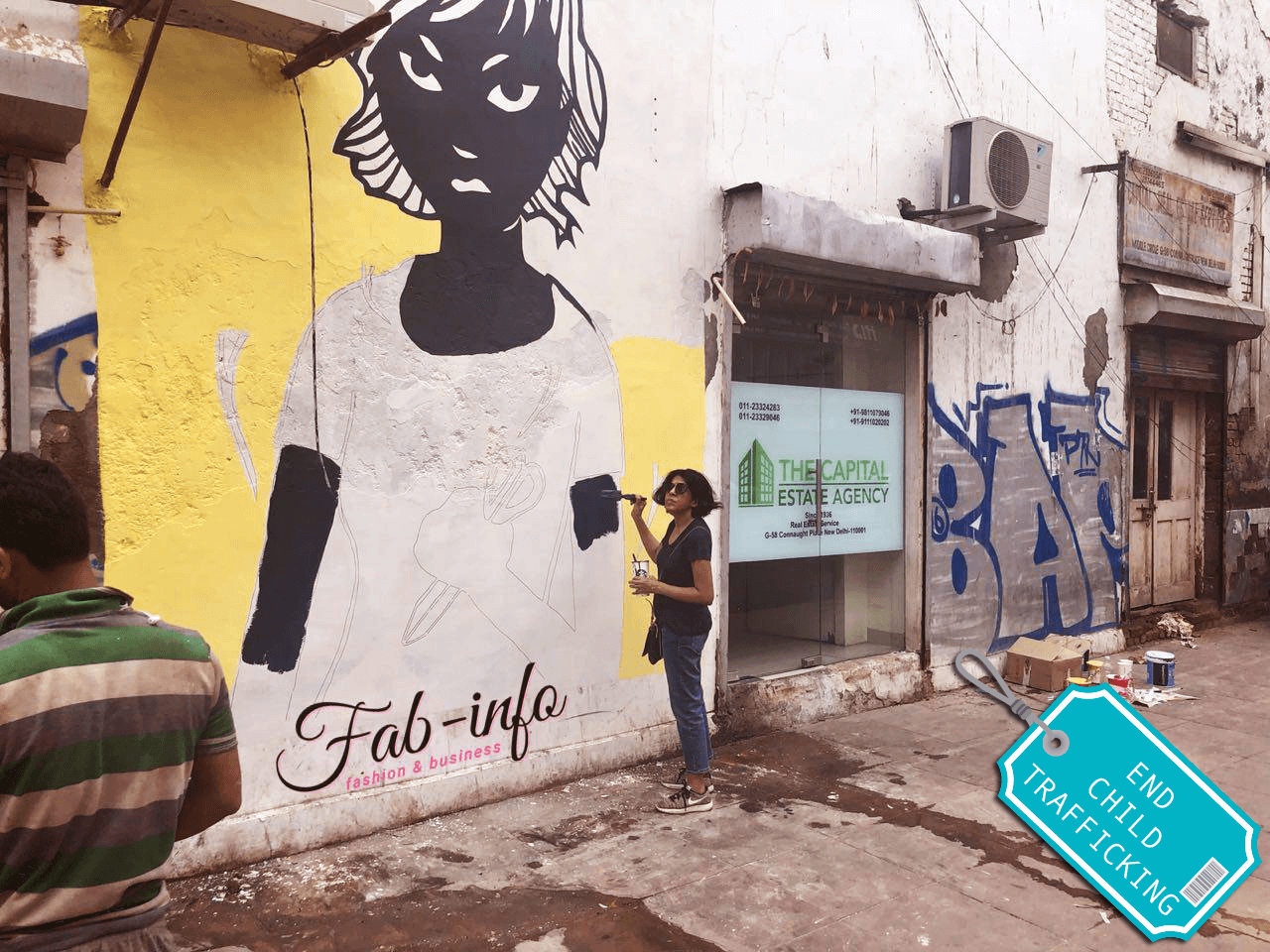 #EndChildTrafficking- Why The Public Needs To Join In On #ChokeTheDemand
Delhi's first interactive mural experience was created in collaboration with Change.org and The Missing Art Project to shake the status quo on the current conversation (or the lack of it) around the commercial sexual exploitation of children in India. Through the use of art and technology, massive wall murals were created in 3 locations across Delhi, with the aim to to trigger conversations about the high demand for children in the sex industry, missing from the public narrative. 
What #ChokeTheDemand achieved that many other public engagement initiatives couldn't was that it drew participation from many potential collaborators for the protection of children – police, filmmakers, activists and celebrities, all came together to generate awareness, curiosity and empathy on the looming issue of child trafficking, and discuss solutions to "choke" it, understanding well that we are all part of the solution. 
Many, took to twitter to share their thoughts and further spread the message… You can too!
"Almost one in every two sex workers in India is a child." Let that sink in!!This just breaks my heart and makes my blood boil. Join me in taking this step to stop child trafficking. #chokethedemand #endexploitation @ChangeOrg_India https://t.co/gYiyVwFigJ

— Swara Bhasker (@ReallySwara) June 29, 2018
Trafficking is demand-driven. Small acts like forwarding a rape joke can have a devastating impact in perpetuating the idea of the commodification of girls and women. For example : "in Kolkata The cost of chicken is more than the cost of a girl."#ChokeTheDemand

— Zero Trafficking (@0trafficking) July 9, 2018
Panel discussion together 4 fighting commercial sexual exploitation of India @YouthKiAwaaz @ChangeOrg_India @ArtForCause #ChokeTheDemand different stakeholders to fight 2gether 4 a cause & a coordinated effort 2 tackle dis one of the most organized crimes but seldom talked about

— Meetika Srivastava (@msri22) June 23, 2018
Imagine if it was your own child/grandchild/niece who was trafficked. Why should it be any different when it is not your child. Let's start giving a damn. @ChangeOrg_India @YouthKiAwaaz #ForumForChange #ChokeTheDemand

— KalamwaliBai (@Namratakilpady) June 23, 2018
Passenger`s timely tweet saves 26 minor girls from being trafficked https://t.co/qoHDE1Dorf #ChokeTheDemand @ChangeOrg_India @YouthKiAwaaz We all are a part of the solution. We all are.

— Sonal Kapoor (@ArtForCause) July 9, 2018
Child rights is never a priority because children don't represent a vote bank for politicians:@rajeev_mp . But thanks to a dedication of a few the change in narrative to prioritise ending #CommercialExploitation of Children in promising. #ChokeTheDemand https://t.co/1cdXe5C5eK

— Vinay Prakash (@Vin_prak) December 15, 2017
If we can't begin to agree on fundamentals, such as the elimination of the most abusive forms of child labor, then we really are not ready to march forward into the future.

Alexis Herman

Thank you Sir @CPHydCity for #ChokeTheDemand @hydcitypolice @AddlCPCrimesHyd https://t.co/uFDWCb8qhw

— 🅰 🅱 🅾 🅾 🅳 ™ (@MedineseVictory) July 14, 2018
Photo Credits : Choke the Demand