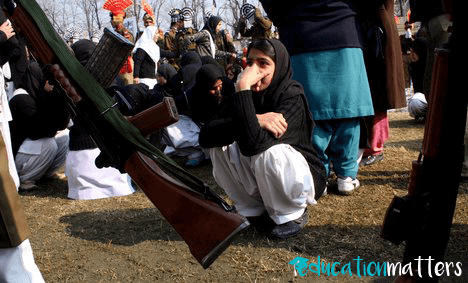 #EducationMatters- Unschooled by conflict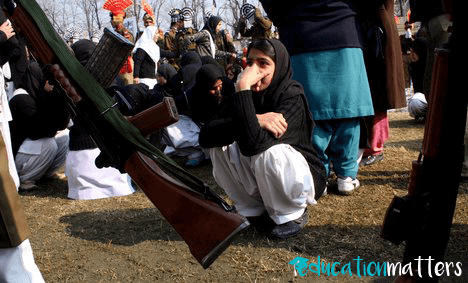 The human cost of conflict has been devastating in India and world over. More so with children who hardly develop skills to deal with the intricacies of facing and living with conflict. Millions of children are caught up in conflicts in which they are not merely bystanders, but targets. Some fall victim to a general onslaught against civilians; others die as part of a calculated genocide. Still other children suffer the effects of sexual violence or the multiple deprivations of armed conflict that expose them to hunger or disease.  
A catastrophic fall out of ongoing conflict is a generation of unschooled children. These children find themselves, through no fault of their own, not only lost and confused but also lacking the opportunity for proper schooling and thus, denied a chance to learn and develop the necessary skills to become fully contributing members of society. This lost generation is the tragedy of our time. 
The lack of education, coupled with a sense of despair and hopelessness creates the perfect conditions for the radicalisation of children, running astray, falling prey to unfavourable circumstances and losing will to learn. Without education, children and youth will not have the economic opportunities and sometimes the learnings and socialisation that help counter trauma provided to children in areas not disturbed by conflict. 
It is when families, communities and governments fight hard to ensure the right to quality education is fulfilled, despite difficult circumstances, that a child has the hope to rebuild his life.
1. CHHATTISGARH
Children at a school run by Naxals in a village of Chhattisgarh (Photo- Kractivist)
Bastar, a region which cradled a society and indeed an ecosystem based on the tribal way of life has in recent times become a zone of bitter conflict. The ongoing battle between the Naxals and security forces has taken a heavy toll on its people, and at the heart of it are the regions children.
All parties to the conflict-Maoist rebels (Naxalites), state-supported anti-Maoist vigilante groups (known as Salwa Judum), and government security forces- have recruited children in different capacities that expose them to the risk of injury and death. It has also caused massive displacement, resulted in the destruction of dozens of schools, and severely impacted children's access to education. The Naxalites recruit children between ages 6-12 years into children's associations called Bal Sangams, where children are trained in Maoist ideology, used as informers, and taught to fight with non-lethal weapons (sticks). While others get taken in by the policemen and are used as spies against the naxalites.
The havoc of the conflict coupled with the violence unleashed by Salwa Judum members and government security forces has forced some parents to stop sending their children to school, others have migrated to neighbouring states but have dropped out of school due to language barriers and yet others have been converted into child soldiers, brainwashed by the region's militants. Government security forces have used many school buildings for military purposes, leading Naxalites to destroy even school infrastructure and facilities.
2. MANIPUR

School students at a sit-in protest against the economic blockade imposed by Naga rebels, near Imphal, Manipur (Photo- Amit Bhargava/NY Times)
Manipur is a multi-ethnic, multi-linguistic and multi-religious state. Due to paucity of land resource there has been intense competition among the different ethnic groups to gain control over them, the ethnic conflict had far reaching consequences and has impacted education adversely. Violent political conflicts are a regular feature in Manipur, for many decades. Frequently occurring violence, bandhs and blockades have severely affect the a normal school life of children.
Conflict has had multifaceted effects, which have not only disturbed children socially, but also psychologically. Parents are always worried about the possible involvement of children in violent activities. Sometimes, students themselves willingly get involved in the activities of bandhs and blockades, unable to attend
School, losing focus on their education. Additionally, the forced recruitment of children into insurgent groups has become a common phenomenon in Manipur and also a growing cause of concern.
An outcome of this ongoing insurgency has been the emergence of a tuition culture and educational outmigration as alternatives for covering the syllabus and seeking a quality education, making redundant the existing public education system.
3. KASHMIR
Indian paramilitary troopers stand guard as Kashmiri Muslim school girls walk past outside the state assembly in Srinagar. (Photo – AFP)
Children and education systems are often on the front line of violent conflict in Kashmir. Recently, Burhan Wani's death due to the conflict between the state and its people has cost many people their lives, their limbs and their normal daily living, especially the most vulnerable section- its children.
Conflict has known to leave lasting impacts on children, binding them to safe places, away from a normal routine of attending school. The first thing a child needs to sacrifice is his/ her right to education, as going to school suddenly becomes taking on an unsafe journey. Blasts, encounters, hartals, curfews, shutdowns and extreme violence means that schools stays shut for days, weeks or even months, leaving children with no alternative means for continuing their education. Insufficiently recognised, one of the lasting, negative impacts of growing up in a conflict ridden home is a deep sense of fear, insecurity and hopelessness, denying Kashmir's next generation a chance to learn and develop into fully functional members of society.
Exams, private tuitions, regular school and any chance of learning came to a halt when the conflict in Kashmir spiralled out of control. Sitting at home, behind closed doors, with no place to play or lead a regular life, many children and youngsters are taking to the street and joining the rebellion with stone pelting.
4. JHARKHAND
A high school classroom in Bokaro, Jharkhand blown up by Naxalities after security forces stayed there. (Photo: Manob Choudhary)
The Adivasis, the original inhabitants of the land who populate the jungle heartlands of the country, are caught in the middle of a conflict that has raged between India's government and Maoist insurgents, for almost five decades.
The ongoing conflict is disrupting the education of thousands of marginalized children. The Maoists, are targeting and blowing up state-run schools. At the same time, police and paramilitary forces are disrupting education for long periods by occupying schools as part of anti-Naxalite operations. The Maoists attack schools because they are often the only government buildings in the remote rural areas where the militants operate. Undefended schools are a high-visibility target. Sometimes the security forces occupy school buildings completely, while in other places they occupy parts of school buildings, with students trying to carry on their studies in the remaining space. In other circumstances, parents fear sending their children to school and many drop out.
The very presence of heavily armed police and paramilitaries living and working in the same buildings where children are studying invariably has a detrimental impact on children's studies and frequently puts the authorities in breach of their obligations to realise children's right to education. What is urgent for the children of Jharkhand is the repair or rebuilding of damaged schools as a priority, and immediate psycho-social support along with emergency alternative education.
5. ODISHA

Children outside a one-room school in Kantabanji, Odisha. (Photo- Author Regents Park)
More than half of the districts in Odisha are affected by Maoist violence. Maoists have always been critical of the state government's development model and have opposed massive mining and power projects because they would result in large-scale displacement and disenfranchisement of tribals. This ongoing insurgency has crippled the everyday lives of the community and their children.
As a result, the youth and children are being pushed into a zone of darkness. Their rights being violated indiscriminately. Schools are empty and children huddle inside their homes, unwilling to meet strangers. No one ventures out either in the fields or forests. The community wants the forces to move away so that normalcy can return to their village. They want their lives back, the school and Anganwadi to run and the freedom to move in the forests, like they used to.
Many schools are located at the periphery of the forest, making them unsafe for children to reach and access. They also lack boundary walls, fences and the necessary infrastructure. Families don't want to send their children to school for safety reasons, making them drop out of school and take to odd jobs to earn a living or helping out in household chores. This makes it difficult to get back to school or pursue an education. Violence and conflict in this region curtails lives and creates dismal opportunities for education.
Photo Credits : Imran Nissar/ WN
Words By : Nipa Bhansali