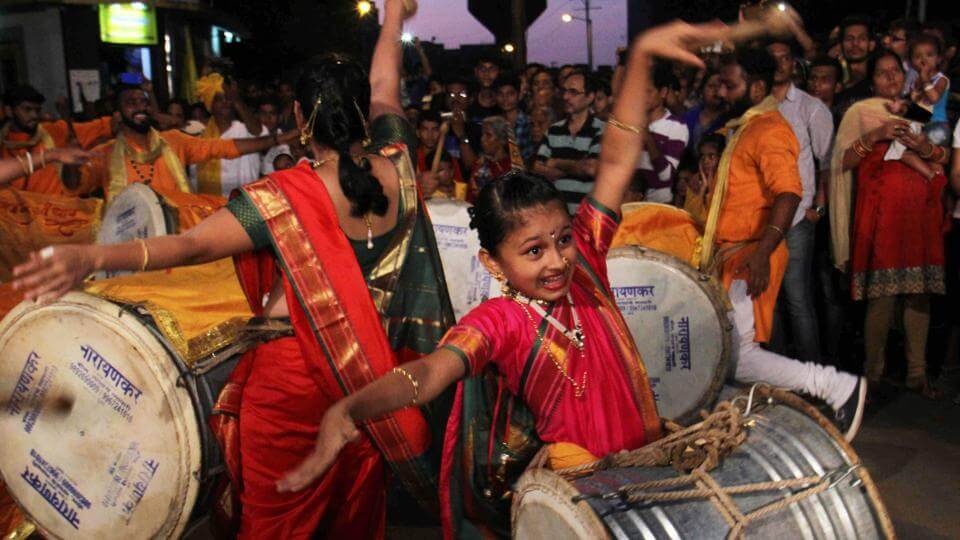 The Drummer Girls Of Dahisar – The Strength Of A Community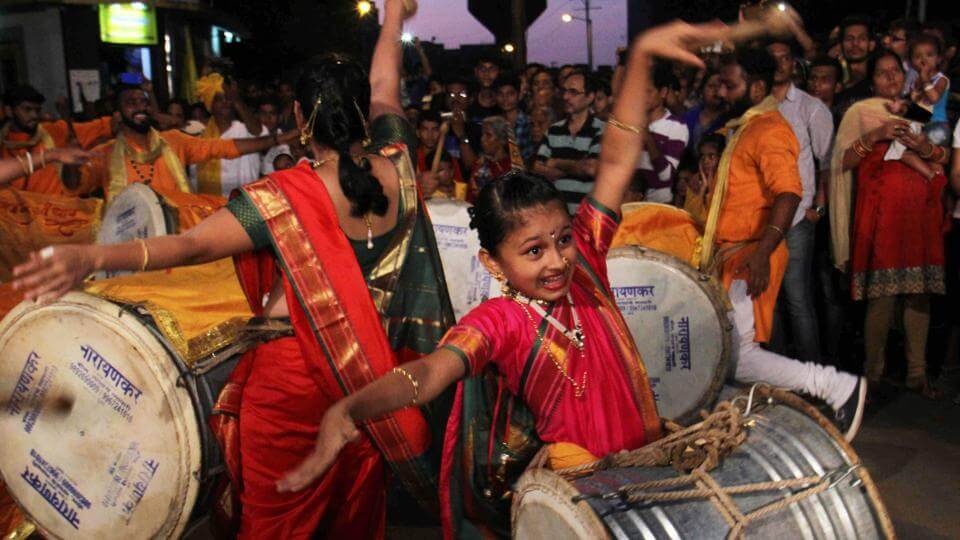 Dhol Pathak groups play a major role in lending a fervour to the 11-day Ganpati festival in the city. Till recently a male preserve it has of late been infiltrated by young women and even little girls.
In the bustling part of Dahisar in North Mumbai, girls as young as 12 tie 10-15 kg dhols around their tiny waist to gather for long hours of arduous practice sessions often starting early morning and continuing till late in the night.. The sessions take place in an isolated spot next to a crematorium and beyond the reach of street lights. Yet fear or lack of safety has not deterred their enthusiasm to prove their mettle and match their troupe beat for beat, strike for strike. The girls are part of Swardgandhar, a Dhol Tasha group that began in 2014 with an intention to get a scattered community together through the dhol. While initially, only men were part of the group, gradually, women too joined the group.
For these young girls, the dhol is more than just a musical instrument; it epitomises a sense of freedom, ability to be themselves and give a platform to their creativity. The dhol has become an extension of a safe non-judgemental space.
The credit here goes to an entire community that came together to support the girls to perform the thunderous dhol with a sense of pride and enthusiasm. For instance, 50-year-old Hema Ravi, software engineering professional acted as a role model for the girls to take up playing the dhol tasha. Men too reached out to support the girls and made sure to drop them home after every practice session. They also ensured a crowd control by creating a human chain to ensure girls could perform freely. It takes a village, doesn't it? This vibrant Dahisar community sure acts as an inspiration.
In an age where celebrity selfies of father-daughter duos have become the hallmark of women's empowerment campaigns, the drummer girls of Dahisar offer a far more striking example of gender biases being demolished one beat at a time
Beginning tomorrow, we bring to you four such first-hand experiences of girls on how they feel about playing the dhol, and what it means to them.
This piece is inspired from a story seen in Arre. You can watch the original video here.
Photo Credits : Pramod Thakur Hindustan Times
Words By : Leher