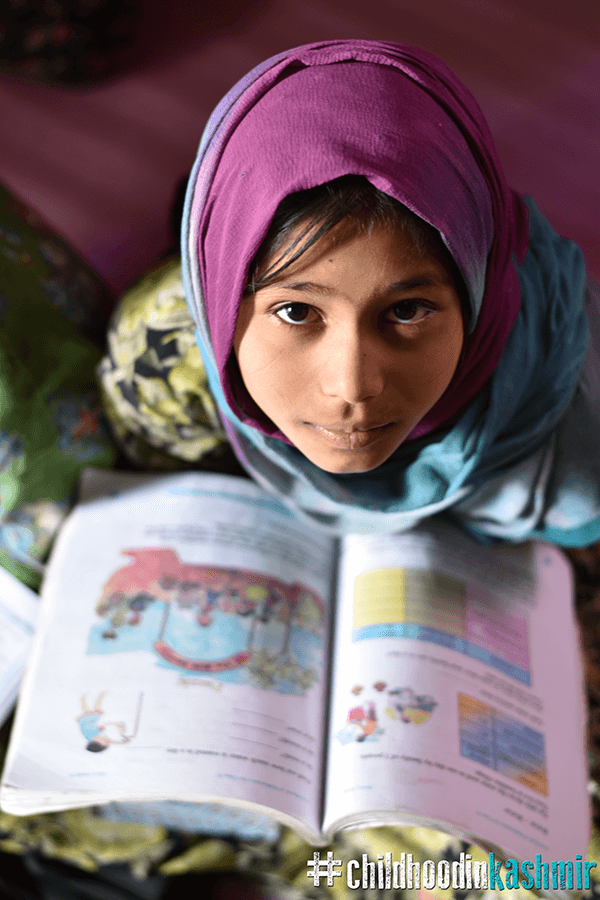 #Childhoodinkashmir – Bisma Nasir Ganai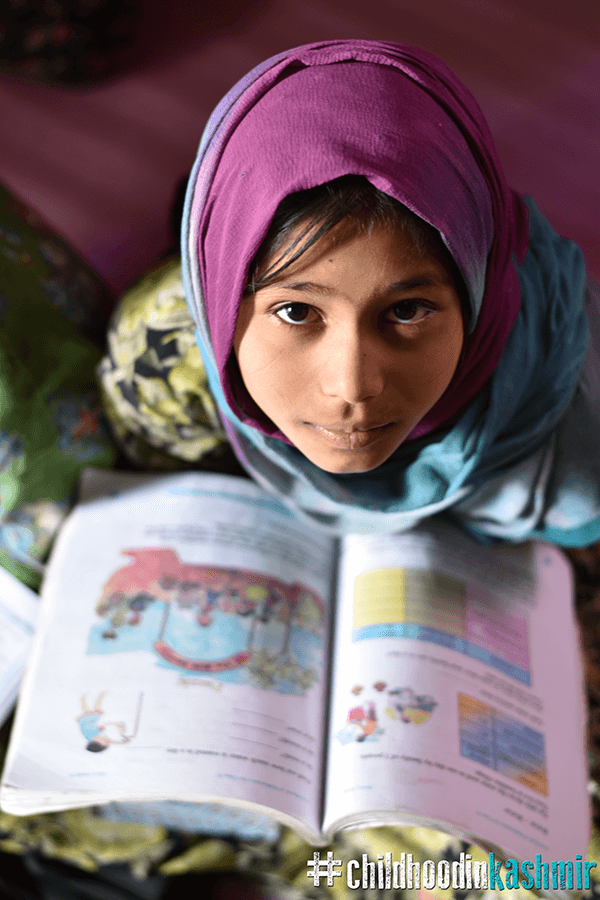 "I love to study about stars and planets. I am also able to form full sentences in English now," little Bisma exclaimed with a shy smile. Her spontaneity and curiosity revealed how much she loved to read and write. She wakes up at 5 in the morning, does her morning prayers, gets ready and goes to school at 9. English being her favourite subject has made her fall in love with story books for children. She is a 4th grader at the Government Middle school in Lalpora. Lalpora is a village located close to the LoC in the Lolab area of Kupwara district. Coming from a locality where education for girls is being frowned upon, it is Bisma's mother, Mubeena, who always encourages her to go to school. Bisma has one younger brother and three younger sisters. They all live in a one room house which is very old and shaby, and has no flooring. When Mubeena's husband passed away, the entire responsibility came upon her shoulders. Being an illiterate, Mubeena realized the importance of education and left no stones unturned to get her children enrolled in school, as she didn't want her children to face poverty when they grew up. "When I get free from studies, I help my mother in washing utensils and cleaning the house. I don't like it when she has to do so much work all alone, so I always help her," Bisma said.
"Sometimes when my children have gone to school, the only thing I fear for is their safety. I get anxious and start praying for their safe return to the house," Mubeena sighed. She further said that the area they live in comes under high militancy alert and is quite close to the LOC. Bisma is one of those students who comes to school with a pursuit – to learn more and more everyday. Even though there are so many factors pulling her down, Bisma remains ambitious and determined to make her dreams come true.
Photo Credits : Aamir Wani/ Kashmir through my lens
Words By : Aamir Wani
Aamir Wani is a Kashmiri photographer and poet. Popularly known as Kashmir Through My Lens, this is his attempt to demistify the often misconstrued and misrepresented facets of Kashmir and Kashmiriyat by sharing these touching stories with the world.