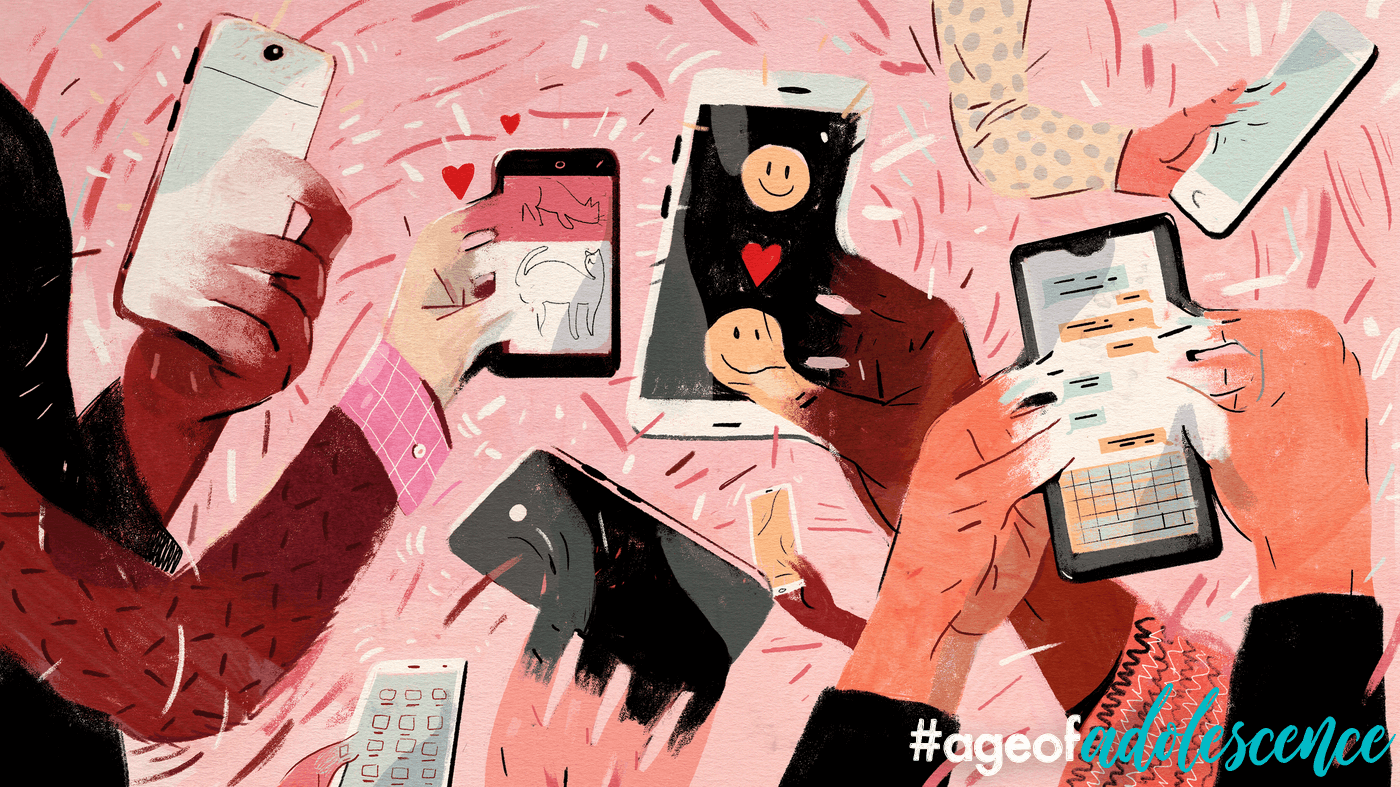 #AgeOfAdolescence – Supplementing or Substituting? Adolescent Views On Participating In The Digital World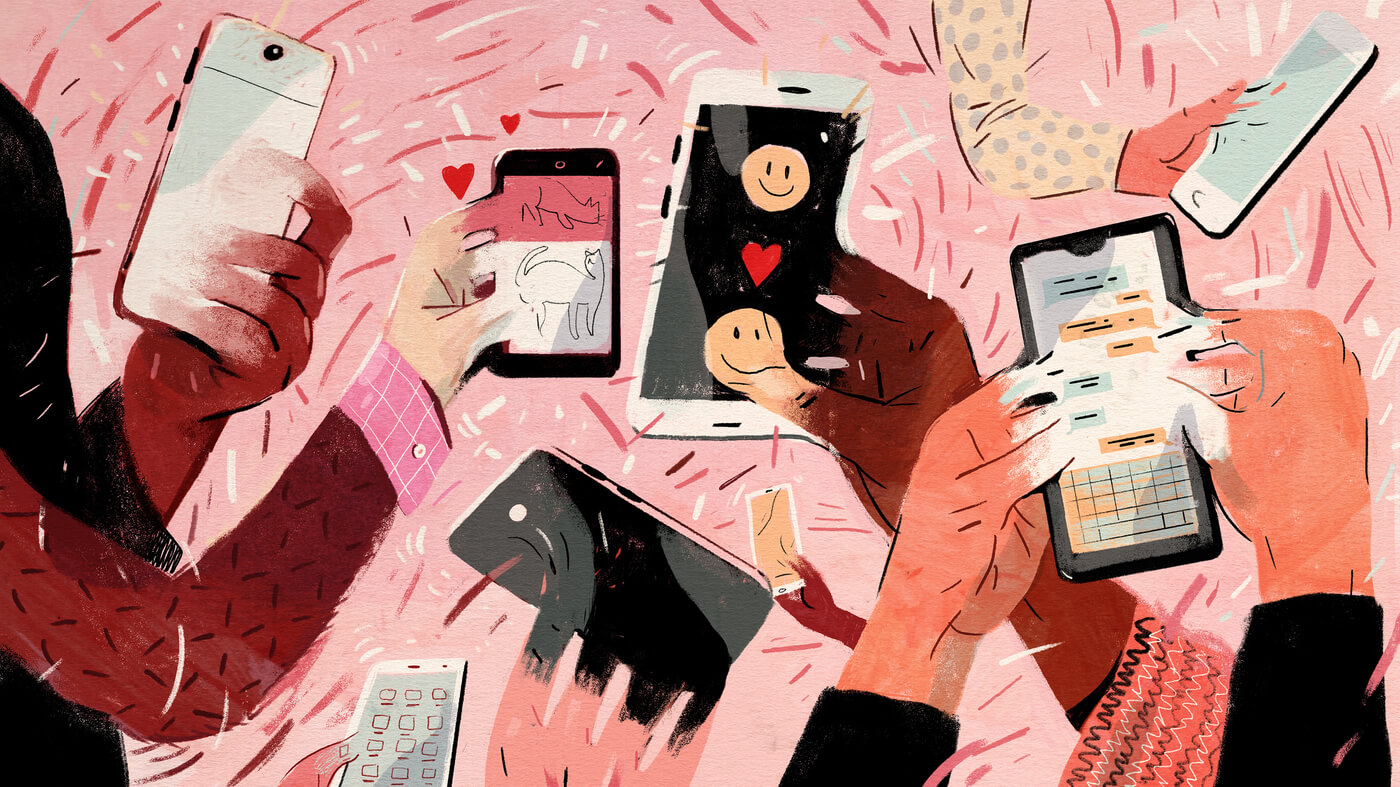 The Pew Research Centre surveyed over 1000 American teens (aged 13-17) in two survey rounds in 2014 and 2015 to explore how they engage online, and what commands their time and interest in the online world. The survey found that boys tend to use Facebook, girls tend to use Instagram; that those from lower income backgrounds tend to use Facebook while those from wealthier families lean towards Instagram and Snapchat. An average teen in America reportedly sends and receives 30 text messages each day. Interestingly, African American and Hispanic teens reported a higher instance of being online constantly, as opposed to white teens.
Other research has indicated that the use of phones for activities other than communication is relatively more common among those in their teen years. Lilavati Hospital in Mumbai has declared that teens are susceptible to cervical spine damage due to long and sustained usage of phones and other wireless devices – they call this 'text neck'. It is pointed out that among those aged 15-29, the number owning cell phones does not vary significantly with age. 
As teenagers have retreated (or advanced?) into the digital world, there's been a flurry of adult concern over safety, health and behavioural issues. Of course the same concerns exist for adults as well, but given the additional vulnerability of the adolescent years, parents, caregivers, and the well-being community has been invested in unearthing, understanding and addressing the risks for them. 
In an attempt to focus more on their perspective on these and other issues, I did interviews with five adolescents in Mumbai, all belonging to the English-speaking upper middle class. Three of the respondents were female and two male. Two were over 15 years old, and the others aged 13-15 years.
Mrittika and her brother had a phone when they were in Grades 3 and 4 – their parents were both working full time and the children were given the phone (dabba phone) so they could be in touch as they managed their everyday routine. In 'those days' there was no WiFi, so the use of the phone was restricted to SMS-ing friends and listening to FM/ pre-loaded music. The Facebook account was in place by Grade 6, around the same time as she got her smart phone (though the two instances aren't causally related). 
She acknowledges several risks among her peer group – the careless ticking off on the T&C 'Accept' box, the lack of care in sharing personal data and images on social media, the tendency to text someone instead of speaking with them because it makes tougher conversations 'easier', and the preoccupation with number of followers and 'likes' that spurs teens to accept 'requests' even from those they don't know. 
In these is a series of areas that one would think demand caregiver attention – a conversation about dos and don'ts; an awareness session on what social media can potentially open one up to (in terms of risks). Yet, Mrittika hasn't had any such formal conversations – most of it she's picked up along the way. 
It's the same for Riya (aged 14). There's no formal education on digital interactions, but she's figured out that it works on the same rules as the 'real world'. "You don't talk to strangers, you don't say anything hurtful, and if you see something that is wrong, you report it." She has access through her mother's phone, and will only be given her own phone once she's passed her Grade 10 exams. As a result her screen time amounts to less than an hour every day. 
But Riya is the exception. Her friend Kamya (also aged 14) has had a phone since she was 12. She acknowledges the pressure of the peer group in this – 'all my friends had one and I really really wanted one' she says. She's conscious that there's a certain amount of digital engagement that precedes the physical interaction among friends. So even the simple event of going out to a movie involves a great deal of prior communication – so if one doesn't have access to a phone, one simply loses out. Additionally, you need to know what celebrities or your favourite band is up to, else you're left out of conversations. 
Amogh (aged 16), got his phone at age 12. But he dismisses that one – it was a 'dabba mobile', given to him largely because he'd begun tuitions and his parents needed to be able to reach him on his way between school, tuitions and home. For him, when he was given a phone at age 13, (a smartphone), it became his source of games, texting friends and accessing Instagram so that he could view jokes and memes. 
Through Amogh I learn another reason that young people require phones – when at tuition, they wait for the teacher to finish writing the notes on the board and then they take a photo. That photo is circulated among the friends' group. The notes are then transcribed – neatly and in an organized manner – onto the notebook. 
Jamshed got his phone at the age of 13. But by the age of 8 he was accessing games and music on the family tablet. He learned quickly how to go to Playstore and download the games he required. Where he didn't learn intuitively, he had his friends or supportive adults to guide him. Through his conversation however, we keep coming back to music – the tablet was for him, the only access he had to the 'new kind of music'. Even once he got his own phone, music remains the most important use for him – he subscribes to his favourite artists and receives regular updates. He does however mention Google, and how it helps to be able to look up whatever you want easily, without having to look through books/ newspapers hoping to find what you need. 
Through these conversations I realise five key things about adolescents and their digital lives:
1. The risks of engaging digitally are real and current. Yet, almost no conversations happen either through the education system or via caregivers on simple dos and don'ts.
2. Phones will be given to adolescents at a progressively younger age, as their lives begin to involve more than school and home – a spate of co-curricular and hobby activities require them to commute, and make caregivers anxious about being able to reach them through their day
3. The phone is like an adolescent's room – personalized, private. In that sense, and given a shrinking amount of physical space available to them, the phone is also an important window for information, expression and entertainment, where the control lies with them
4. Phones are giving teens a way to avoid tough face-to-face conversations. These are being dispensed with, and instead simple text messages are taking their place. They give the teen a screen to stay behind; this reduces vulnerability, awkwardness.
5. Teens like to think visually – most use Instagram. There's a reluctance to use many words or read many words.
Photo Credits : Unknown
Words By : Havovi Wadia
Havovi Wadia is an enthusiastic parent, reader, writer and researcher. She is committed to an understanding of Childhoods and the rights of children. In recent years, her work has focused on measurement and she focuses on finding ways to make it relevant to programmes.