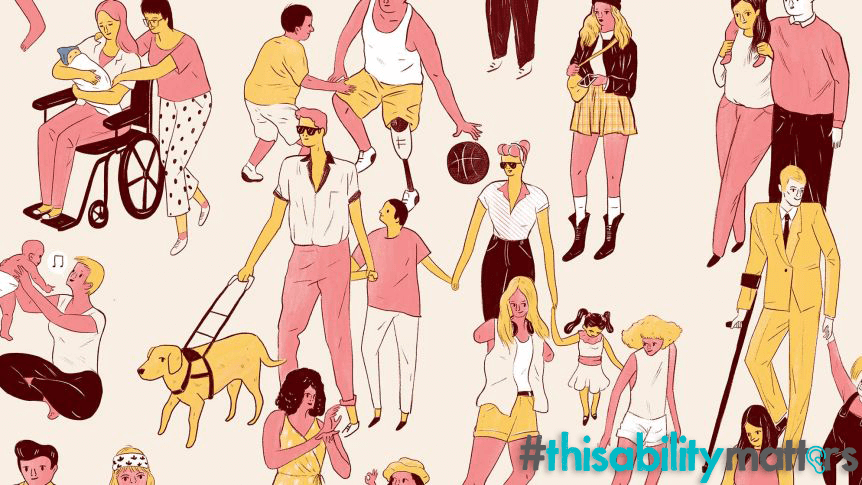 Many parents of children with disabilities, feel deep anxiety and fear the lack of opportunities available for their children in a world apathetic towards them. Parents associated with Save The Children's Project Dhvani have had similar struggles… From being thrown into a life that seems like a losing battle, discovering details of their child's disability, equipping themselves with knowledge and tools to help their child, seeking advice and guidance for the way forward, learning to focus on their child's abilities rather than disabilities and nurturing their child to deal with the outside world.
Here are stories of struggles and strength, shared by 4 parents of children with hearing impairment, that emphasise the need for early intervention and a change of culture towards differently abled children in our society.
#ThisAbilityMatters is a co-created campaign with Save The Children India that aims to push the discourse on the need for self-reliance and independence of India's disabled children.
RAHUL GUPTA
My daughter Komal was born in 2015 Today, she is 4.5 years old. We realized that Komal seemed to have an auditory issue, when she was 2 years old, as she never responded to any of our shout outs. We had a niggling feeling because children her age had already started speaking. We heard about the BERA test for the first time from the doctor, when we took Komal for a routine check-up. We immediately took the tests, and the results we received were bleak, indicating that Komal suffered from severe hearing loss (over 60%). Regardless of our limited sources, we consulted an ENT doctor, and after conducting an MRI and CT scans, she confirmed the status of Komal's condition. We were shattered, but did not lose hope.
That was when we heard about the Dhvani program at Save The Children India, and decided to try our luck here. After the initial diagnosis, Komal was fitted with a Cochlear Implant. It took her a while to adjust, but Komal, always being a happy child, bounced back in no time, and is now like any other happy, carefree child of her age. As parents, we always want the best for our children. Initially, we were terrified at the thought of Komal being side-lined owing to her auditory disability. With support and guidance from the teachers at Dhvani, we felt reassured, and changed our perspective towards our child being differently abled.
MINAL SHAH
Our son Raj is 5 years old. Raj was always a very happy and healthy baby, and we never suspected what was in store for us. At the age of 3, when Raj was down with a bad bout of fever, we had to take him to an ENT, and while there, we were shocked to be told that our little son suffered from congenital auditory problems, with over 50% hearing loss in both ears. We were devastated! To add insult to injury, we were short on funds for his treatment and the adequate knowledge on the best way forward. Days turned into months, until we heard about Project Dhvani at Save The Children India, from acquaintances at the ENT clinic.
Excited at the prospect of providing a fresh lease of life to Raj, we took him to the Dhvani centre. He underwent a cochlear implant procedure, and since then, has not stopped smiling. We are forever grateful for the guidance and support that we received at Dhvani, about the cochlear implant process. The teachers at Dhvani were extremely patient with my child and taught him well and prepared him for an equal footing in a regular school. Raj is now a very active child, with a keen interest in sports and arts. We as parents have made sure that we treat Raj like any other child, not letting him feel 'different' from the rest of the children around him.
NIRMAL NARWILKAR
My son Pratham, was 3 years old and he wasn't speaking at all. We got concerned and spoke to our pediatrician. He recommended the BERA test for Pratham, which revealed that he had hearing impairment. We visited multiple hospitals in the hope that the results would change, but much to our dismay the results were the same everywhere. The doctors directed us towards a cochlear implant that would help our child hear, and also recommended Project Dhvani that would help us through the process and assist Pratham in hearing and speaking.
1 year later, Pratham was fitted with a cochlear implant. Post-operation Pratham attended the verbal auditory sessions at Dhvani for two years, where he picked up speaking and hearing during and experts guided us to a special school in Byculla. Excelling in school, Pratham was moved to a regular school shortly after.
Today, our confident and popular (amongst his friends) 10-year-old, loves outdoor games and dancing, wants to grow up and start his own business, and is as normal as any other child. We have immense gratitude for the teachers and staff at Project Dhvani who made our journey comfortable and who helped Pratham reach his optimum to get into a good school, and hand-held us through altering our misconceptions on hearing impairment.
RASIKA PATEL
Rashmi is our first child. When she was a mere 2.5 years old, through various tests, we learnt about her hearing impairment. We were shattered on learning this initially, but after a journey of 1.5 years, our story has a different ending.
Project Dhvani and its experts had a significant role in counselling and guiding us through this difficult journey. We had no idea how to deal with this situation, leave alone understand about speech therapy and the other remedial steps that needs to be taken for a child with hearing impairment. The CT and MRI scans revealed that Rashmi has Incomplete Partition Type I. The doctors tried a hearing aid device for about 3-4 months to see if Rashmi recovers, but the results were not encouraging. Rashmi did not improve on the speech and hearing front either. Then she underwent the cochlear implant surgery and the implant was activated 10 days after the surgery. She immediately started to respond to the sounds and noises around her.
After the implant and the sessions Rashmi slowly started to identify with our voices, she learnt short words like mama, papa, dada, paani, etc. It's been one year since then and she has started communicating in 2-3 words. Nowadays, Rashmi is slowly picking up her writing skills too. She has an inquisitive nature just like other children, and loves to dance to different music beats.
Rashmi was adamant and stubborn before the operation. Her attention span was short and we had to take her out every twenty minutes to stop her from crying. She couldn't understand much of what was happening around. In fact, we also couldn't understand clearly what she wanted. But after the implant, the subsequent therapy sessions and with our counselling we have seen remarkable changes. Now, we understand each other better and she listens to what we say. She asks for water and food whenever she's thirsty and hungry too.
We delayed Rashmi's diagnosis thinking that everything was normal. We were hoping she'd pick up talking soon. But I realize that we were wrong and we were late. We came to Dhvani when Rashmi was 2.5 years old, but we should have brought her much earlier. Her progress would have been faster than what it is now. I feel that every parent should get the hearing test done at the earliest so that any abnormality is addressed at the earliest.