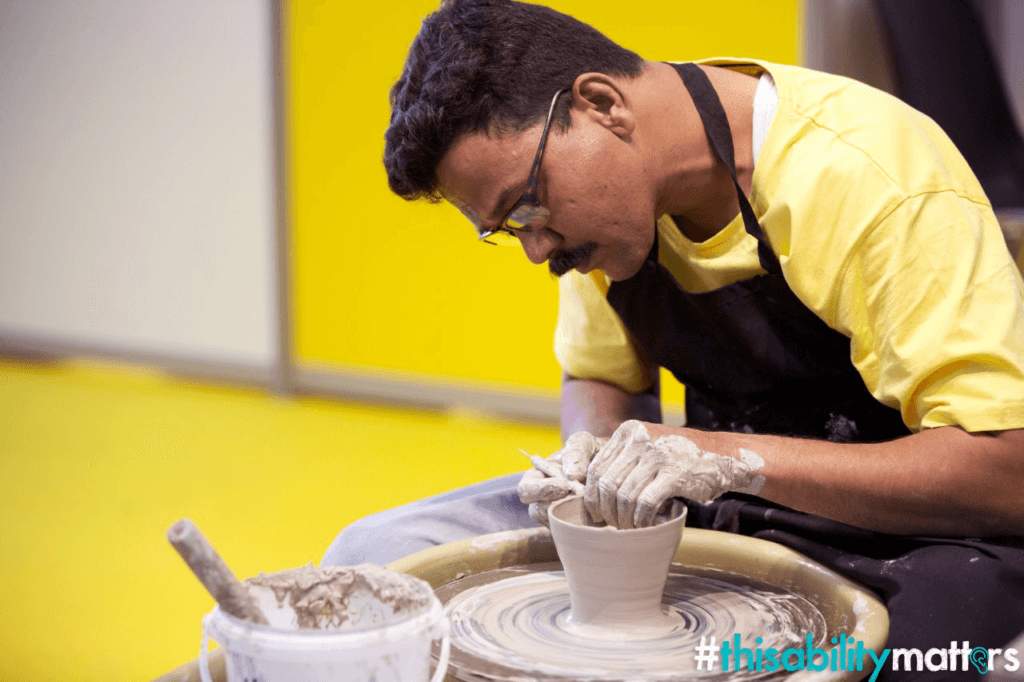 "I am not broken nor a problem to solve, I am not a learning tool to make you more evolved,

"I'm a passion and a person, I have ambition, love and drive,

"I could be free of all the shackles you draw on me in your mind if you'd let me be."

– Tilly Moses
#ThisAbilityMatters is a co-created campaign with Save The Children India that aims to push the discourse on the need for self-reliance and independence of India's disabled children.
Nishant Pravin Bambarkar dreams of being India's best teacher when he finishes school. "I'll be the top painter and will teach painting to my students," says the gusty 17 year old with an ear-to-ear smile. "I have been learning to paint from baba from the time I was little and I feel he is the best teacher. But I want to be even better than him, the bestest in fact." Nishant's teacher and father, Pravin Dattaram Bambarkar, unlike most other teachers was born with congenital deafness. Pravin taught and guided his son Nishant, who has normal hearing ability, with sign language and expressions.  
Pravin lost his father at a very young age. Without a breadwinner, the family of five – Pravin, his two younger siblings along with his mother and grandmother – were left forlorn. His mother and grandmother took up menial jobs that would hardly provide even the bare minimum to raise the children. The circumstances drove Pravin's mother into severe depression and she was unable to continue working. A few years later, his grandmother passed away, leaving the children to the help of their neighbours, who provided them with food and clothing for some time.
Pravin was brought face to face with Save The Children India. Had he been initiated into our program in his early years, his progress would've been much quicker. His journey in dealing with his inability to hear, took him through a series of highs and lows. From learning sign language, completion of an informal education, to obtaining a Diploma in drawing and painting from a government run Vocational Rehabilitation Centre, Pravin's spirit to never give up, lifted him from a life of dependency.
After his Diploma, Pravin took up several ad hoc jobs to support his family. He was exploited and cheated by most of his employers who either under paid him or made him work extra hours without compensation. Frustrated with this treatment, he approached Vipula Kadri at his alma mater at Save The Children India. With a fair chance on several projects, Pravin did exceptionally well on the work he took on.
Meanwhile, Pravin completed his formal education along with another vocational technical course from a government institute. Today he is employed as an Assistant Teacher with the Special Care Centre at Save The Children India and has been passionately teaching arts and crafts to the children with special needs at the school.
Pravin has a natural gift of the arts and took to pottery, painting and ikebana just like a fish takes to water. He is the only Indian who has represented India in all the above three categories at the International Abilympics in India, Bordeaux (France), South Korea and Shizouka (Japan). Contestants from more than 35 countries vie for the top three spots in these competition. He won bronze at the International Abilympics 2005 in the pottery category and was also given the award by Dr. APJ Abdul Kalam. He has won several other competitions and his achievements have been recognized by the state and central governments.
Today, Pravin is married to Nalini who is also an alumni of the special school run by Save The Children India, They have two loving sons, Nishant (17 years) and Pranav (11 years), with normal hearing abilities. Both of them have grown up being taught in sign language. Inspired by his father, Pravin's elder son has chosen fine arts as his subject for his graduate studies. Nishant says, "Sign language must be made mandatory in all schools so that there's no barrier between the hearing impaired and other people."