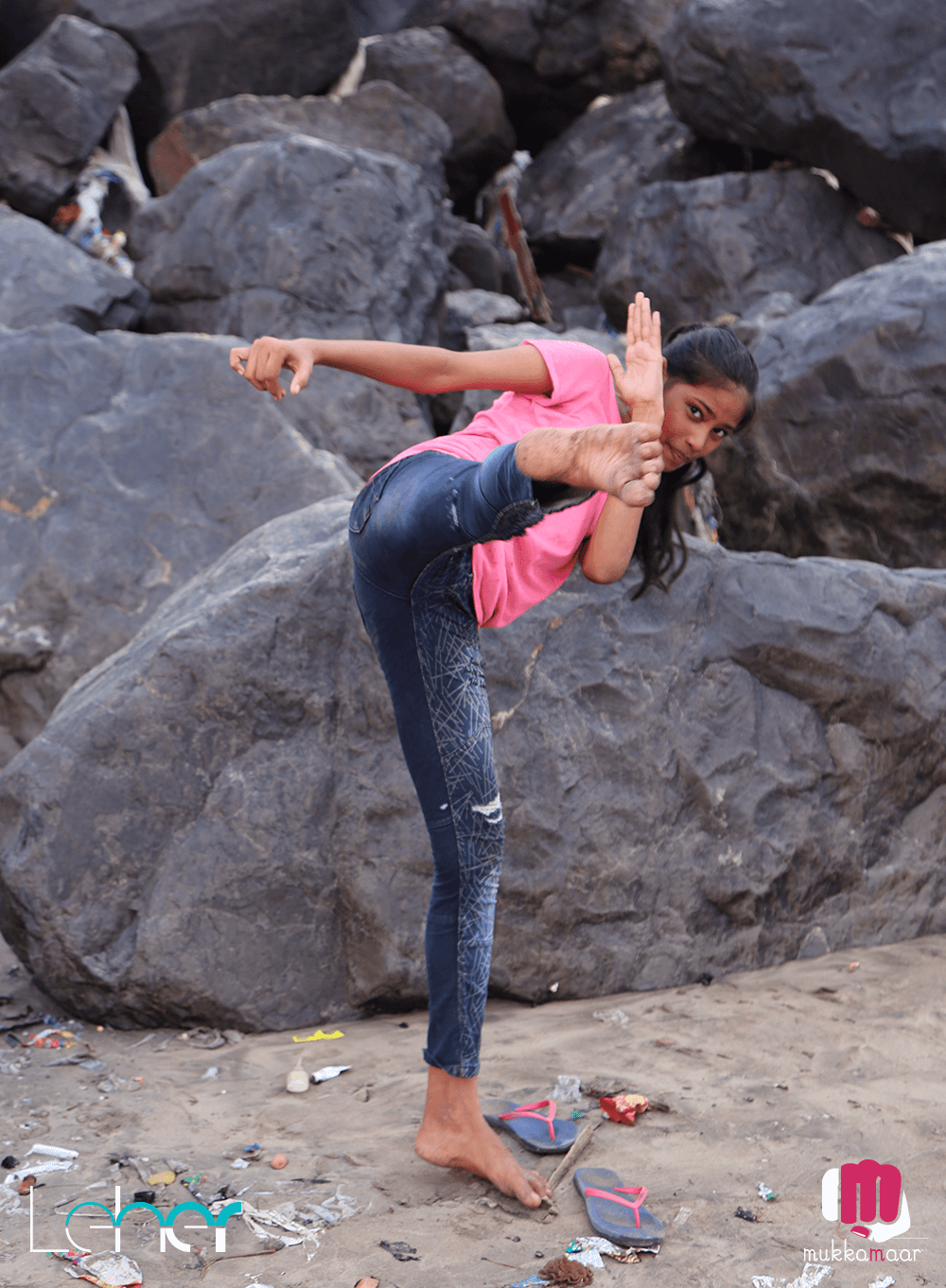 This is one part of a three-part narrative in collaboration with Leher and MukkaMaar is a non-profit organisation that empowers young girls and envisages ending gender-based violence through its comprehensive 3-year self-defence training program.
1. How was life before MukkaMaar?
Ans: Before I joined MukkaMaar, I was very weak. I would just play with my friend and while away my time aimlessly. Even if I would fall or get hurt by mistake, I'd sit and cry for a long time. I used to also feel scared whenever I would go anywhere. My parents were scared to send me out alone. More so, even our thinking was negative and orthodox.
2. How did you come to know about MukkaMaar?
Ans: My father used to put up a Chinese Bhel stall and I would help him in managing the stall. One day, I was walking on the beach with my friend where I saw several girls practising Karate. There was a Sir who was teaching them and I wanted to talk to him. However, since I had to visit my village in the next two days, I waited for some time. After coming back from the village, I then joined the 'Karate' Classes.' Later, Ishita Didi asked me, "What are learning over here?" I replied, "We are learning Karate." To that Ishita didi said, "No, we are learning Martial Arts. For me, it is basically learning self defence for girls.
3. How has people's thinking changed now?
Ans: Earlier, my father did not allow me to go for this class. He often asked me what I will achieve by learning martial arts. I would say "I will become a strong and powerful girl." However, my father disagreed with me and would not allow me. Even my neighbours in our colony felt the same.
Everyone asked me to study well in school to get good grades in exams. It was my uncle who requested my father to send me to the class and I started learning Martial Arts.
After a few days, my friend Pooja told me to come to Aamad Studio to practice. I went there and we used to practice a lot. There was an upcoming tournament but I wasn't ready for it. However, Swameshwar Sir, our teacher guided me and advised me by saying that I have to use the same punches and kicks in the tournament that I practice in class. I thought about it for a while and realised that I could do it. Later, I came back with two gold medals and a silver medal that I won in the fights. Everyone in my colony was extremely happy for me.  Even they wereencouraged to send their children to learn Martial arts and I remember telling one aunty from my colony 'sabar ka fal meetha hota hai.'
4. How has your life changed since then?
Ans: I used to feel very weak. After a lot of practice, I have now become strong.
5. Can girls learn martial arts?
Ans: Yes, all the girls must learn self-defense for themselves.
6. Describe MukkaMaar in one word.
Ans: Strong, Hausla, Himmat
7. Tell us your State level story.
Ans: We went to Aurangabad and checked in at the hotel. After two hours we got out of our room, but when we went inside the room was very dirty and we cleaned the room. We were very tired due to travelling. We went to take a bath but there was a long line for using the bath. After taking the bath we roamed around to see the place and it was beautiful.
In the evening, we got very hungry. There were two groups – girls who play from the suburbs the others from the city. We had to wait for a long time to get our food but the city girls got it easily. Soon, we went to check our weight. At night, we didn't get food to eat- the lady refused to make food for us. One of the girls suggested that there was a temple where we could get food so we went there. The food was very spicy so we spent our night without eating enough food.  Next day, we had our fights. I won five fights but lost one of them. I got a silver medal but I was happy.