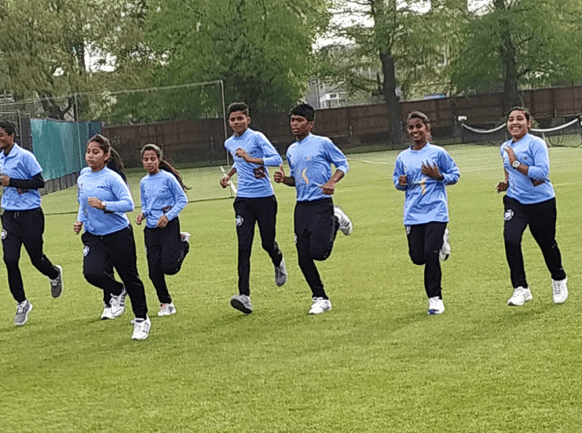 "I am very glad to be here today as a street child who got the opportunity to come to Lord's to play cricket and to have my voice heard on behalf of other street children. We do not have the right to identity and gender equality and do not have access to education and healthcare. No child should work to earn for his or her food. We call on the government to act on these issues and to ensure that all children have these rights," said a member of Team North India as they represented their country and its street children in England this year.  
While their counterparts from South India, took home the cup, this team of 8, 4 boys and 4 girls from Kolkata, with support from Hope Foundation and Save the Children., had a life-changing experience at the Street Child World Cup Cricket.
Here's a conversation with the Boys Of Team North India on their experience, learnings and love for cricket.  
Team North India is a mixed-gender team comprising 4 girls and 4 boys from Kolkata, supported by Hope Foundation and Save the Children
Q) Tell us your names, what do you like doing in your free time?
A: We are Tarak, Anupam, Irfan and Jabir, and we were part of team North India and some of us also play county cricket. Tarak here wants to become a businessman and the rest of us want to pursue cricket or football. We love football too!
Q) Congratulations on reaching the semi-finals! How was your experience?
A: It was such a great experience! We travelled to another country for the first time and played cricket at Lord's! We couldn't believe we played cricket at the same ground as Dada (Saurav Ganguly) played cricket. We felt very fortunate. We also felt bad that we lost the match in the semi-final. Infact, we even played a match against Team South India! While playing against our own country, we realised we can't have sympathy against the opponent. In any sport, one just plays to win and that is all that really matters! That apart, for us, this match was beyond a cricket match, it was representing the voice of all the street children of India as we got a platform to ensure our voice was heard. For us, that was a big responsibility!
Q) Tell us about your travel to England. How was it meeting different boys and girls from across the world? Did you make friends with them? Tell us about it.
A: It was our first international trip and we all were really excited. We were in the airplane for almost 12 hours and that was a long time. From the airport, we went to Cambridge and from there; everything was beautiful and well planned. We met people from diverse cultures and spoke to them in sign-language and yet became friends! We made friends with people from Bangladesh as we were able to speak with them in Bengali. We were surprised to hear that the team from England could understand a little bit of Hindi! They had seen many Hindi movies! They had seen Bahubali and knew so much about Shah Rukh Khan. We also made friends from the team from Tanzania, Nepal and Mauritius!
Q) Who is your favourite cricketer? Why?
A: Dinesh Kartik! We think his wicket keeping is great. Shikhar Dhawan is good too! He is an opening batsman and also does good fielding! David Warner is amazing… Hardik Pandya too!
Q) Dhoni or Virat? Who is the better captain? Why? Tell us about your team captain too.
A: Dhoni! Dhoni, for sure! He has much more experience and is a senior player and I think he knows how to manage the team! Jabir here thinks that Virat is a better captain. Tarak was our team captain and he gave us an equal chance to play and motivated us. Actually, the format of the street child world cup was such that everyone got an opportunity to play equally so it all worked out well for us.
Q) Sachin or Virat? Who is the better batsman? Harbhajan or Bhumra? Who is the better bowler?
 A: We all think Sachin is the best. He is so experienced and skilled. I mean he is like God! and we all love Bhumra!
Q) Are you watching the World Cup this year? Which country do you believe has the best chances of winning? Why?
A: India! India! India will win for sure! They have hardly lost many matches and their performance has been consistent. We think the finals will either be between India or England or India and Australia.
Q) What do you aspire to be when you grow up? A cricketer or something else? Why? What is it about cricket that you prefer over other sports?
A: I think we all like cricket and football equally and would want to pursue one of the sports. But apart from that, I, Tarak want to become a businessman! I will trade and earn money by selling water. It is one resource that everyone needs. Cricket will always remain my passion.
Q) Cricket as a sport unites our nation. How so?
A: When you play for India you play for the team and the country. During this time, nobody talks about whether you belong to east, west, north or south. You can be a south Indian, but you are first an Indian, right? A team's end goal is to win a match! We think even the nation then looks at the team as one!
Q) If you were captain and you had to pick the World Cup Team, who would you pick?
A: We shall obviously have all our friends in the team. But apart from that, we would pick Dinesh Karthik, Andre Russel, Bhumra, Kuldeep Yadav, Dhoni, David Warner, Ben Stokes, Joe root, Kohli, Jonny Bairstow, Chahal and Shikhar Dhawan in our team!
Q) You must've grown up watching only men and boys playing international cricket. How was your experience in playing in mixed-gender teams? What are your thoughts on it? Why do you think (or not) that girls and boys playing together is important?
A: We all belong to the streets and the format of the Street Child World Cup was such that there were 4 boys and 4 girls in one team. Every girl and boy got an equal opportunity to bat and bowl and this was a really nice thing.
You know, the girls are equally hard working and talented. Earlier, we never saw girls come out like this and play and we had a different opinion about them. But now, when they played with us, we realised they can sometimes play even better than us! Girls Rock!
Q) Are you going to be watching the Women's World Cup Cricket? Why/ Why not?
A: Yes, we want to observe the match and see their skills on how they bowl, bat and understand their strategies. We want to learn from watching the Women's World Cup and would definitely watch the match!
Q) Tell us the best thing about playing cricket? What is the most fun part about it? What have you learnt from playing cricket?
A: Hard Work, Discipline, Courage, Dedication, Coordination, Consistency, Equality and Team Work. There is so much one can learn from the game of cricket you know.
We think we were skilled and were practicing really well and hence, we reached till the semi-finals. However, we realised that co-ordination is really important within the team. This is what we learnt about playing cricket!
Q) Is cricket compulsory in schools? Should it be? Why so?
A: Yes! We all think cricket should be made compulsory in schools. But the thing is, in our school, there is no cricket ground or a playground. So even if it is made compulsory, how will all children play cricket? If the government can help us, it will be nice as it will give us a space to practice and get better at our game. We went to England and visited a school and they had a swimming pool, football ground and even a place to play cricket! Why can't we have access to such places in India?
Q) How has your life changed after going for the Street World Cup?
A: Nobody knew us before the match and now, once we came back, everyone knows us, they treat us with love and respect. We have an identity now. We now take our lives more seriously and know that we want to study more, get educated and have a career for ourselves. Today, everyone is asking us how it was going to England, meeting different people and reaching so far. We were featured in the media and in newspapers and suddenly, we got importance. This is all good and we are happy for this opportunity. However, we were able to participate in this match, because we lived on the streets, and then started to stay in the institution run by Hope foundation. What about the children who are still living on the streets? I think more and more children should get such a platform. We are just a handful of them…
You can read what the Girls Team of North India had to share with us here.