The water crisis is looming large over India with Chennai becoming the first Indian city "to have gone dry". This drought-like situation is not only affecting people's health but is also keeping children away from school. Children stand in long queues to find pumps that provide potable water, have no option but to use unclean and stinky toilets because of extreme water scarcity and need to skip school to lend a helping hand to go fetch water. This crisis has hit both the rich and poor alike, where schools are now asking children to get their own water from home.
While this is not a new phenomenon in India, the clock is ticking, and people across the country are in danger of survival and access to their most basic necessity, including millions of children. While Leonardo DiCaprio, the most vocal celebrity environmentalist spoke about the grave situation in Chennai, on his Instagram account, drawing attention to a global audience, a lot remains to be done. 
Here are some images from across the country that depict the drudgery that some children have to go through on a daily basis just to drink a few drops of water…
For children across India, extreme climate changes and drought, makes access to a few sips of clean drinking water a luxury
A young boy shows water remaining in a container at his family home in Salegaon village in Beed.
Children wait to fetch potable water at Nayandahalli, which gets supply once a week. Meanwhile, their education takes a backseat as many of them  skip classes to fetch water.
A girl walks carrying drinking water at a slum in Mumbai. India is facing a 43% deficiency on monsoon rains across the country by its late arrival, according to India Meteorological Department. 
In Marathwada, drought has gone on for so long that farmers and their children have 'stopped expecting a decent life'.
As the water crisis reaches epidemic levels, children are left with no choice but to partake in fetching water from far off places.
With the country's ground water supply being overused, children have to struggle for even a few drops of drinking water.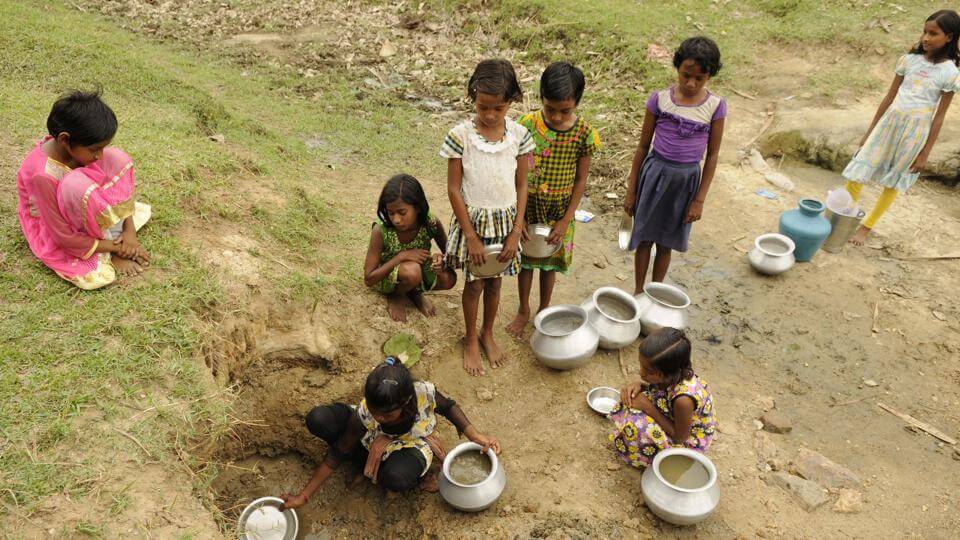 Photo- Samir Jana/ HT
The widespread lack of clean water is a growing crisis affecting millions of families and children in India that we can't ignore anymore.
Photo credit : Giacomo Pirozzi, UNICEF