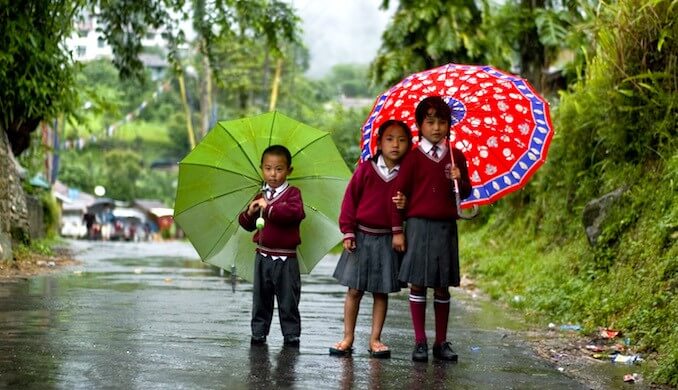 The vagaries of India's monsoon, are known to all its people, especially its children. For some it is a signal that summer holidays are coming to an end, and the new year at school is round the corner. For others it means playgrounds turned into puddles, time for paper boats, colourful umbrellas, raincoats, gumboots, and cricket in the rain. And for many others it means the washing away of their homes, taking shelter at a railway station, on a skywalk or a bus shelter, braving the rain under leaky thatched roofs and chasing the clouds elsewhere.
We bring to you images from different parts of India that capture the joy and jubilance of monsoon juxtaposed against the stark realities that exist for children during this time.
MONSOON IS A TIME FOR CHILDREN WHERE PLAYGROUNDS TURN INTO PUDDLES
AND PUDDLES TURN INTO PLAYGROUNDS
WHERE TARPULIN SHEETS MAKE FOR RAIN COVER
AND DISCARDED AUTOS BECOME PLAY THINGS
WHERE WATER-LOGGED STREETS MAKE FOR LARGE GATHERINGS
AND FLOODED STREETS ACT AS SWIMMING POOLS
WHERE THE ONLY COLOUR ON A DULL DAY IS OF AN UMBRELLA
AND YOUR ONLY RESPITE IN ON THE BACK OF A SIBLING
WHEN THE FEELING OF RAIN DROPS OF YOUR FACE MEANS SHEER JOY
BUT WALKING TO SCHOOL IS AN UNPREDICTABLE JOURNEY
WHEN AN UMBRELLA BECOMES A PERMANENT HAND FIXTURE
AND MAKING PAPERBOATS BECOMES THE GAME OF THE SEASON
WHEN OVERFLOWING BACKYARDS MEANS SWIM TIME 
AND WORKING FOR A LIVING BECOMES OVERTIME
WHEN WADING THROUGH THE WATER EACH DAY BECOMES TRECHEROUS 
AND BOATS BECOME A COMMON MEANS OF TRANSPORT
WHEN RAINS REACH CATASROPHIC LEVELS AND HOME GET WASHED AWAY
AND ACCESS TO FOOD AND CLEAN WATER BECOMES DIFFICULT
WHEN SCHOOL REMAINS SHUT DOWN
YOU KNOW MONSOON DAYS ARE HERE TO STAY!