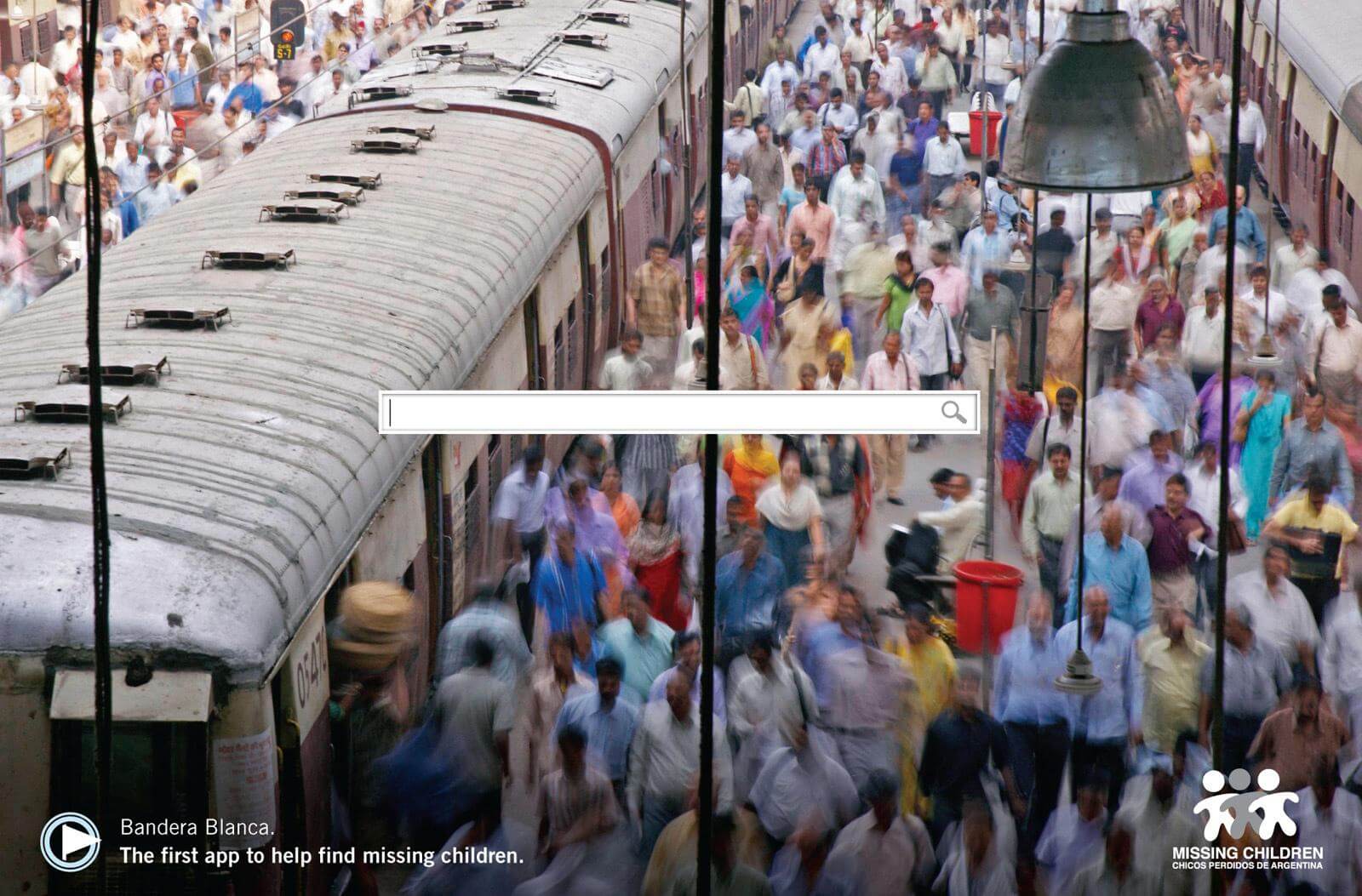 With an increasingly connected world, driven by technology and the world wide web, come issues of increased access, vulnerability and exposure, proving to be a graver threat to one's personal safety, especially children. Developed, developing and under-developed countries are all dealing with the high numbers of missing children. In every country, these range from hundreds to thousands on a daily basis. 
India assumes one of the top positions globally when it comes to Missing Children- with one child going missing every eight minutes. The reasons behind such grim statistics ranges from poverty, kidnapping, abductions, disappearing children, child-lifting to trafficking. Many families are made to believe that their children are being taken away for purposes such as education and employment, but more often than not the children are being illegally sold for slavery, unpaid and unsafe labour and other reasons. According a report by the National Crime Records Bureau in 2016, 174 children go missing on a daily basis, and only 50% of them ever make it back home.       
In 2001, 25th May was recognised as International Missing Children's Day. Ever since, the movement continues to grow, as more and more countries commemorate this day and recognize the need for a harmonized response to protect vulnerable children. 
Here's a list of PSA's from across the world that reflect the emotions and complexities that go into tracing a missing child.
1. FOR THE ONES THAT CAME BACK, AND FOR THE ONES WE ARE STILL SEARCHING.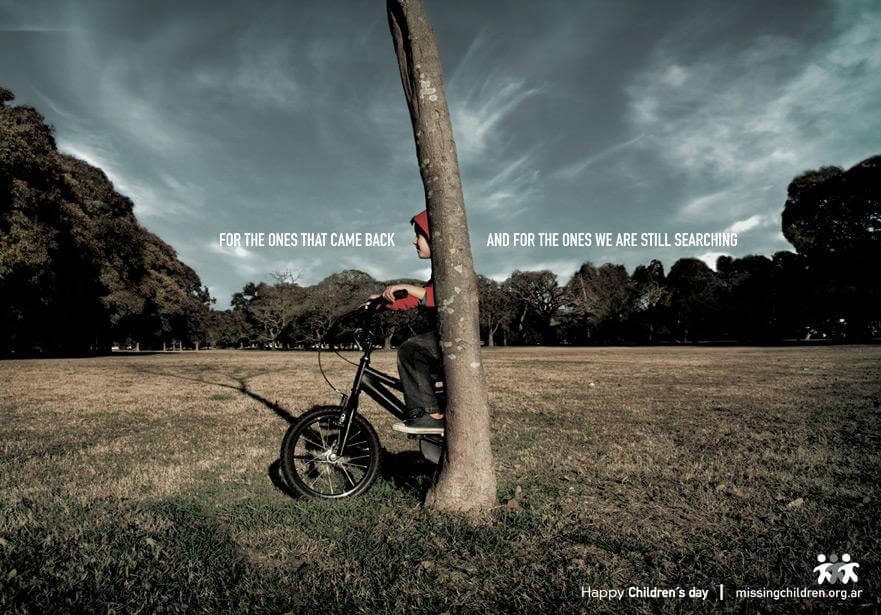 Published in August 2009, this PSA was published on Children's Day by SV+, an advertising agency based out of Buenos Aires, Argentina. One side of the tree represents children who made it back home, to the safety of their home and family, and the emptiness of the other side of the tree represents the children who are still missing. The message of this PSA is powerful because it reiterates that the children not found have not been forgotten or shrugged aside.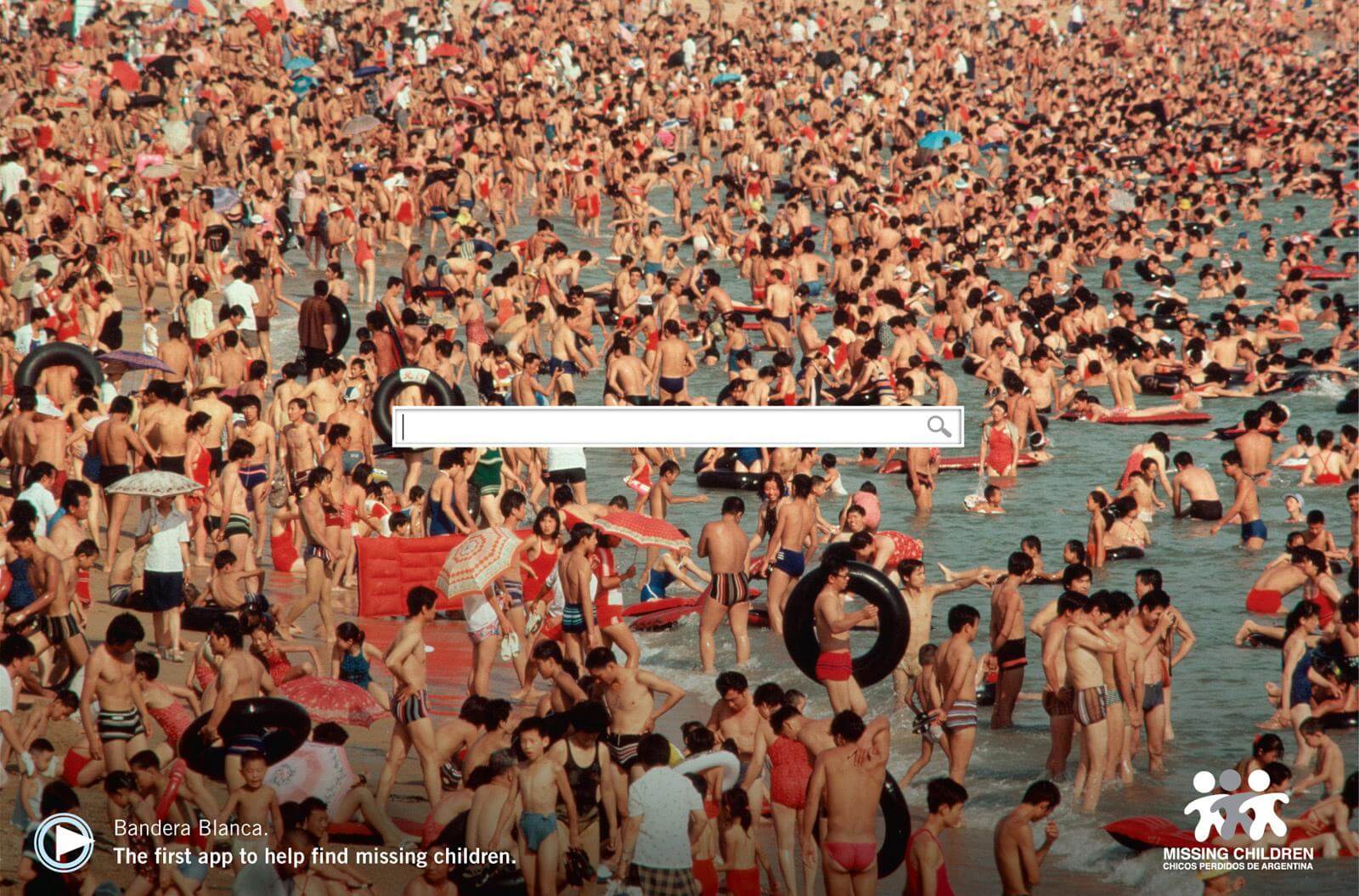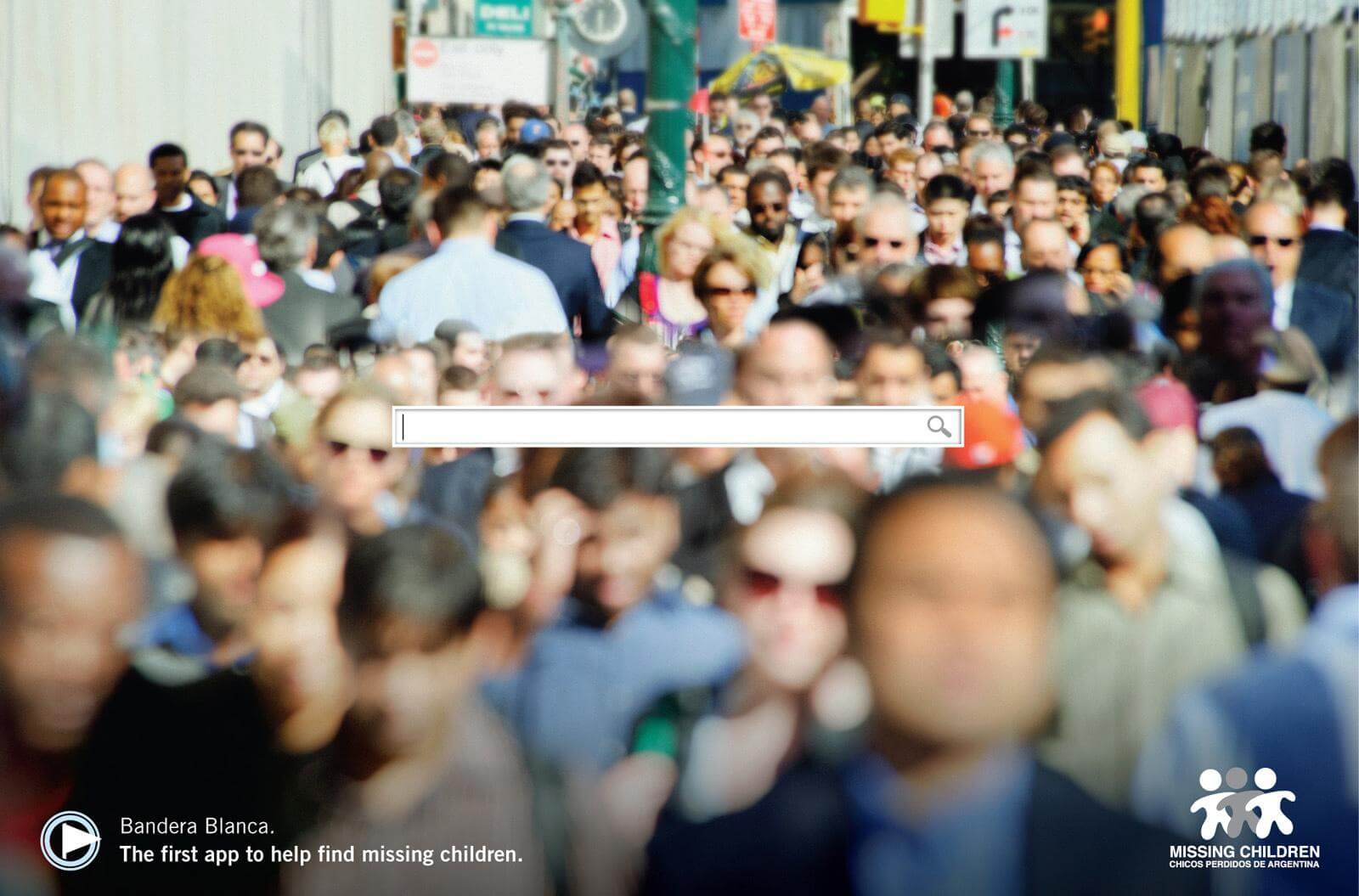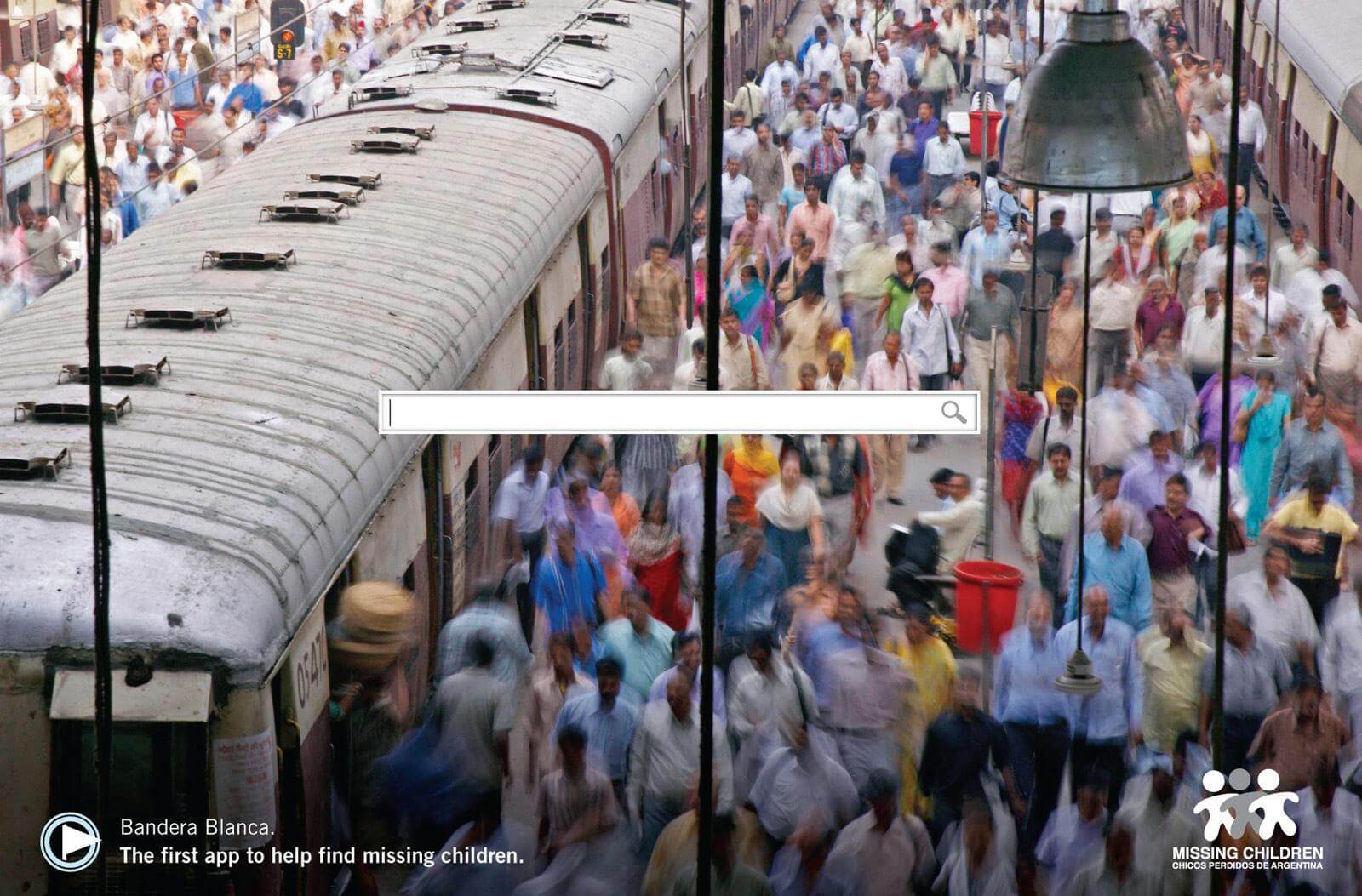 This series of advertisements was created by El Almacen in 2012, an advertising agency in Argentina. This PSA used the backdrop of common spaces like the beach, street and railway station that are hot spots for children to go missing. The images of crowded places represent the likelihood of children going missing, providing a search tab, indicating how children can be found using the 'Bandera Blanca' app. This app was the first app launched to help find children that were missing in Argentina.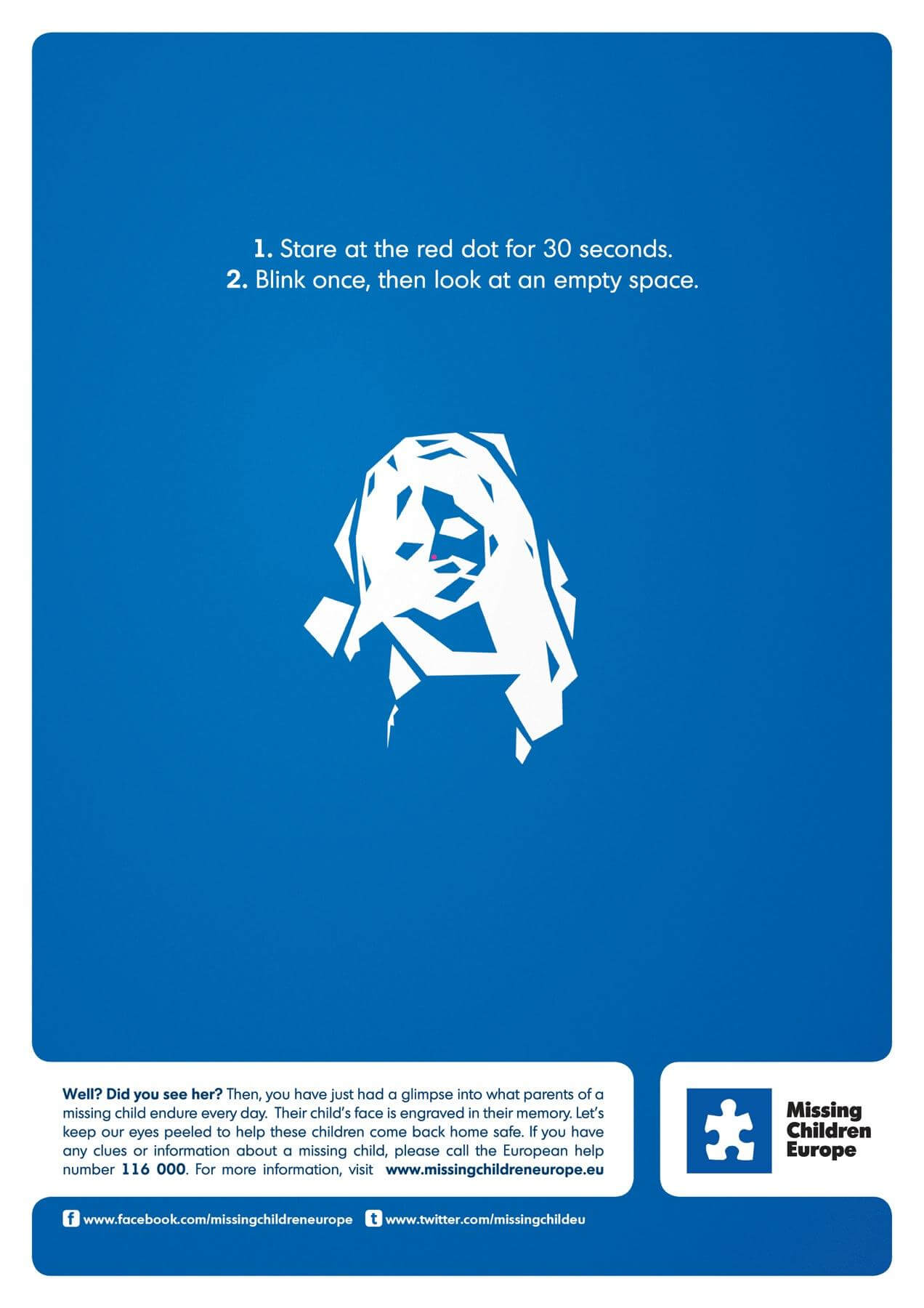 This advertisement published in 2013 by Missing Children Europe for Missing Children in Belgium, uses an old mind trick for a cause. This ad tries to explain to the viewer the emotion and trauma a parent goes through when their child goes missing, but whose face remains engraved in their memory. The PSA urges the public to help these children come home safe by sharing clues and details of missing children on their helpline.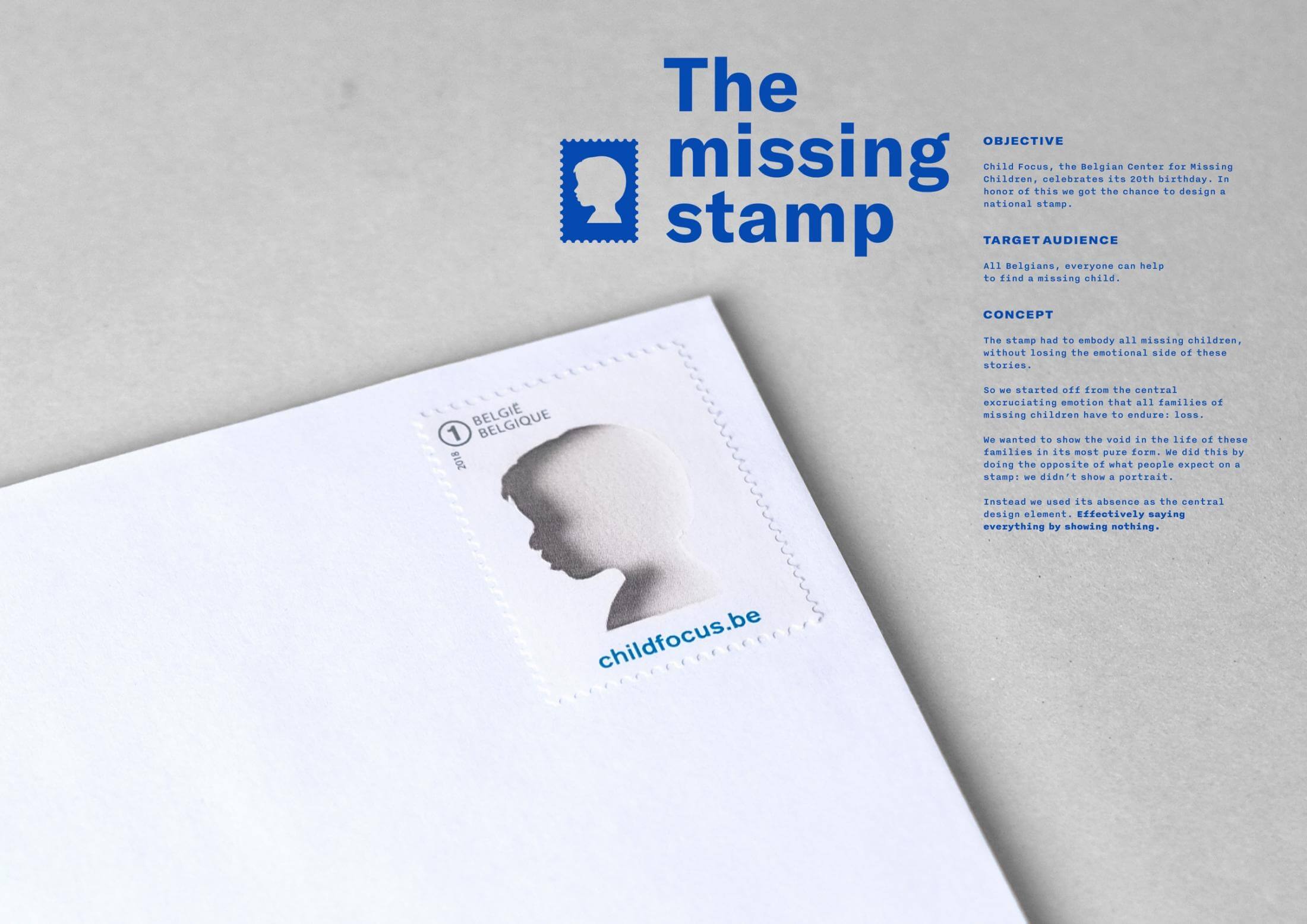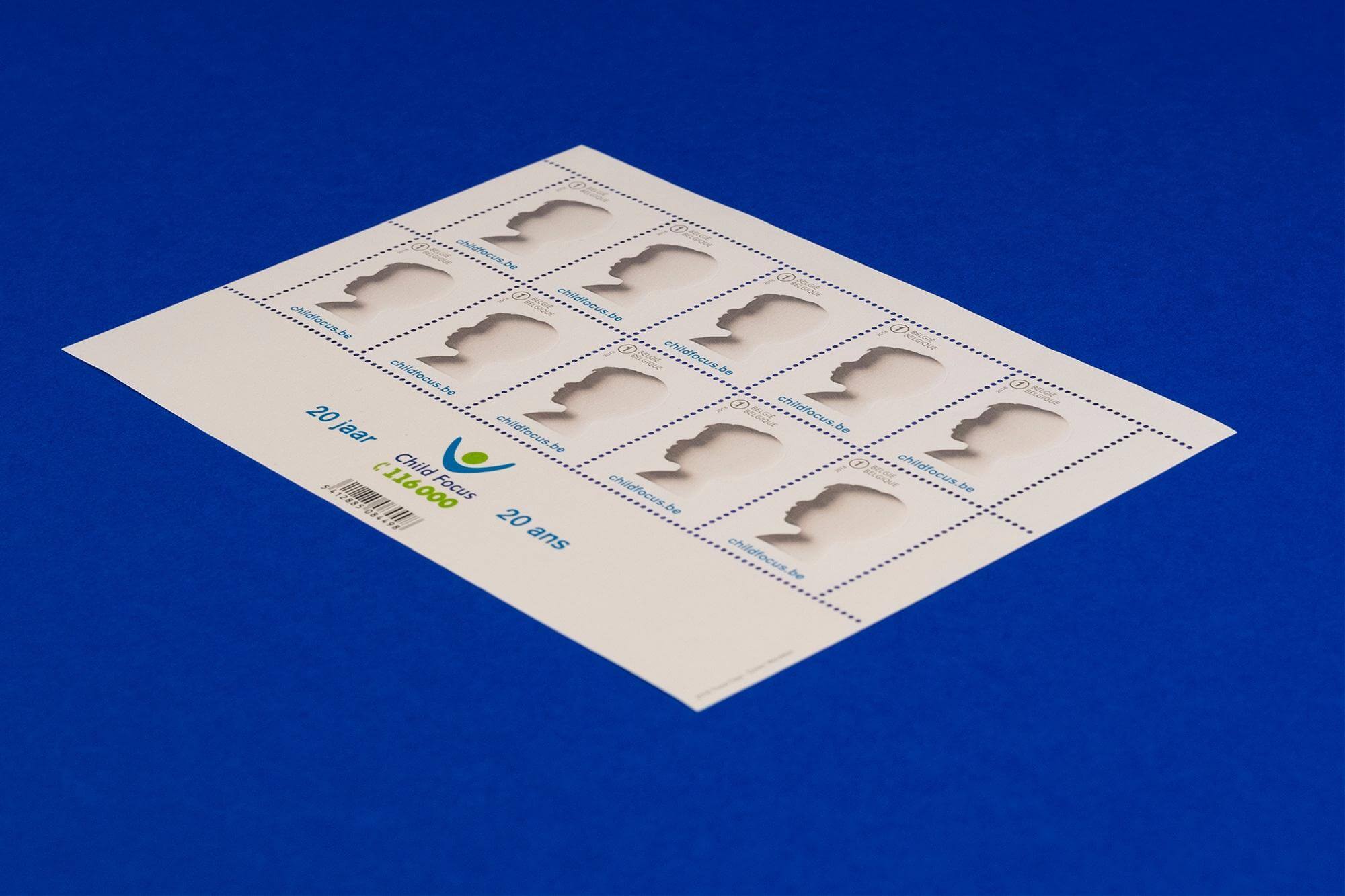 In 2017, The Belgian Centre for missing children issued National stamps to commemorate their 20th anniversary. The stamps are designed to embody all missing children, without losing the emotional side of these stories. They started off from the central excruciating emotion that all families of missing children have to endure: loss, highlighting the void in the life of these families in its most pure form. They did this by the opposite of what people expect on a stamp: not showing a portrait, using absence as the central design element. Effectively saying everything by showing nothing.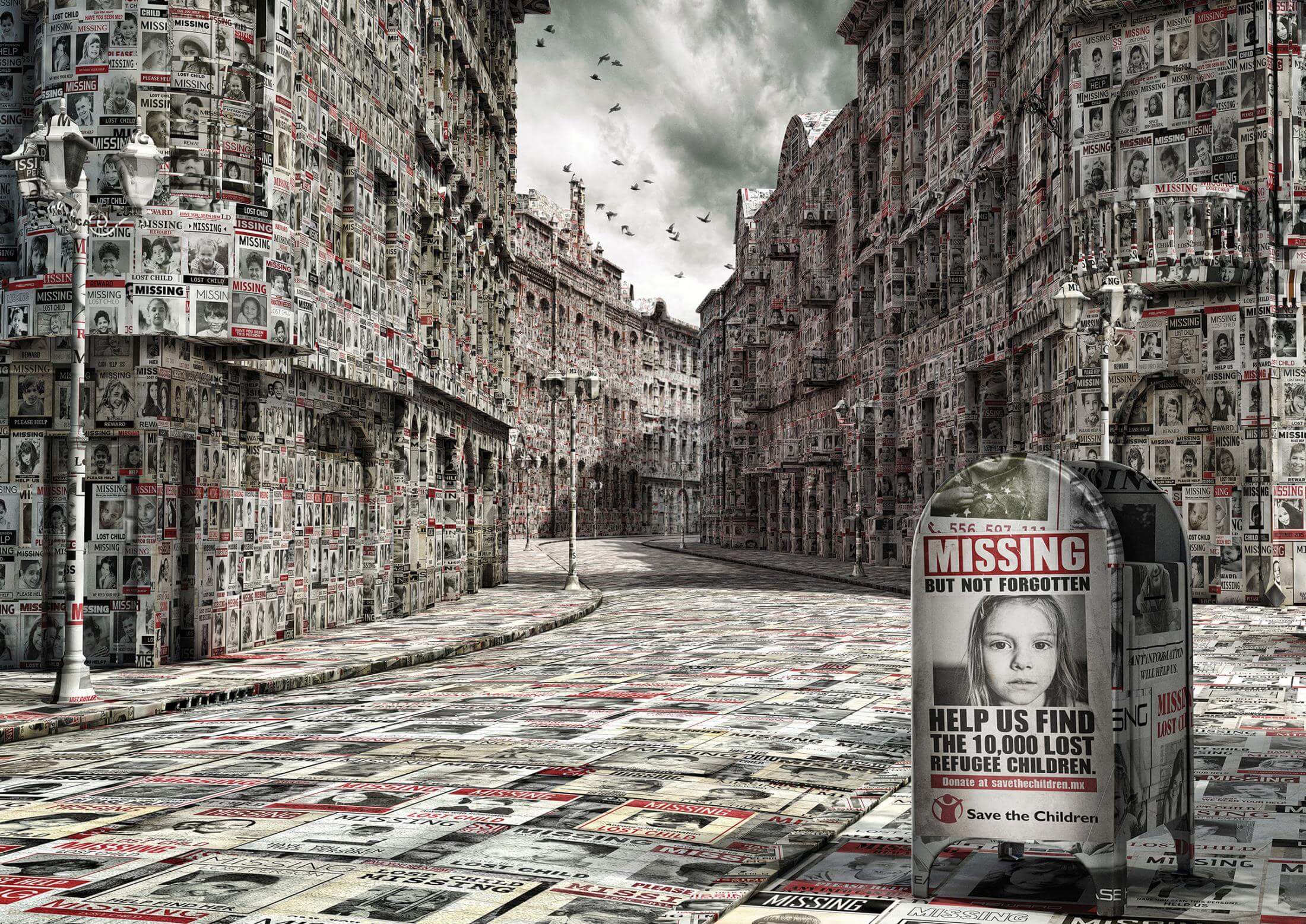 Created by the advertising agency 'Y&R' in Mexico for 'Save the Children' in 2016, this advertisement shows buildings pasted with 'Missing' Children posters, emphasising on the magnitude of this problem, and acting as a reminder to the public about the thousands of refugee children that go missing as they leave their homes in search of a new place to call home.
6.  FINDING A MISSING CHILD IS EVEN HARDER IN REAL LIFE.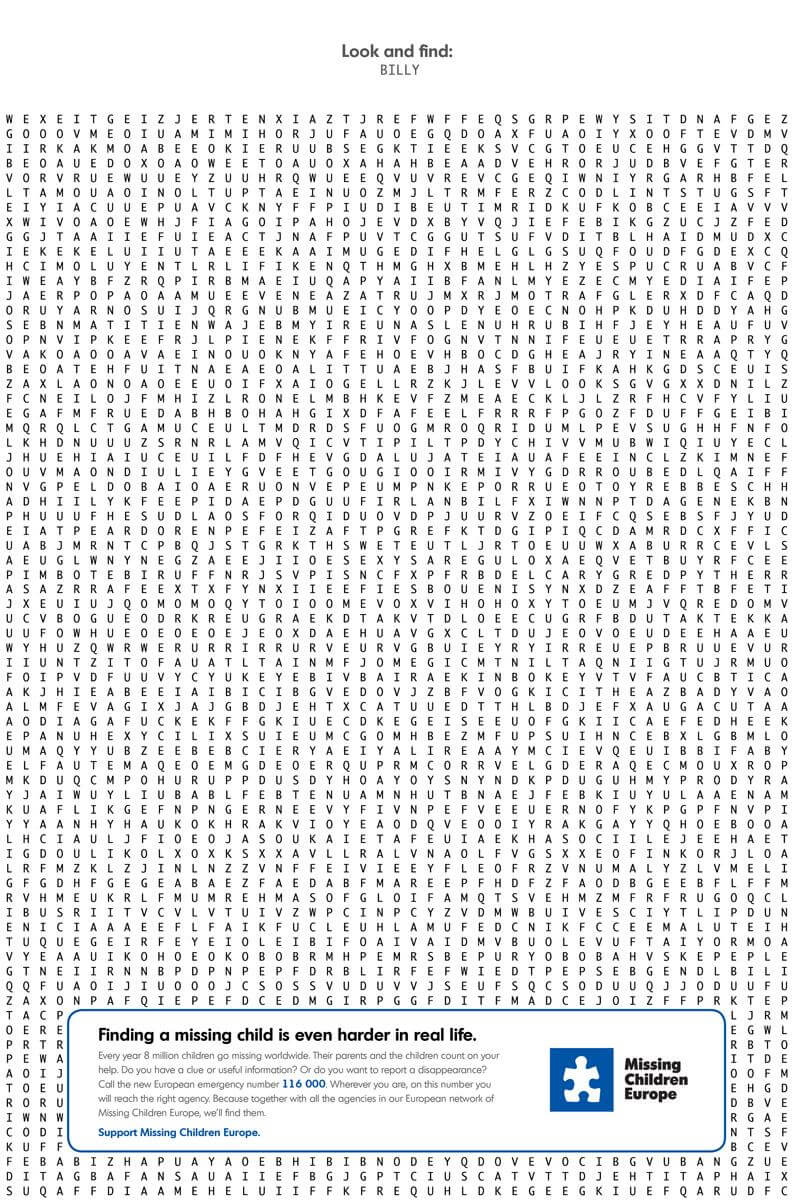 Titled "Billy" this advertisement was created by 10 Advertising in Belgium for Missing Children Europe in 2011. The viewer is asked to look for the word 'Billy' in a large puzzle, indicating the difficulty in finding a child in the world, and bringing focus to the efforts required to successfully find children that have been missing over a number of years.
7.  MISSING GAME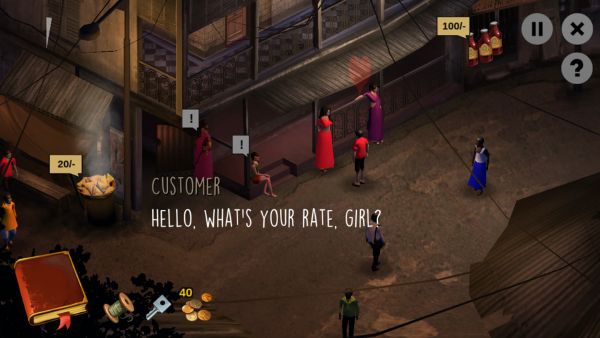 This augmented reality app created by the Missing Art Project was with the aim to creates awareness about girls who are kidnapped from Indian villages and sold as sex slaves around the world. MISSING is a Role Playing Game designed to put players in the decision making seat and allow them to experience what a 'missing girl' goes through when she is trafficked into cruel world of prostitution, a world into which millions of girls are lost every year. Players assume the role of the missing person, making choices and assessing risks for themselves to find their way to freedom. The game aims to expose the player to the dark world of human trafficking and raise awareness about trafficking amongst girls in India and across the world.