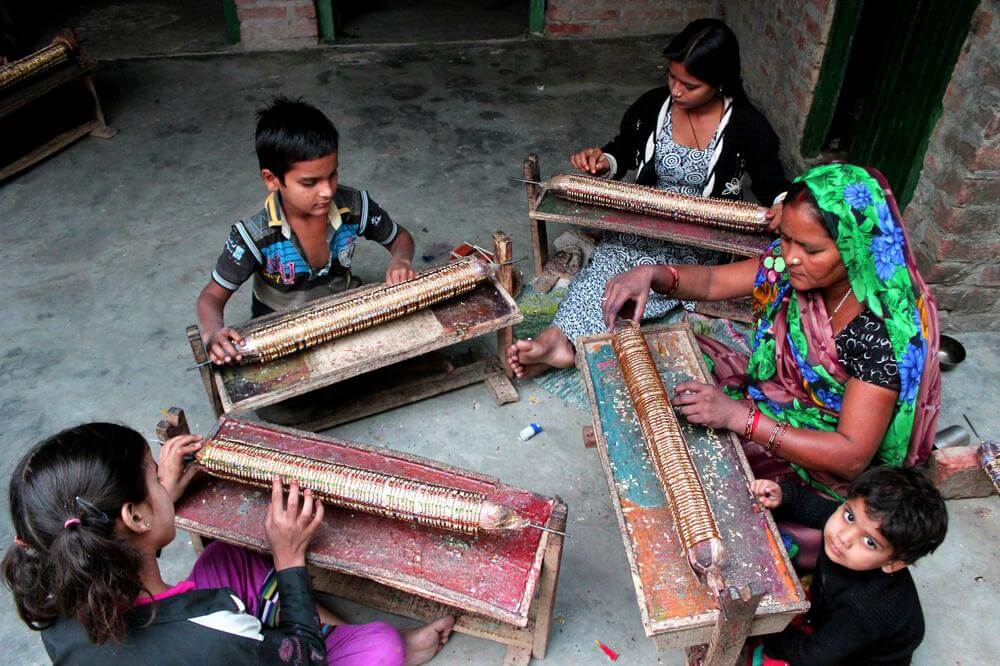 Children make up 40% of India's total population, yet, state-level social protection and child care policies have often remained of lesser priority. While employment rates are dwindling in the country, the number of child workers in India are alarmingly high, and the demand for the employment of children continues to rise. 
The consequences of child labour are severe and irreversible, with millions of children not having access to education, care and protection and facing damaging forms of exploitation and abuse through the work they are made to do. It is through a serious concerted effort to address and tackle child labour, with both preventive and responsive mechanisms, that India will inch closer towards realizing the rights of children. 
This article takes excerpts from an insightful piece published by Mint, "Where is Child Labour Most Common?" to re-iterate some important thoughts, and facts about child labout in India. 
1.  HOW MANY CHILD WORKERS ARE THERE IN INDIA?
"According to the latest available census (2011), there were 10.1 million child workers under the age of 14—with significant disparities across states. The government also seeks to address child labour through the National Child Labour Project which identifies and rehabilitates child workers. In 2017-18, around 50,000 child workers were rescued or rehabilitated from child labour—but it is still a small fraction of the overall child labour force."
Though the official figure tells us there are only 4.3 million child labourers in India, the data according to census 2011 tells us there are 10.1 million children at work. The Child Labour (Prohibition & Regulation) Amendment Act, 2016, claims to ban all forms of child labour till the age of 14, What is really does is legitimize child labour by allowing children to help in 'family-based enterprise' and permits the employment of children in many hazardous occupations like tanning, zari work, carpets, domestic work, e-waste, making it difficult to count right.
We hope that Census 2021 will give an honest appraisal of children at work in different ways.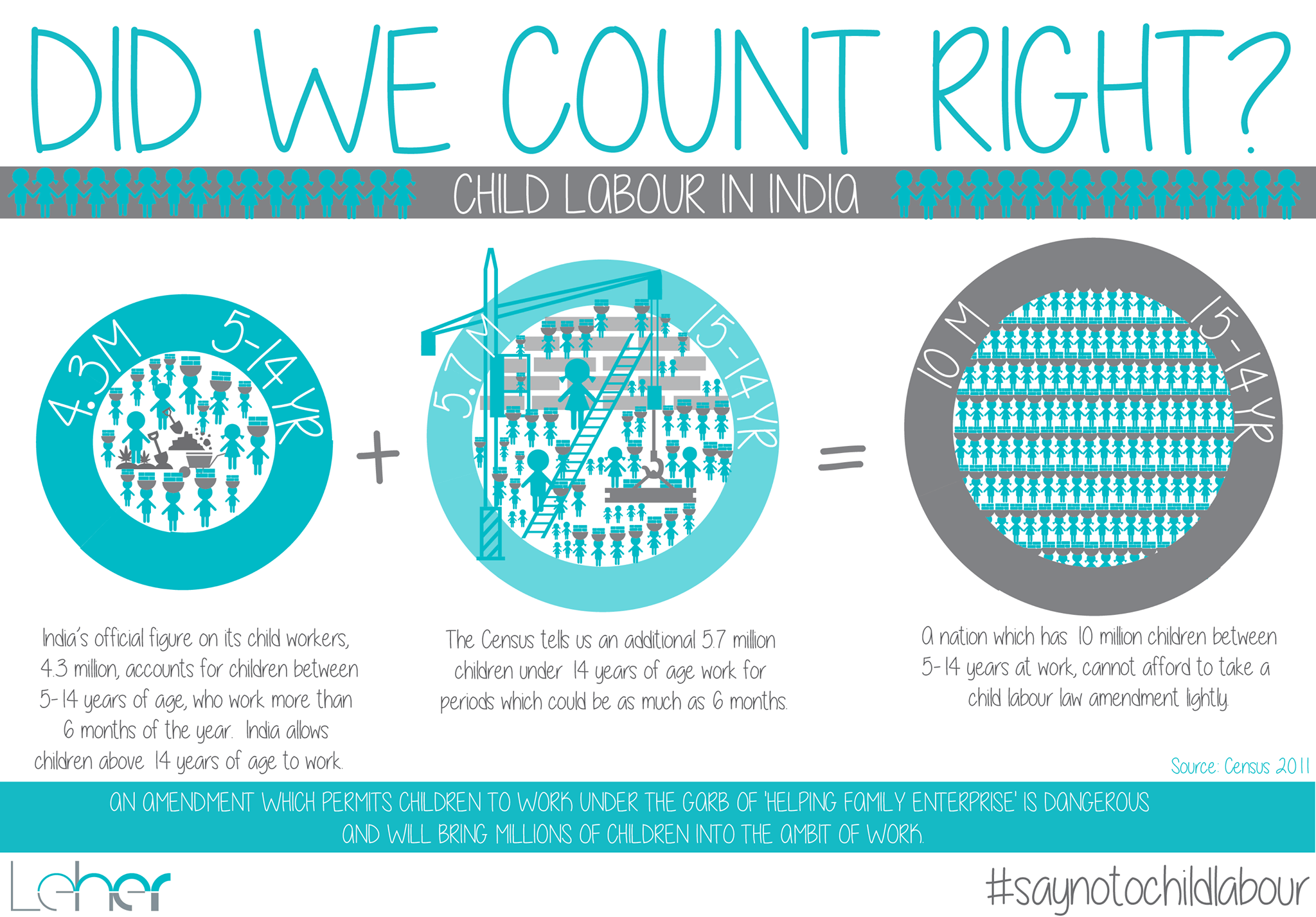 2.  WHERE IN INDIA IS CHILD LABOUR MOST COMMON?
"Mint's district analysis of census data suggests that while children are employed everywhere across India, some states have significantly higher child employment rates and the nature of employment is changing drastically. Across India in 2011, 3.9% of children under the age of 14 were engaged in child labour. The proportion was, however, much higher in some states such as Nagaland (13.2 %), Himachal Pradesh (10.3%) and Sikkim (8.5%)." 
Furthering the above observation, just five states in India account for 58.25% of the total number of child workers in the country. Uttar Pradesh, Maharashtra, Bihar, Andhra Pradesh and Madhya Pradesh top the list.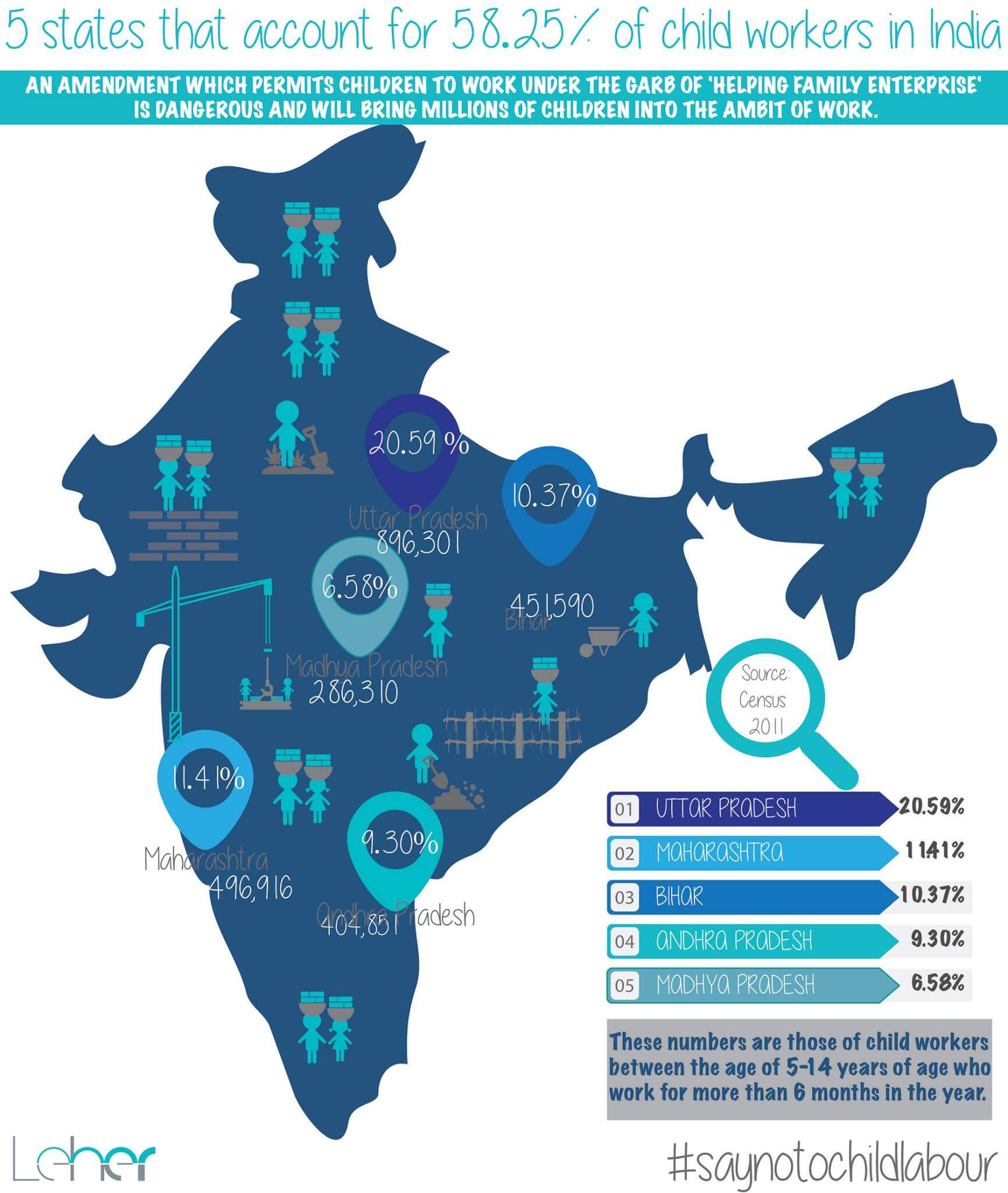 3.  WHAT IS THE MOST COMMON FORM OF EMPLOYMENT FOR INDIA'S CHILD WORKERS?
"In India, the number of child farmers has come down as an increasing number of children are doing non-farm work. Between 2001 and 2011, the share of children engaged in non-farm work doubled to 40%. According to UNICEF, child labour in India has merely shifted from factories to employee homes and children are still engaged in harmful industries such as bidi production and fireworks production. This shift to informal home-based sectors makes it harder to detect child labour."
This masking of child labor makes it difficult to detect, address and act against it. With the recent modified definition of child labour, is the problem multiplying?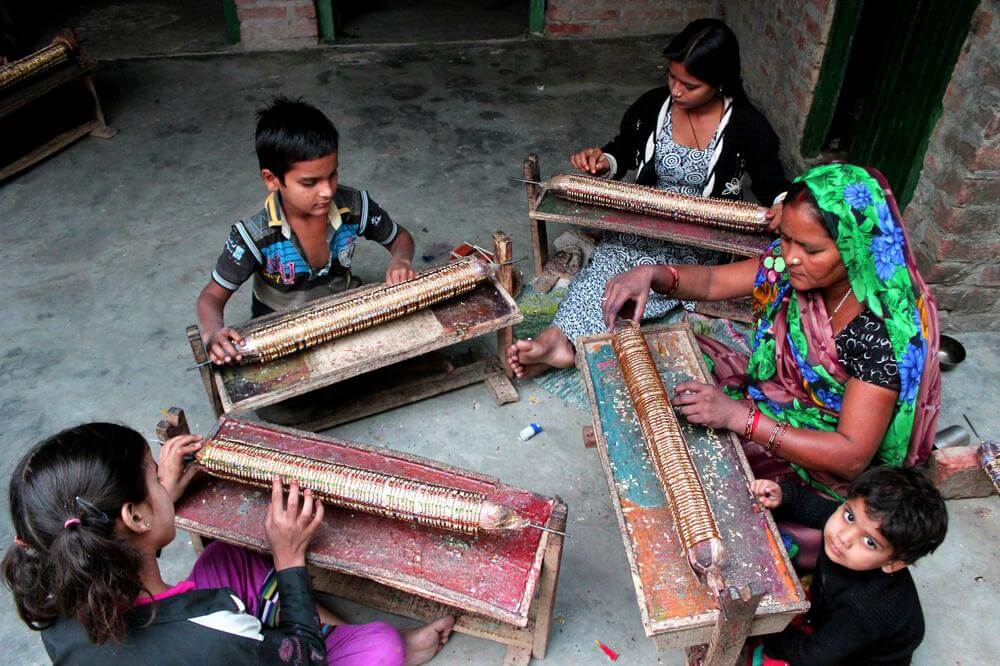 4.  HOW DOES THE CHILD LABOUR (PROHIBITION & REGULATION) AMENDMENT ACT 2016, WORSEN THE SITUATION OF INDIA'S CHILD WORKERS?
"The Union government seeks to address this through a range of measures…in 2016, it raised the minimum age for work to 14 years but retained caveats that allowed younger children from underprivileged families to work in family-based enterprises. Activists believe these definitions are prone to exploitation with employers hiring child workers under the guise of being related to them and ensuring child labour is prevalent across the country." 
The recent amendment to the child labor law banned all forms of child labor up to 14 years of age, yet, it allows children under 14 years to help their parents after school, and during vacations in fields, home based work or forest gathering. The government envisages that this provision will help impoverished families earn a living and give children an 'entrepreneurial spirit'. India has 10 million children who work. There are no systems or services to monitor, rehabilitate or assist in obtaining justice for children who have been exploited at their work places. Such an amendment has allowed millions of children to become child workers. In the Indian context where definitions of family are ambiguous (everyone is an uncle and a nephew), the provision in the amendment denies children who are being forced to work the right to legal recourse.
5.  WHAT MUST BE DONE?
"Globally, the International Labour Organization and UNICEF recommend a multi-pronged strategy to tackle child employment that involves better enforcement of laws, increasing awareness and strengthening education systems—India will need to do the same."
Targeting campaigns in the states where child labor is most rampant, implementing existing policies, strengthening child protection mechanisms at all levels and increasing public engagement and participation for a stronger voice against the labour of children – an overall investment in the protection of children.