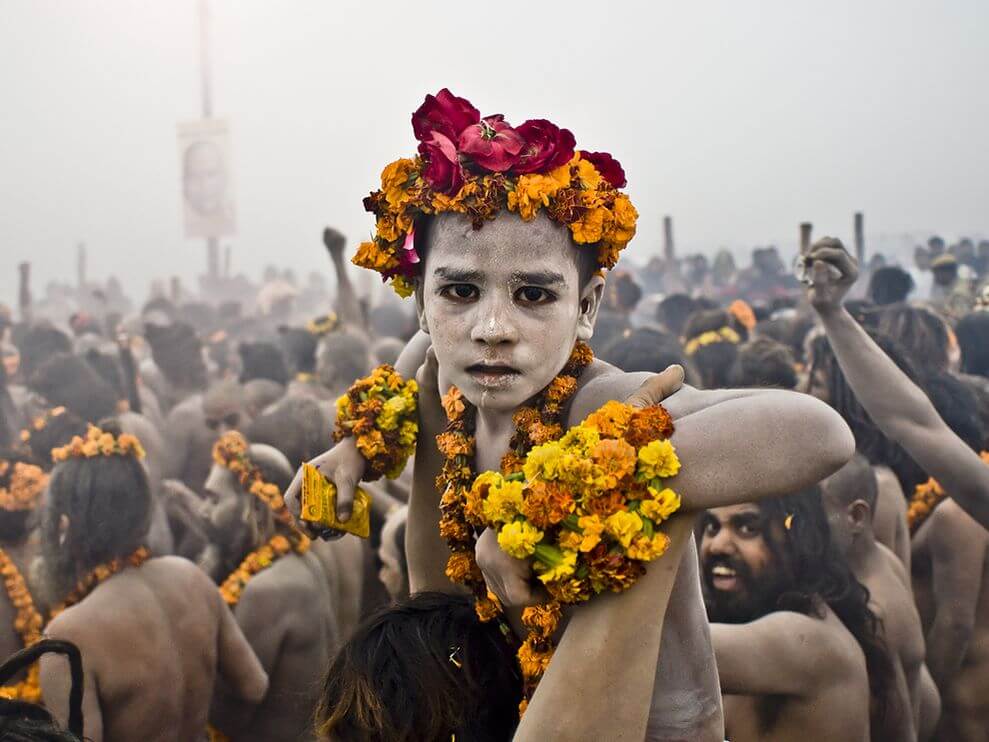 Confluence of the Yamuna, Ganga and Saraswati. Devotees. Curious foreigners. Naga Sadhus. Saffron cloth. Camping on the river side. Colourful flags. Marigold flowers. Garlands. Loud chants. Chiming bells. Cheering crowds. People. Faith. Offerings. Sacrifices. Holy dip. Washed away sins. Liberation. Moksha. More people. Stampedes. Screams. Clatter. Chaos. Quiet. Faith. Offerings. Sacrifices.
It's happening right now, and it is the Ardh Kumbh Mela festival in Uttar Pradesh, India, the world's largest religious gathering, and possibly the largest congregation of human beings in a single place. Amongst millions of devout pilgrims are also present numerous children. Some coerced to collect alms, others taken to be purified, yet others employed to keep the rivers clean. While they mostly remain out of our peripheral vision, their presence raises significant questions on the role we ascribe them, in the world of religion.
Here are some photos on how young children participate in religion, under the guise of faith, not understanding why, yet, defining their association to religion for the rest of their lives.
A newly initiated child monk puts on a turban, in a tent erected along the riverbanks at the Kumbh Mela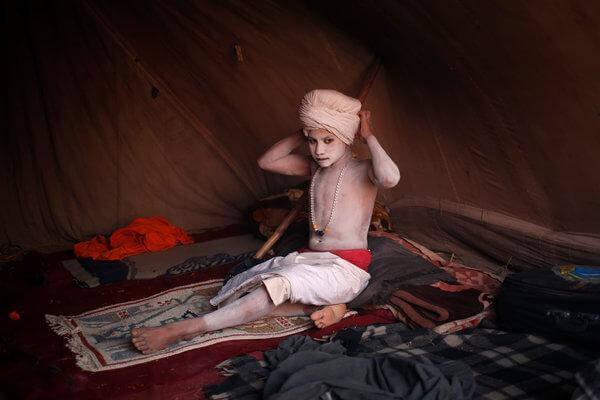 Photo- Saurabh Das/ AP
Another young boy, preps for the day to follow…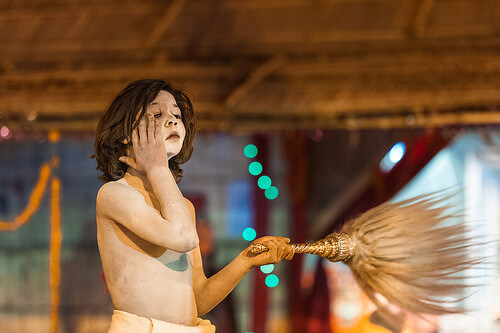 Photo – David Ducoin
A child dresses up as a God to collect alms from pilgrims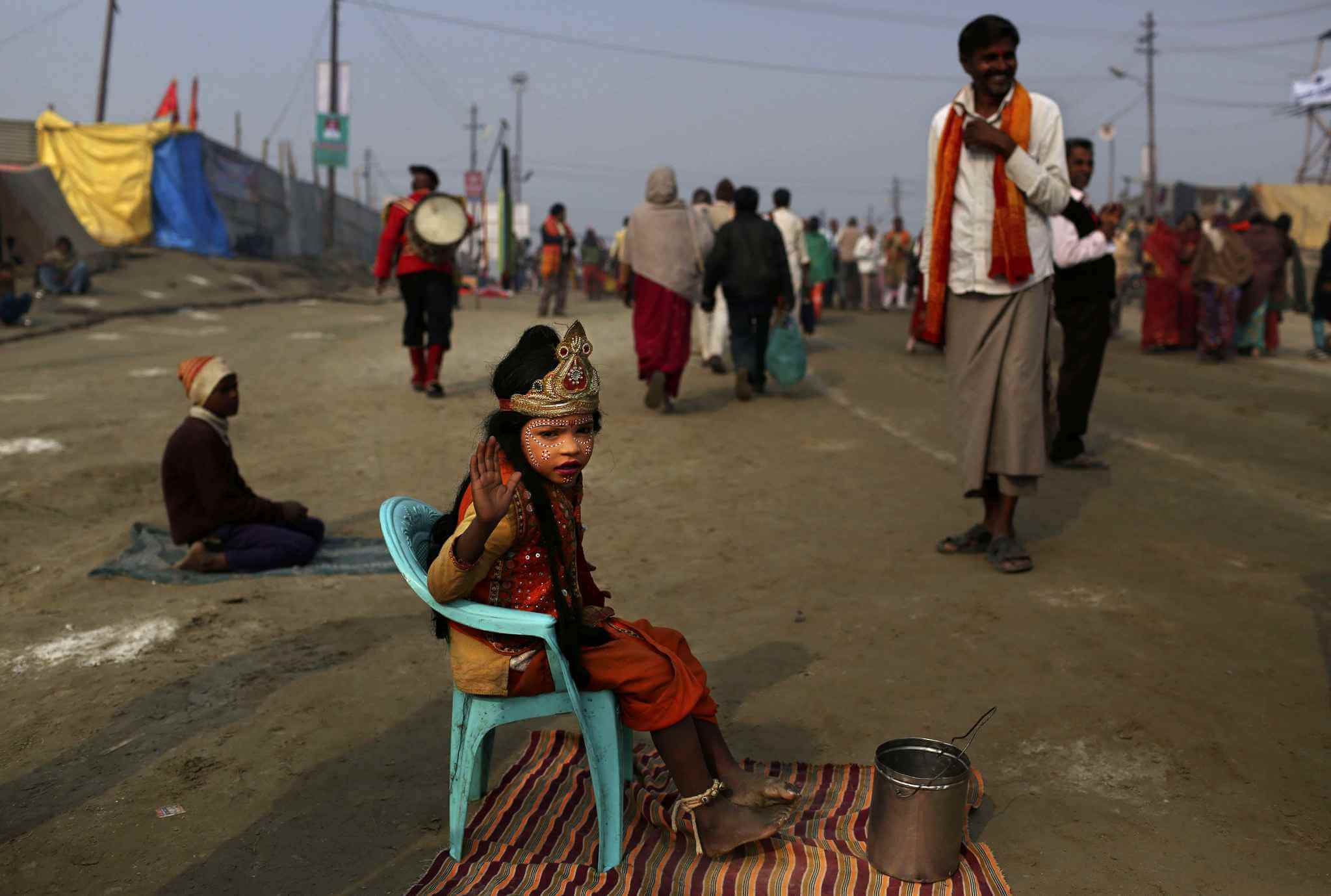 Photo- Kevin Frayer
Another, makes her way to this large gathering in the hope to make some money
Children turned sadhus, sit on the bike with their predecessors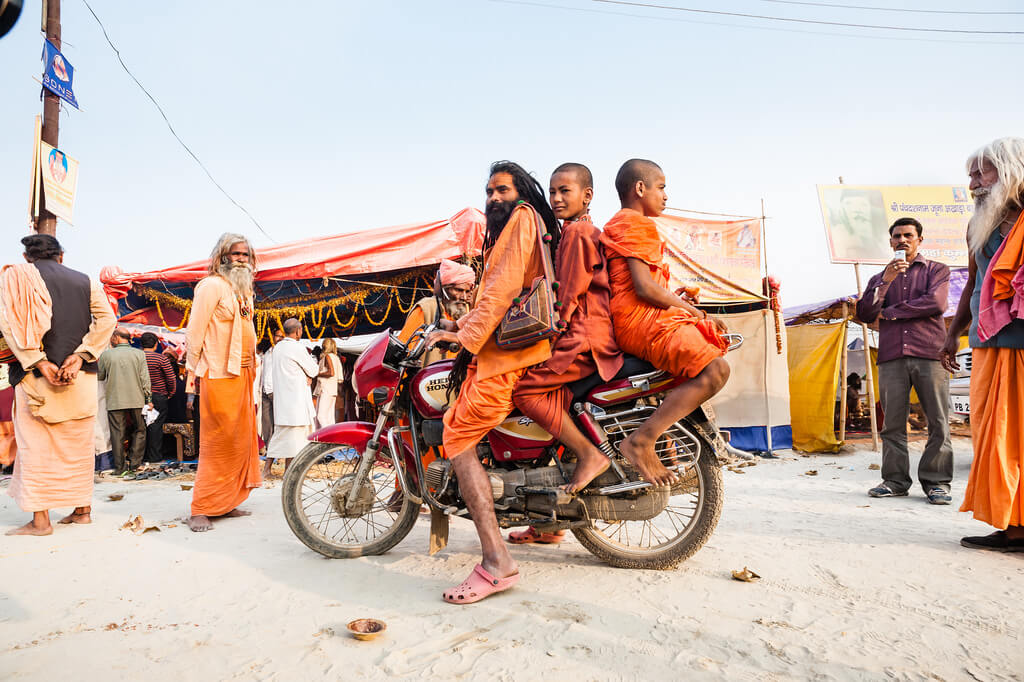 Photo – David Ducoin
A little boy cries in fear as his father takes him for the holy dip
A child adorned with marigold flowers, carried on the shoulders of Sadhus remains unaware of the meaning of this religious procession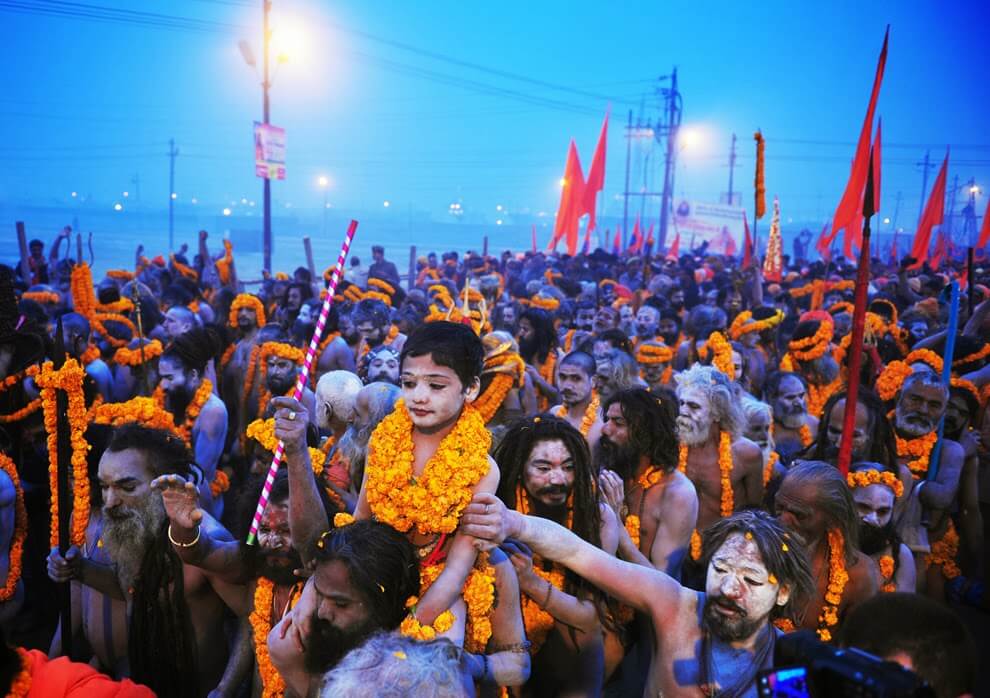 Photo- Sanjay Kanojia
A child carries a basket of flowers to sell to pilgrims on a shore off the holy river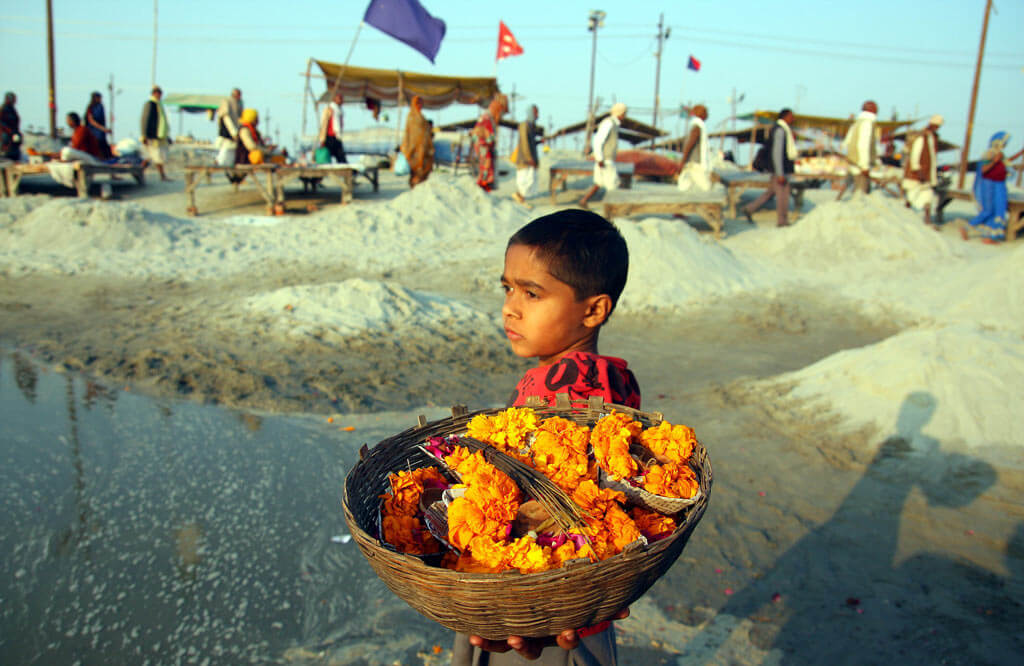 Photo- Sanjay Kanojia
Accompanied by their families, boys make offerings
Young girls perform Pujas
Others play in the putrid waters…
And entertain themselves, oblivious of the mega event around him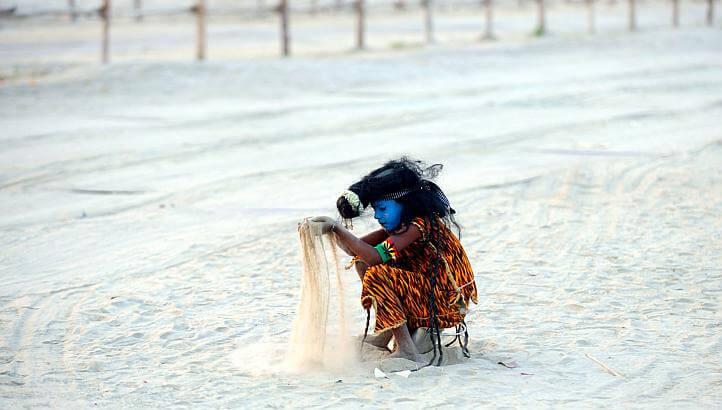 Photo- Sanjay Kanojia
A boy bathes in the polluted waters during the Kumbh Mela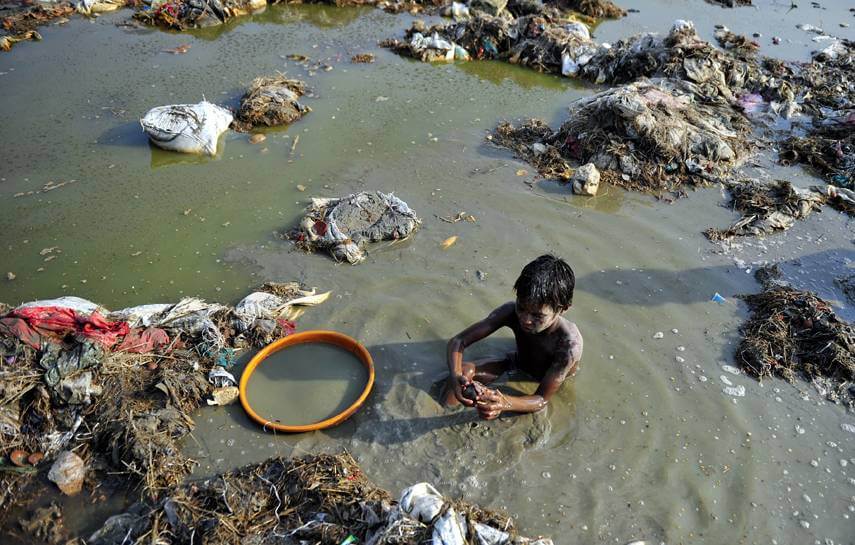 Photo- Sanjay Kanojia
A man carries his grandson on his shoulders to avoid him getting lost in the crowd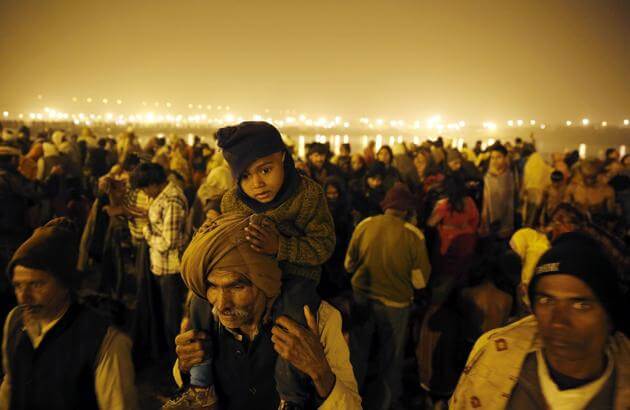 Photo – Rajesh Kumar Singh
A group of workers, including children, clean the banks of River Yamuna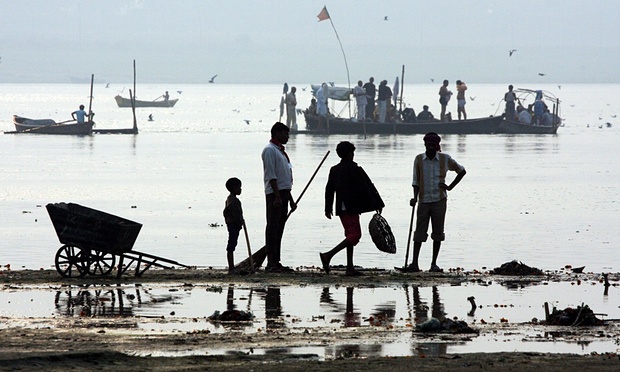 Photo- Sanjay Kanojia