Every generation across centuries has brought with them definitive characteristics and traits, many passed down and many struck down as the new generation emerged. Yet, there is one generation whose distinct characteristics are shaping world order, influencing new age cultures and leading the way from a very young age. 
Millennials, as they are popularly known are self-assured, socially conscious social media addicts. They challenge status quo and question establishment. They are egotistical, entitled and empowered. And they are the unconventional trendsetters of the 21st century.
Here are 5 magazine covers that illustrate traits typical to this young genesis of people.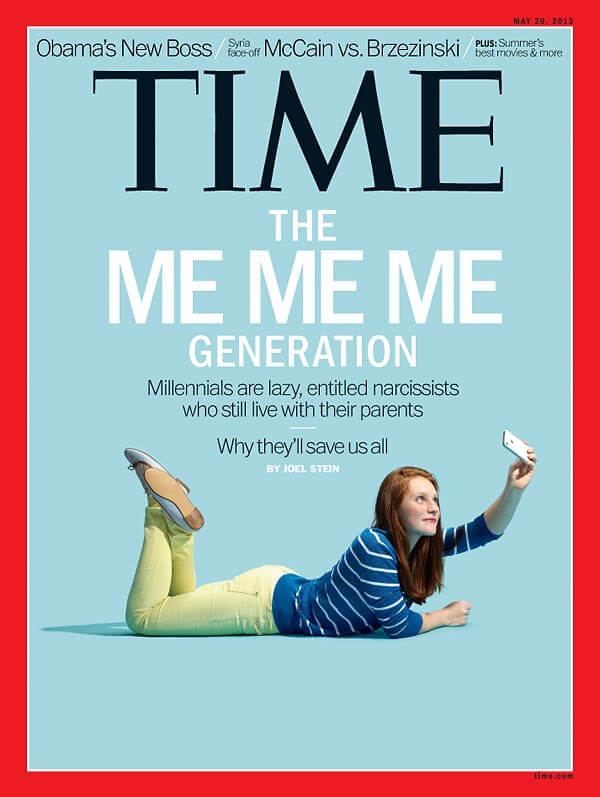 A selfie a day, keeps the doctor away. Be it at work, or at the gym, a selfie is imperative. For this generation of digital natives, the internet has been their classroom as much as it has been their playground. It has made them independent thinkers as much as it has made them dependent social media addicts. It has given them access to ideas as much as it has given them the means to implement them. While the influx of social media has made this generation more connected and updated, changing entirely how they consume information and interact with each other, it has also made egos more fragile and instant gratification more important. Hailed as one of the most narcissistic and entitled generations, Millennials tend to seek security, validation, and refuge in social media, everyday.
While this cohort is native to the digital world, how long will it be before they step out of their social vacuum and get over their social media hangover?
2. THE DO-IT-YOURSELF (DIY) GENERATION
The simple belief of this generation is that if you can dream it, you can do it. They are ambitious as much as they are at ease in their skins. They are fiercely independent and confident, moving away from conventional, orthodox opportunities, paving the way for themselves. Risk takers, trend setters, change makers and tech wizards, this Elon Musk generation is setting the new world order.
Will this DIY generation change the stereotype 'youth is wasted on the youth' and build a self-reliant future for themselves?
This generation rejects notions of what society has told them about who they are supposed to be. They are inclusive, accepting and all-embracing of whatever identities they discover, questioning the conventions when it comes to gender and sexuality. Millennials have no one identity, rather a variety of identities reflected in their culture at large, they respect personal choices and are redefining the meaning of gender world over.
Will Millennials fight the gender fight till it moves from the margins to the mainstream and becomes an accepted way of life?
From seeking laws for better gun control, standing strong against environmental degradation, sharing their views on a gender fluid world and corruption, to promoting equal rights, education and empowerment for their generation, Millennials are at the fore for almost every social issue. These protagonists for social change, work and think independent of the previous generation, taking causes into their own hands, not sitting around waiting for change to happen.
Will the Millennials pass on Youth Activism to the next generation?
5. MILLENNIAL MIND – AGE OF ENTITLEMENT OR ENLIGHTENMENT?
Millennials inherited a world that has left them in a dilemma. While some are paralyzed with anger and confusion, others are activated to save an ailing environment, still others are choosing to travel the world, educate themselves online or start new businesses instead of getting a higher degree. Today, Millennials have no single voice for their generation, rather, a chorus of voices that represent the different understandings of current life quandaries, and in some cases, creative resolutions to them.
Will this generation overcome the dilemmas passed down by their previous generation, and transform it into an age of entitlement or enlightenment?