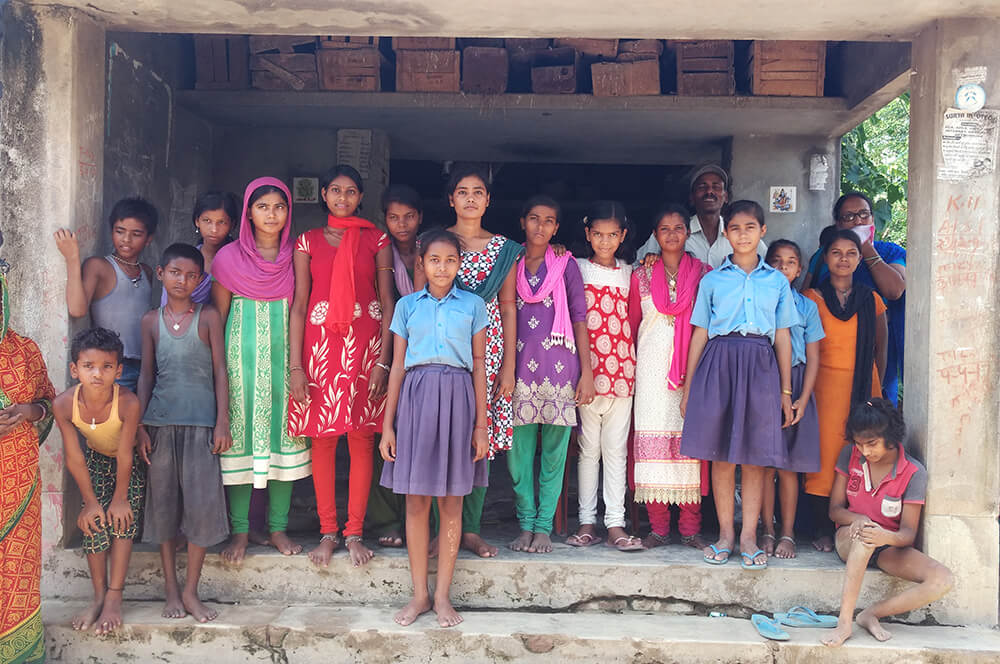 "When a girl is forced to marry as a child, she faces immediate and lifelong consequences. Her odds of finishing school decrease while her odds of being abused by her husband and suffering complications during pregnancy increase. There are also huge societal consequences and a higher risk of intergenerational cycles of poverty," said Anju Malhotra, UNICEF's Principal Gender Advisor, in a statement released by UNICEF in March this year. 
Child marriage is a global phenomenon, with South Asia having the largest concentration of child brides. Filter it further, and data shows us that India has the highest number of child brides in the world. The rates of child marriage are as high as 69% and 65% in the states of Bihar and Rajasthan respectively. Perceived as an economic burden, many communities prefer to marry their girls off at an early age. Patriarchy, casteism and lack of education are only some of the factors that contribute to the existence of child marriage as a social concern, even in the globalized worlds we inhabit today.
Investing in and empowering girls (and the community) is the only way to bring about a gradual change of mindset, and to move towards tackling social problems like child marriage. To bring about real grassroots change may not be easy, however it is the only change that lasts. We bring to you a few stories of how the children and the community has come together to fight the practice of child marriage in some of the villages Leher works in, in Madhubani district of Bihar
Sisai, a small village in Madhubani district in Bihar is Reeta's home, and one of the thirty-six villages where Leher works with its adults and children as a part of the programme it runs in Madhubani. During one of the fortnightly Children's Group meetings, Reeta told her friends that her parents had arranged her marriage to a man who was twenty-one years of age. The children discussed amongst themselves that this could not happen, and they had to intervene to stop Reeta's marriage. She was only sixteen, and they were all aware that a child marriage would give rise to several other problems. Almost all their mothers had been child brides, and even now, this practice was far from being completely abolished. The next day, the children's group visited Reeta's mother. They tried explaining to her that what they wanted to do was illegal. When they realized Reeta's mother did not take them seriously, the Village Child Protection Committee (VCPC) was apprised of the situation. The VCPC members went to Reeta's house to speak to her parents. They spoke to them and explained to them why and how what they were doing was not the right thing to do, why it wasn't only illegal, but also a danger for their daughter. With the Children's group and the VCPC by her side, Reeta felt empowered to tell her parents that she did not want to get married and she wanted to continue her education. For the first time in her life, Reeta spoke up firmly against a decision her parents seemed to be determined to make for her. Strong against all odds, today Reeta is pursuing her graduation and is learning the vocational skill of sewing.
Beena (16) from the same village fell in love with Ravi (21). Ravi wanted to elope with her. Having been a very active member of the Children's Group, Beena knew the repercussions of an early marriage. While she wanted to get married to Ravi, she knew she should be at least eighteen years of age. The president of the VCPC, and some other members, met the boy and explained to him that they could get married but only after Beena turned eighteen. The marriage was stalled for two years after the intervention. They are now married. Beena is twenty and has completed her graduation. 
Systemic change always begins at the grassroots. Coupled with grassroots mobilization, proper implementation of existing legislation can make the movement to end child marriage more robust and provide a defined framework for the same. This realization comes from our work at the grassroots in Madhubani, where the parents, children and elders of the village have come together in devising real solutions to tackle the issue of child marriage. The Village Child Protection Committee suggested that they should go around the village and speak to all agents who play a direct and indirect role in cases of child marriage. For example, besides speaking to parents of the children concerned, they also spoke to the vendors who provide tents for the weddings, sweet sellers, musicians and florists. These stakeholders were told that child marriage is illegal, and according to the law, if they cooperated and abetted child marriages by providing their services for these weddings, even they would be culpable under the law. This has had a huge impact on the existing status of child marriage in these villages. 
Another powerful intervention to combat child marriage was thought of by the Children's Group at Ramtola village in Madhubani. In order to ensure those getting married in their village are not below eighteen years of age (for girls) and twenty-one years of age (for boys), with the help of the VCPC, they have started collecting identity proof from all children aged between thirteen and eighteen. In case the child does not have any valid proof of identity, their Aadhar cards are being made with the help of the VCPC. Parents often forge proof of age to be able to facilitate a child marriage, as a way to counter any objections that may be raised against them. With corruption being all pervasive, even bone ossification tests to determine age of child are often rigged. This move will help them cross check the real age of those getting married, against the document which has been submitted. As of today, this initiative is being carried out across seven villages.
When Leher started its work in these villages, 97% of the villages surveyed in Madhubani reported the practice of child marriage. Yet, the resistance of the communities to accept that child marriage is a malpractice was immense. The elders in the communities felt child marriage was in the best interest of the child and it took a long time for our field team to initiate a change in mindset about child marriage, and to mobilize opinions against it. Five years on today, putting down these stories makes us believe that change is possible. While there is still a long way to go, the eagerness of the children and the communities to come together and tackle child protection issues such as child marriage make every bit of this journey worth it.  Continue reading →