"As children bathe in the floodwaters and go fishing, many are falling ill, suffering mostly from fever and earache. Moreover, they run the risk of being run over by vehicles as they keep crossing the road. My daughter Asma got injured yesterday after being hit by a motorcycle," said Khairun Nessa as quoted in a story by Telegraph. Drowned homes, displaced belongings, shutdown schools, vulnerability to diseases, poor access to medical facilities and food, and heightened risk to trafficking, are some of the serious realities faced by children in flood affected Assam. Recent news of a 20 month old child being washed away by the furious waters of Longai in Karimganj district and 12-year-old Muthoi Singha drowning at Lala revenue circle in Hailakandi district are only some of the many cases of children coming to the fore. Despite the floods devastating lives of children each year, the flood bulletin issued by the Assam State Disaster Management Authority (ASDMA), does not give a break up of children impacted, a crucial exercise in ensuring provisions are made for children before the rains hit every Monsoon. 
While the worst hit by the flood fury is the district of Karimganj, with over 2 lakh people being displaced, the count of children under the grip of the flood remains unknown.
Here's what #climatechange, torrential rains and the recurring overflow of the Brahmaputra does to the lives of children in Assam and across the North East of India.
Children search for their belongings in their house, in flood affected Morigaon district. (Photo- EPA/STR)
Two boys crossing a flooded street on a raft made of banana tree trunk in Guwahti (Photo- PTI)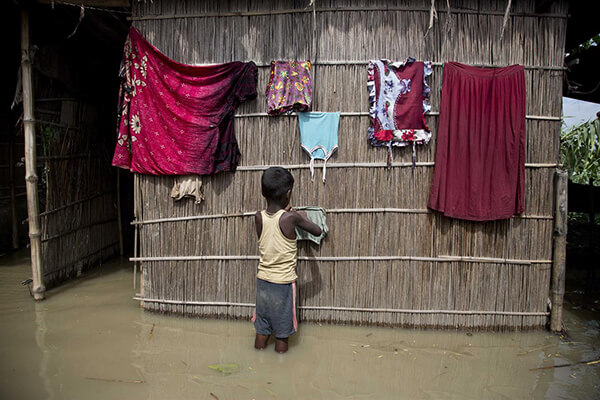 A boy dries clothes outside his house, partially submerged in flood waters at Burgaon, 80 kilometres east of Guwahati in Assam. (Photo- AP)
A medical official distributes medicine to children in the flood-affected Sagolikota, Morigaon (Photo- AFP)
A child having his meal on a boat at a flood affected village in Morigaon (Photo- New Indian Express)
Children shelter under an umbrella during rain as they sit on sacks filled with recyclable material at a garbage dumping site in Guwahati (Photo by Anuwar Hazarika/Reuters)
A child sits in a boat as another stands near their house partially submerged in flood waters in Burgaon, east of Guwahati that have triggered floods and landslides causing several deaths in the region (Photo- AP/Anupam Nath)
Children cross flood waters on a homemade raft in Morigaon district (Photo- EPA/STR)
School girls make it through a flooded street after heavy rains in Guwahati (Photo- PTI)
Children row a boat in Morigaon, Assam after their village submerged. (Photo-Anuwar Hazarika/Reuters)
School children lay their books on the road for drying in a flood-affected village in Morigaon, Assam. (PTI)