A child is never too young to start learning about the harsh realities of the world, and act on his/her inherent sense of justice. But how does one teach a child complicated concepts like activism, revolution, empowerment, poverty, inequality, tolerance, inclusiveness and dissent? These amazing books from India and world over simplify these seemingly complex constructs and draw in young readers. Based on real stories, and the uncomfortable truths we prefer to shield our children from, these books tell us why it is important to help our children understand these concepts, and what it means to stand up for things that matter. Most of all, to help our children make sense of the world, and understand what things really matter.
1. Your Turn Now, Lubaina Bandukwala
Based on a movement started by Rushabh Turakhia to remind adults and children to be kind, this book captures the stories of children and adults who have experienced random acts of kindness in their lives, and how it has changed them.
2. We, The Children of India, Leila Seth
Justice Leila Seth through this book, makes the Constitution understandable even to the youngest reader. Heavy words like Democracy, Republic, Secular, Sovereignty are easily explained, and the young reader is made to understand what the significance is of these words, and why they should be interested in the Constitution of their country.
3. Why Are You Afraid to Hold My Hand? Sheila Dhir
This book tackles the various stereotypes and misconceptions that people have regarding children coping with disabilities. Written in verse, and beautifully illustrated, it gives a voice to all those attitudes and reactions towards disability that are mostly wilfully ignored.
4. A is for Activist, Innosanto Nagara
Beautifully illustrated, this book sets new milestones for how we aspire to teach children the alphabet. This book introduces concepts of activism, environmental justice, civil rights, LGBTQ rights amongst other socially relevant causes and concerns in a bold yet simple manner.
5. A Sweet Smell of Roses, Angela Johnson, pictures by Eric Velazquez
What did the youth involvement look like during the Civil Rights movement? A Sweet Smell of Roses tells the story of two young sisters who sneak out of their homes to participate in a peaceful march with Dr.Martin Luther King Jr. Simple, yet powerful, the story explores a child's perspective of what it is like to be in a country where a revolution is brewing.
6. Be the Change: A Grandfather Gandhi Story, Arun Gandhi & Bethany Hegedus, pictures by Evan Turk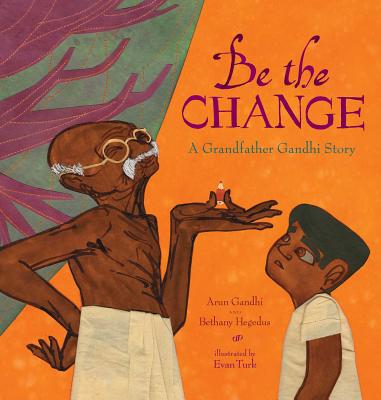 "Be the change you wish to see in the world." This can be easier said than done, just like all the good habits we want to imbibe our children with. This splendidly illustrated book captures the personal story of Arun Gandhi's (Mahatma Gandhi's grandson) journey of discovering the damage of wastefulness as a child, and the principles of cause and effect.
7. The Case for Loving: The Fight for Interracial Marriage, Selina Alko
While this book is based on America before 1967, it is still as relevant a read in contemporary society today, and even more so in India. This is the story of a family of five – Mildred Loving, Richard Perry and their three children. Loving and Perry were arrested for getting married to each other despite belonging to different races. They refused to admit that they had broken in law, or that their togetherness was illegal. They fought this case and won it, which led to the scrapping of the arbitrary law against interracial marriage.
8. I Dissent: Ruth Badder Ginsburg Makes Her Mark, Debbie Levy, Pictures by Elizabeth Baddeley
"Disagreeing does not make you disagreeable". Explaining this to children can often be difficult. And this beautiful picture book does exactly that in a nuanced way. Based on the life of US Justice Ruth Badder Ginsburg, the book describes the value of standing up against inequality and fighting for people's rights.
9. One Plastic Bag: Isatou Ceesay and the Recycling Women of the Gambia, Miranda Paul, Elizabeth Zunon
Remember the three 'R's? Reduce, Reuse, Recycle? This is a beautiful story about how small actions can make the biggest differences for preserving the earth. Based on a true story, this book shows us how even a single person can be an agent of change, and how she found a way to recycle hundreds of plastic bags and make her community a safer, greener less toxic place.
10. Stepping Stones: A Refugee Family's Journey, Margriet Ruurs, pictures by Nizar Ali Badr, translated by Falah Raheem
This picture book inspired by the stone artwork of Syrian artist Nizar Ali Badr, is a story about the Syrian refugee crisis for children. The book narrates the story of a family forced to flee their homeland to escape the war, with just the belongings they can carry on their backs. A sensitive and poignant narration of the complexities of displacement that is at the heart of the refugee crisis.