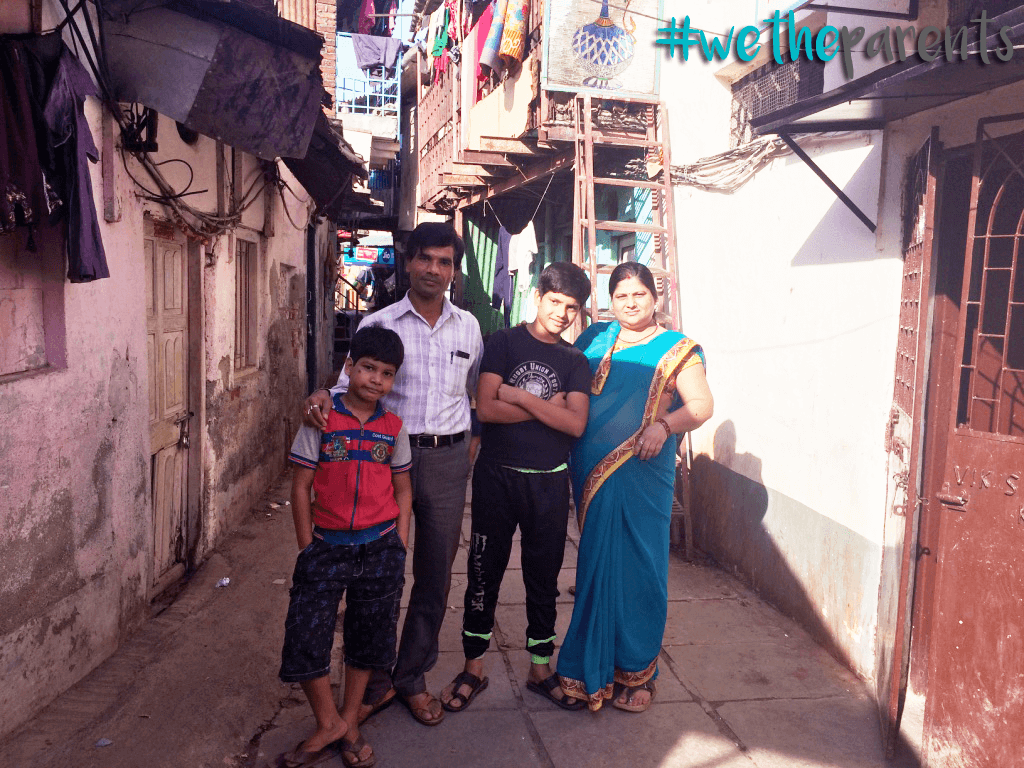 In the slums of Dahisar, a melting pot of cultures and people, religion and languages, aspirations and hopes live Aditya & Nandini Pandey. For 11 years now, Adityaji has been working as a construction worker on projects across Mumbai, while his wife Nandiniji, a homemaker, loves ardently her role in raising their children. Hailing from Uttar Pradesh, they try to hold on to values learnt miles away from their life back at home, while adapting to the urban rhythm to raise their boys in the maximum city.
The second largest slum settlement in the financial capital of India wreaks of poverty, addictions, poor sanitation and healthcare, little access to basic services and safe spaces. Despite these realities, these set of parents don't flinch even once in standing their ground, refusing to compromise on how they will raise their children. While they understand the positives and negatives of living in this community, they remain committed to giving their children the freedom to be and grow wings of their own.
What emerges in this conversation is their firm conviction in raising boys who have a good value system, knowing well that no matter how difficult circumstances might be, a stable foundation will help them come out stronger.

How many children do you have?
"Humare do bache hain. Adarsh aur Anurag," they say with a sense of pride, almost liking the sound of each name said out loudly. Adarsh is our older son…he is 13 years old. Anurag is 11 now. They both study at St.Francis School. The best in the locality," adds Adityaji.
What is the most important thing for you as a parent, for your child? 
"Aaj ke zamane main agar education ko 100 mein se 90 diya jaye toh who bhi kam lagta hain. We were sure we wanted to send them to an English medium school and we did that. But when we came here we wanted admission for our older son in the 2nd grade and for the younger one in the 1st grade. But they didn't give us admission as we wanted, instead, they put both our boys in the 1st grade. Abhi dono saath mein padhte hain. But that's the rule here, either you get admission in the 1st or in the 5th, beech main aisay admission nahi dete hain.
"Aur ek baat … humne private school dhoondha hain bachchon ke liye…kyukni woh government school se behtar hain…wahan pe caring zyada hoti hain. Hum school se bahut khush hain," adds Adityaji.
In your community what problems do you face? How do you handle it with your children?
"Ha yaha pe toh sab hota hain – drugs, alcohol, maar peeth aur ched chaad. Aur bachche jaante bhi hain. Yeh mamla simple si baat hain…agar maa baap yeah sab baate chupakar rakhte hain, toh bachche bhi chupkar hi yeh sab karenge. Hum kissi baat pe parda nahi rakhte/dalte hain, khulkar bata dete hain."
Toh yeh sab baate kaun karta hain?
Adityaji points to his wife … "Yeh adhik baatein unki maa hi karti hain. Main toh kaam per bahar rehta hoon. Lekin agar Nandini mujhe kahe toh main woh baatein dobara daurata hoon."
How was your childhood different from your child's?
"Tees saal pehle ki duniya hi alag thi, toh sumjho humara bachpan bhi alag tha," says Adityaji.
Nandiniji adds, "Pehle hum khule asman ke neeche kuud-kuud ke khel sakte the, aaj bachche ghar ke andar khelte hain, kaid ho gaye hain kamre main. Our children are like prisoners, bound within the four walls of our homes, with no safe places to play."
"Abhi kafi technical ho gaya hai sab. Sab mobile pe hota hain. 100 mein se 90 pratishat bachchon ke paas mobile hain, aur zyadatar seekh bhi mano mobile se hoti hain," Adityaji says as he rolls his eyes.
Aapne Anurag aur Adarsh ko mobile diye hain?
"Nahi..! Woh humare mobile use karte hain, sirf school ke kaam ke liye. When they sit next to us, we give the mobile, not otherwise. Uske baad main backing khud check kar leta hoon, ki unhone mobile pe kya search kiya?"
Kis mudde par aapki takraar hoti hain?
"Baahar ka mahaul bahut kharab hain. Humari community mein kafi ashikshat log hain, unka culture alag hain, rehen sehan alag hain, koi log gali dete hain, toh koi nasha paani karte hain…toh hum bachchon ko aise bachchon se door rehne se bolte hain, isi baat pe woh chidte hain. Humme hatke chalna hain, toh hi humare bachche safe rahenge," says Adityaji, quite fluent with his analogies.
"Humme acha nahi lagta hain, unko apne dosto se alag rakhe, par aur kya upay hain?" says Nandiniji.
Aap Mumbai shahar mein 11 saal se rah rahe hain. Aapko kya lagta hain, aapke bachchon ki parvarish kaha behtar hogi… Mumbai ya UP?
"Unka bhavishya toh yaha hi hain. Their future is here. Mumbai toh mahanagar hain..jab mahanagar ka hawa unko lagega tab buddhi adhik vikas hogi. Yaha pe UP, Bihar, Bangal, Punjab aur bahut jagaho se log aaye hain, toh unko all over ki jaankari milengi,isse badhiya kya ho sakta hain," he adds.
What are your aspirations for your child?
"Hum chahte ki humare bachche pehle sishtachar aur sabhyata sikhien. Agar unmein dono gunn aa jate hain toh hum sukhi rahenge. Humara bachcha surakshit bhi rahe yahi humari ichcha hain."
Is there a comparison between your children and the neighbours children? How do you deal with it?
"Mujhe lagta hain mere bachche sabse best hain!" smiles Nandini.
Adityaji takes a moment to reflect on the question and says… "Anya log hain jo care taking ke baare mein zyada jaante nahi hain. Hum dono ne saath nibha nibha ke humare khud ki seekh baddhai hain. Mere khayal se doosre bachchon se tulna karni hi nahi chahiye!"
What do you believe is your most important job as a parent?
"To inculcate values in our children, of love and respect for others. And to never lie," adds Nandini.
What do you wish you could do to be a better parent?
"I wish I had more money, to give them anything they wanted," says the father.
Are you happy with support that you receive from your partner in raising your children?
"Bilkul," says the mother. "Hum dono koshish karte hain."
"Paise ka intazam karna, pita ka kaam hota hain, ghar aur bachcho ka care karna, maa ka kaam hota hain. When we are not able to fulfill our roles, and take care of our children adequately, is when the fights begin. Which is why having clearcut roles is important.
Today, a lot of roles have changed. Often, fathers take care of children and mothers go out and work…what's your opinion?
"Usme koi buraye nahi hain! Aaj ki duniya badal rahi hain. Agar do pahiye ki gadi chal rahi hain, toh dono pahiye mein hawa hona zaroori hain, toh agar aap housewife ho ya bahar kaam kar rahi ho, apni zimmedari ko samajhna hi hain, aur uss hisab se bachchon ko bada karna hain."
"Hum dono ek doosre se sehmat hain," adds Nadini, agreeing happily with her husband.
What are the difficulties you face as a parent in raising up your children?
"There are 2 things. One is money and the other is time. Paisa aur waqt! Meri yahi chah hain ki bachchon ke saath mera zyada waqt ho." says Adityaji.
Have you ever felt that you need outside support in raising up your children?
"Never. I think my wife and I are doing an adequate job. No outsider can take our place. The unique drawbacks and positive of our children only we know, as their parents. You will be able to tell when you meet our kids."
If you had a choice, what would you do differently in raising your children?
The mother laughs uncontrollably. "Kuch acha karna chahiye," she says, not knowing how to articulate further. Her husband takes over. Today, I work outside and my wife takes of the home. If circumstances could change, and we both could go out and work and come back home to look after our children, I would love that. But living in Mumbai it is not possible, one of us needs to make money and the other needs to look after the children…but that is a wish for another lifetime.
Do you think your children are safe in this community?
"Bahar toh bachche bilkul surakshit nahin hain! Naahi ghar ke bahar, nahi maidan mein, nahi school mein. The father pipes in "School mein woh surakshit zaroor hain." School mein Dhaka-dhuki hoti hain, lekin woh childrens matter hain."
Aap dekho kitna news main aata hain," says the mother, a little afraid of what goes on in school too.
"School bada instituation hain, usme hum kuch nahi bol sakte," says the father, believing that he cannot question the school.
"Par humme toh tension rehta hain," adds the mother.
Do your children also see the news about violence in schools?
"Haan, woh bhi dekhte hain. Main samjhati hoon agar tumko koi maarta hain, tum usko mat maaro…teacher ko bata do…jhagde mein mat pado!"
Adityaji, are other fathers in the neighbourhood get as involved with their children as you do?
"Nahi, main zyada dekhta hoon. Mere pita bhi itna involved hain." I have learnt this from him.
Based on your learnings and difficulties in raising your children, what advice would give to people reading this interview?
"Sabse badi cheez hain ki har parents ko apne bache ki disha ki tarah aankhe ho… Isi liye har maa-baap ki zimmedari hain ki woh apne bachche ki disha samjhe, aur uspe jitna ho sake sahyog de aur use aage badhane ki koshish kare. Yeh, humari soch hain, har maa baap apne bachche ka ujjwal bhavishya hain."
A special thank you to the CCDT team, that gave us an inroad into their community to meet these lovely parents.