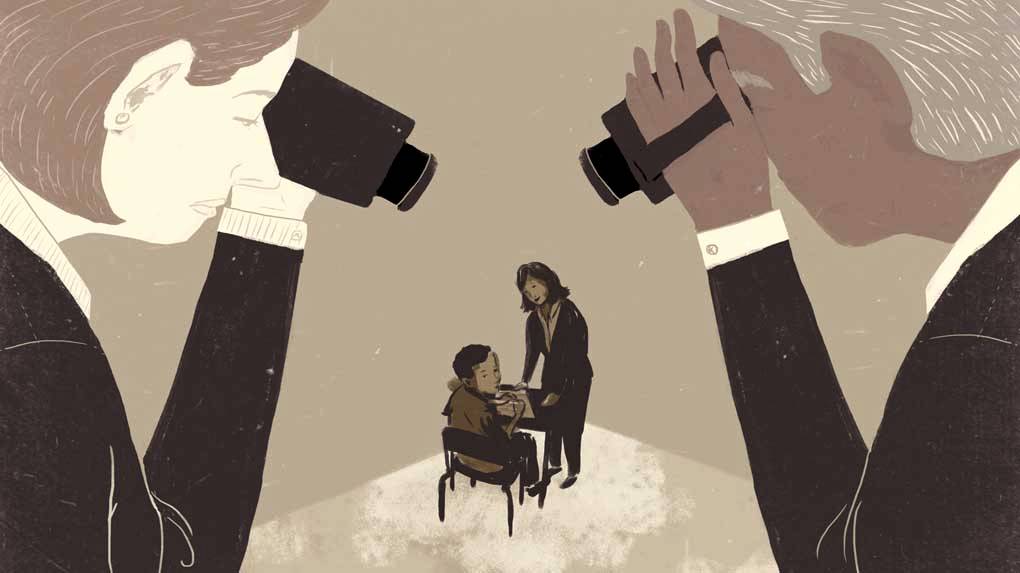 The State government in Delhi has hastened its work towards the completion of its project for installing CCTV cameras across government schools in Delhi and providing parents (through an application) with real time access to view their children in the classrooms. "This will make the whole system transparent and accountable. It will ensure the safety of kids," the CM was quoted tweeting. The move to prioritize this project comes after recent, and repetitive incidents of crime – committed by children, and against children within school premises. One can't help but question… Why are CCTV cameras being projected as a panacea for all the challenges related to school safety? What about all those password stealers and code crackers who will have real time access to CCTV footage of children, who are not their parents? And what about the reality TV like scenario CCTV's will create in classrooms that will kill a child's pranks and play, only to steal his carefree interactions with his peers and teachers? Will classrooms built on mistrust ensure better safety and education of children?
We wanted to understand what parents and teachers think about the installation of CCTV in schools, and only hope that they will rethink concepts of safety and security for the benefit of their children. Here's what some of them had to say:
Caution is an essential tool…
"In an ideal school, with ideal teachers and an ideal environment of learning, installing CCTV cameras would be an absurd idea. It's heartbreaking then, to have to acknowledge that our world today isn't anything like that. We are not, largely, compassionate and kind to children. The cruelty one sees around us is disturbing. They are not even safe in their own homes. By live streaming the hours they spend at school, we will perhaps be replacing faith with a culture of surveillance and fear. But even without cameras, is there any trust left? So, if there is even a 1% chance that this would make it safer for children in schools, I would not be against it. As a parent operating in today's reality, one has learnt that caution is an essential tool."
– Neha Bhatt, Mother of a three-year old boy.
Feeling of being under surveillance can be very stressful…
"I have a mixed response about this: I believe that teachers' work should be transparent and in any case there should be nothing to hide. Teaching is a public activity. Secondly, teachers need to be accountable and professional in their work and again there should be no problem if parents can view their work. The flip side is that if teachers make content related mistakes there may be a disproportionate public reaction instead of positive suggestions about how they can improve. Somehow the public expect teachers to be infallible (the guru complex). Similarly, officials from the education department may insist that teachers follow some specific pedagogical strategy instead of giving teachers the freedom to decide how they will teach. Thirdly, the feeling of being under surveillance can be very stressful – although we all have gotten used to this in many places."
– Indira Vijaysimha, Pedagogy and Education Expert.
They will always be conscious in how they look and behave because they know they are being judged…
"Considering how the crime rate has gone up in schools, it was about time for this to happen. But I don't agree with this because it straightaway takes away the freedom from children. They will always be conscious in how they look and behave because they know they are being judged. That automatically lessens their creativity and independence level, which will impact the social capital in the future. I remember being taken aback after seeing CCTV in my school principal's room a few years after passing out of school. The alternative is that the school puts in place strict protocol, and if need be assigns staff in each corridor who are responsible for certain number of classrooms. They become the 'friend' of these kids. Yes, there will be an issue of trust here, but that can always be worked out. Don't snatch the innocence away from the kids."
– Sidhanta Patnaik, Father of a three-year old girl
Despite CCTVs we have to be vigilant about each child and his behaviour…
"Having been a teacher for the past thirty odd years I welcome such an initiative…but as any new idea, this too has its pros and cons. At the end of the day it is the child who is most important and if it is beneficial to the child, why not go ahead with the idea? As a teacher I love my job and once I am in the class it is a different mode I get into. I am totally involved with my kids, their work, my teaching…how the time flies, and the bell rings for the next class, only then do I get back to myself.
I am oblivious to the CCTV (it is already in my class, and we are under the scanner throughout!). So, for me whether the principal or the parent is watching it does not matter. But for someone who does not enjoy teaching or tends to be lazy and not vigilant, it is getting caught! As teachers our prime responsibility is to teach and be observant about how a child is performing. The parents observing their child in the class is okay but keeping tabs on the teacher -I don't agree to it. Then it becomes suffocating, and parents also are of different types. Some are so interfering, at times it becomes difficult to make them understand the problems we, as teachers face. If such parents are given this app then god save the teacher! So, the principal, directors, board members watching us is fine but not the parents. Despite CCTVs we have to be vigilant about each child and his behavior. Interaction with the child gives a clue to a major problem that a child maybe facing."
– Nishi Das, Primary School Educator.
Privacy… is crucial for their evolution into emotionally healthy children…
"I agree with the idea partially. My agreement however, is subject to the purpose of awareness and not surveillance. Also, this is a move that should be implemented in the primary classes, and not for older children. It is essential to give them the privacy that is crucial for their evolution into emotionally healthy adolescents and adults. However, for the younger children, it often becomes a challenge for parents to understand behavioural and performance related issues within the domain of the classroom that the parents do not have access to. Being able to see for themselves, and also to see the behaviour of the teacher with child equips them to make decisions to solve the issues their child may be facing."
– Swadha Mishra, Mother of a seven-year old boy.
Classroom monitoring is of little use…
"The classroom is the safety domain compared to the rest of the school such as the grounds, basketball court, garden, washrooms. There are many children in the class. Any untoward activities occurring during school hours is minimal. Before school or after school is sensitive time. So, classroom monitoring is of little use. Rather, it will restrict the free interplay of emoting and teaching."
– Rashmi Tripathy, High School Educator.
Do not want to add on another app that would consume my mind doing patrolling…
"I agree with the idea of having CCTV cameras in classrooms. The necessity is not to police or monitor every movement of teachers, staff and wards but to ensure that all requisite corners are traceable for post factum screens. I think that should be enough. However, prior to installations the government should get the Privacy Security Program developed, published, vetted & then implemented.
My opinion is that, the viewing should be restricted to "in person-in campus" and limit the IP address from being open to public. If that's not done then it will open up multiple other issues that cyber underworld is eyeing out for. Parents should be allowed to screen a specific tenure, case or walk-in adhoc to view on real-time specific to their wards or general/ common areas.
Even if I am tech savvy, I would not want to monitor my kid's activities on the screen and also do not want to add on another app that would consume my mind doing patrolling. We send our kids to school and completely rely on the school authorities to take care of our children holistically.
As in our corporate environments we have CCTV surveillance, but we ensure the privacy by limiting to specific internal personnel and stored for a specific period. The monitoring infrastructure setup also gets its prominence for vigilance by the Security personnel.
This is a very sensitive and yet an important aspect. Therefore, Govt. should mindfully implement it and monitor the progress from time-to-time."
– Samarendra Mahapatra, Father of a seven-year old boy.