Inspired by our first ever blog, 13 Ways 2013 Failed The Indian Child, we decided to look back at what 2017 signified for children. Violence we believe has been the dominant sentiment this year – a child viciously murdered in school, others used as pawns in conflict regions, the blue whale challenge pushing impressionable minds to harm themselves, children poisoned by midday meals, countless others sexually assaulted by those they trust. Many others will contest this, quoting examples of youth groups fighting cyberbullying, school administration swinging into creating safety measures, parenting blogs and groups sharing experiences with others, adoption processes becoming more child centric and the launch of a nationwide safe childhood campaign by Kailash Satyarthi. We hand picked 17 hard hitting stories of this year that reiterate why we need to wake up every morning and reaffirm our commitment to end violence, not childhoods.
1. TO SCHOOL OR NOT TO SCHOOL?

CBI produces the 11th class student of Ryan International School in Juvenile Court in case of Pradyuman murder, on November 8, 2017 in Gurgaon, India. (Photo by Parveen Kumar/Hindustan Times via Getty Images)
The news of 7 year old Pradyuman never returning home from Ryan International School, took many twists and turns, finally exposing the crime of a juvenile. Parents and school administration swung into action, instantly questioning and deliberating on safety in schools. Media too ran into a frenzy, once again shaping public opinion by framing all juveniles as criminals and a threat to our society. When a child kills another child, it is a reflection of how we as adults are guilty of creating a society where violence is a means to an end? Many parents wake up each morning and wonder…should we or should we not send our child to school today? If we took personal responsibility for ensuring that schools are a place where a child learns and grows, and come together for their safety, maybe we wouldn't have to ask ourselves such difficult questions.
2. THE GOURMET MEAL
Indian school children eat their mid-day meal at a government primary school in the outskirts of Hyderabad (Photo credit: NOAH SEELAM/AFP/Getty Images)
230 children fell ill after eating breakfast in a school in Odisha. A 100 others fell sick in a school in Bhubhaneshwar after eating rotten eggs, 27 others were admitted to hospital in Bihar after a dead lizard was found in their daily meal, and 9 children in Deoli ate a meal with dead rats in it. What this midday meal is supposed to do for millions of children across India is fulfil a portion of that dietary requirement, serve as the one hot meal they eat a day and most importantly, act as a pull factor to attending school. Will the midday meal accomplish exactly the opposite of what it was set out to do – will it be the reason children stay out of school?
3. THE GAME OF DEATH: THE DEADLY BLUE WHALE CHALLENGE
A PIL was moved in the High Court seeking directions to internet companies like Google, Facebook and Yahoo to take down the links of the Blue Whale Challenge game. (Reuters)
The Blue Whale Challenge that brainwashes young impressionable minds took the lives of many across the world, and 6+ deaths (12-19 years) across Mumbai, Delhi, Chennai, Howrah, Guwahati and Bengaluru. 30 tribal children in Maoist-hit Chattisgarh were caught playing the game, in hope to find solutions to their personal problems too. The National Commission for Protection of Child Rights (NCPCR) and the media swung into action, sending out warnings to parents. Cyberbullying and mental health issues were highlighted as the leading causes of the Blue Whale suicides, but continue to have no public policy. The Million Death Study published in 2012 estimated that nearly 5300 children aged 0-14 years kill themselves each year in India – approximately 100 children a week. How many more young suicides must we report before we start acknowledging mental health issues?
4. MENSTRUAL SHAME, TEACHER TO BLAME
A sanitary towel with the message 'menstruation is not an illness', pinned on a tree during a protest in Kolkata, India. (Photo- Arindam Shivaani/NurPhoto/Rex Shutterstock)
A 12-year-old school girl from Tamil Nadu killed herself after her teacher humiliated her over a blood stain during her menstrual cycle. She was yelled at in front of her classmates, given a duster cloth as a sanitary napkin, and taken to the principal's office. Adolsecent girls across the world are made to feel ashamed of their bodies, especially during puberty. They are often banished, drop out of school, or are forced to stay at home during their periods due to stigma and lack of toilets or pads. The taboo of menstruation in India only adds insult to injury when a girls period becomes public knowledge. Why must we still raise our daughters with such an acute sense of shame for the most natural changes to their bodies? When will our society get over the fact that girls and women bleed and begin to accept it as normal?
5. MOTHERHOOD IN CHILDHOOD
The girl was 30 weeks pregnant in July 2017 when the court turned down her abortion plea as she was too far advanced. (Photo- AFP)
The Supreme Court of India denied a 10 year old girl, raped and impregnated by her uncles, to undergo an abortion. Under the Medical Termination of Pregnancy Act, India doesn't allow abortion after more than 20 weeks of pregnancy, unless they receive permission from the courts. The number of cases of abuse amongst children by family members or persons known to them is astounding. The last report undertaken by the Ministry of Women & Child Development reflected more than 53% of children were abused within their homes by someone they trust.While laws can argue and courts can move to deny abortion to a 10 year old on the basis of various legal provisions… will her childhood stand still while she mothers her new born?
6. IS A 5 YEAR OLD CAPABLE OF SEXUAL ASSAULT?
A 5 year old school boy is booked for raping his classmate (Photo – Unknown)
The Delhi Police booked a five-year-old boy for allegedly raping his classmate inside the classroom and washroom of a private school. The Indian Penal Code provides children below seven years of age certain protections against prosecutions, therefore, despite having registered a case of rape under the provisions of POCSO (Protection of Children from Sexual Assault), the police were unsure of how to proceed with the prosecution. Experts on the other hand are of the opinion that a 5 year old cannot commit sexual assault. He's most probably just enacting something he's seen. It's also common for young children to touch each other out of curiosity. Peer touching is a part of growing up. It needs to be addressed through therapy to help the child understand inappropriate behaviour and not to cause harm to others. The question remains…Does a five year old boy understand the difference between aggression and a sexual act? Does he understand the significance and consequences of such behaviour or is he merely enacting similar incidents he sees around him?
7. THE TWISTS AND TURNS OF THE ARUSHI TALWAR CASE
Nupur and Rajesh Talwar were cleared of their daughter's murder by the Allahabad High Court. (Photo- NDTV)
The murder of Arushi Talwar in 2008 that took numerous twists and turns, and sent her parents to jail, shook the nation. How can parents be perpetrators? Two murders, two narratives, two bodies of evidence, two theories of crime and two sets of suspects later, Arushi's parents have been set free, after spending 4 years in jail. In the winding road to justice, the country was compelled to question the most inherent instinct of parents. Are all parents always protectors?
8. SLAP BET
Class X students in the washroom of Pathways School in Noida, during a video recorded slap bet. (Photo- Unknown)
Social media and its omnipresence has made its way into schools too. A slap bet between classmates of Pathways School in Noida was recorded on a mobile phone and uploaded on the internet. While this incident was deemed consensual and apparently not a case of bullying, the use of social media amongst young, school going children remains questionable. Three class 10 students were suspended after one's parents received the video and brought it to the notice of the school authorities. Addicted to social media, how far will children go to get attention on social media platforms like snapchat? How do parents, teachers and caregivers address this emerging beast – social media?
9. DEATH RIDE: SCHOOL BUS TRAGEDY
Bystanders gather near the scene of a bus crash in Etah in the state of Uttar Pradesh. (Photo: AFP)
At least 15 children were confirmed dead and several others injured after the school bus they were travelling in collided with a truck in Etah district of Uttar Pradesh. The PM offered his condolences on twitter and the UP government ordered an investigation and registered cases against the school owners, but year after year are condolences and cases enough to bring justice to the lives lost? The National Crime Records Bureau shows that almost 43 children die in road accidents in India each day and children below 18 years who die in road accidents make up 10.5 % of all fatalities. How many more children need to die before road safety measures are put in place?
10. BARE-CHESTED GIRLS, TEMPLE GODESSES
As part of ritual, young girls are forced to live bare-chested at a temple in Tamil Nadu's Madurai (Photo- NDTV)
At a temple in Tamil Nadu's Madurai city, seven girls decked up like goddesses, with only jewellery to cover their bare chests, spend 15 days in the care of a male priest as part of the ritual. In this ancient custom, parents send their daughters voluntarily, with more than 60 villages participating in this ritual too. This bizarre temple ritual was exposed by a Chennai-based journalist, raising concerns over the girls' safety on the premises of the temple and the impact of these traditions of their psychological health. How long will we continue violence against young girls in the name of religious rituals and traditions?
11. 3 SIBLINGS MURDERED IN PANCHKULA FOREST
Bodies of the three children being taken to Kurukshetra on Wednesday after post-mortem at the Panchkula civil hospital. (Photo- Indian Express)
Three children were found dead in a forest in Haryana's Kurukshetra district after their uncle confessed to killing them. He claimed that their father had made him kill them because he wanted to get rid of them before marrying a woman with whom he was having an extra-marital affair. When the people who give you life, take away your life, can any laws truly serve justice?
12. MUMBAI TO MEGHALAYA: ARE WE IGNORNING PEER VIOLENCE?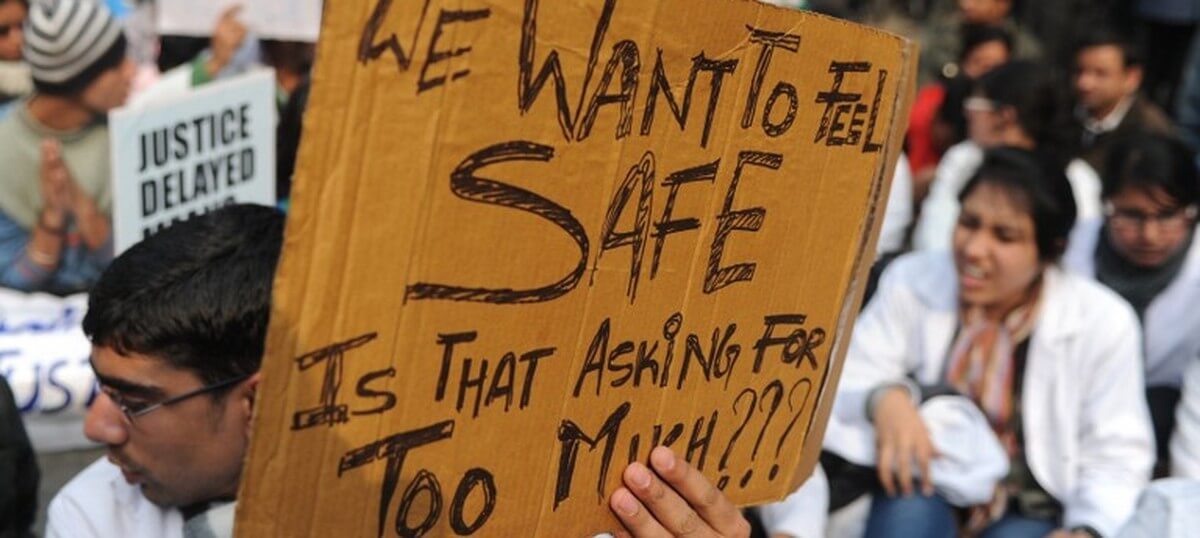 6 minor boys were detained for raping an 11-year-old girl in a village in Meghalaya (Photo- Unknown)
Six minor boys were detained for raping an 11-year-old girl in a village in Meghalaya's South West Khasi Hills, for the second time. All the accused, between the age group of 14-16 years were detained after an FIR was filed by the girls family. In Mumbai, 15 minors raped a 16-year-old boy for a year. One of the rapists shot a video of the incident and showed it to his friends, forcing the victim to have sex with other boys by threatening to make the video public. Are these violent acts by young on their peers, a result of age-old gender based violence in communities, a mere reflection of a society we live in? Is peer violence becoming an uncontrollable phenomena, ignited by the violence children grow up with today?
13. MEDICAL NEGLIGENCE IN HOSPITALS 
Children at the Farrukhabad hospital (Photo- PTI)
63 children died in Gorakhpur at the Baba Raghav Das Medical College and Hospital, 52 infants have died in the Mahatma Gandhi Memorial Medical College Hospital over 30 days in Jamshedpur due to malnutrition. But this was not all. As many as 49 children died within a month in the Sick Newborn Care Unit of the Ram Manohar Lohia Hospital in Farrukhabad. Investigations claimed that lack of oxygen caused deaths due to "perinatal asphyxia", a condition in which the child cannot breathe properly. The government dismissed investigation reports, doctors went on leave in protest and medical practitioners blamed the children's death on the ignorance of their mothers. How long will the blame gam go on before we as a nation take responsibility for so many preventable childhood deaths?
14. DOUBLE MURDER: 16 YEAR OLD KILLS HIS MOTHERS & SISTER
The boy who killed his mother and sister being taken by police personnel for medical tests in Greater Noida. (Photo- Sunil Ghosh/HT)
A 16-year-old boy, missing since the murder of his mother and sister near Delhi was found in Varanasi and later confessed to killing them with scissors and a pizza cutter because he was scolded and beaten up at home. In the past, the boy would get frequently scolded over his poor performance at school. The police suspect that the boy was hugely influenced by 'Gangster in High School', a video game that dares players to kill and get away with it. The boy is known to have felt remorseful after he realised what he did and is currently residing in an observation home. While adolescent crime is a serious area for concern, are we still to understand adolescent behaviour correctly? Is it time to treat adolescence as a special stage-invest in further research and early intervention programs that support development of life skills that protect children from risk factors that increase their propensity for violence ?
15. EXPELLED FOR HUGGING
The Kerala High Court upheld the decision to suspend two Class XII students. (Photo- Express)
A leading private school in Kerala's Thiruvananthapuram has expelled two of its students – a girl and a boy – over their "prolonged hugging" in public, triggering a raging debate on discipline and morality in the state. With this incident blown out of proportion, both students remain uncertain about appearing for their exams or getting admission in another school. The school justifies this expulsion in the best interest of their institution, binding all children to so-called discipline and decorum. Shashi Tharoor spoke out against this outrageous step taken by the school authorities, accusing them for "sexualising innocent affection". Why have we begun to hate love? Why have innocuous hugs and the expression of positive emotions between girls and boys become expel worthy? 
16. TEENAGER FLEAS JUVENILE HOME, FEARS SODOMY
Boy fleas Prayas Children's home for boys for fear of being sodomised. (Photo- Unknown)
Scared of abuse at the hands of inmates, a teenager fled from a juvenile home in Jahangirpuri. An orphan, living at this children's home, he was aware that juveniles at the children's home consumed drugs and watched porn films on mobile phones, before sodomising each other. He feared that he could be the next target and so fled from the juvenile home along with 12 others. Will India gets its act together on implementation and systemic improvement in child care institutions to ensure justice for her children?
17. SAFE CHILDHOOD, SAFE INDIA
Kailash Satyarthi launches Bharat Yatra to fight against child abuse and trafficking in India (Photo- Unknown)
With the growing epidemic of the abuse of children in India, Nobel laureate, Kailash Satyarthi launched a march against child trafficking and child abuse, spanning across 22 states in India. What started in Kanyakumari will end in New Delhi, with the hope to mobilize over 1 crore people in this drive for Safe childhood, Safe india. Will this finally be the moment when we raise our voice and unite as a nation to end violence not childhood?