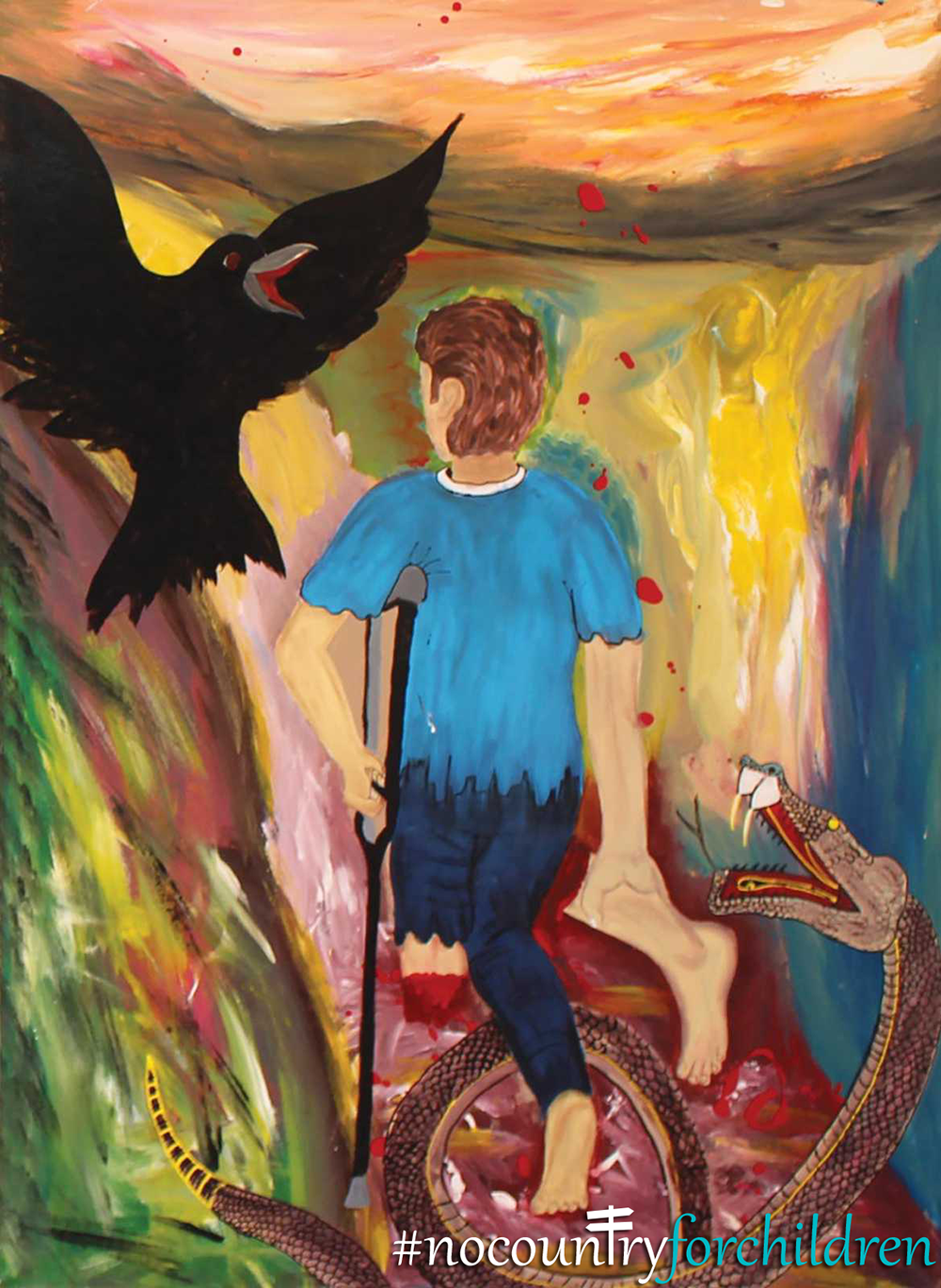 Children thrive on security and find comfort in certain predictable routines of life. Happy childhood memories often centre around mundane daily activities that the child does with parents or siblings such as walking to school every day, conversation around the dinner table or helping out in household chores.
What happens when this life and this world is turned upside down? People who are not affected by the crisis of displacement are not touched by the enormity of the situation and the gut wrenching feeling of leaving behind an entire life and the uncertainty of the future. A Syrian artist Mohamed Hafez recreated miniature versions of wrecked homes of refugees in suitcases. This art project called Unpacked: Refugee Baggage is an attempt to humanize refugees.
While the refugee crisis wreaks havoc on all those who are going through it, children are especially vulnerable because of the fact that they have practically no voice and hardly any notice is taken of what they think or feel. Art in itself is a neutral platform that can be used very effectively with children who are trying to cope with the realities of displacement.
Here we are in conversation with Priyanka Patel, a Storyteller, Psychologist, and an Educator who uses various art forms in her interventions with children.
Priyanka has been integrating Arts and Psychology for inner transformation since over a decade. She has worked extensively in educational settings including schools, NGOs, and shelter homes. Through her company, The Looking Glass, she conducts a wide array of workshops using Theatre, Music, Movement, and Visual Arts in therapeutic settings and for building Life Skills. She also performs regularly for Sounds of the Sufis.
What are the issues found in displaced or refugee children?
Children who have been uprooted from their lives feel the burden of suddenly having to cope with change as well as with a lot of shame and aggravation. If the child is obviously depressed it is easier to deal with than with those who have internalised the hate. These children might get into self-destructive behaviour. Even in every day circumstance adults don't have conversations with children and don't really allow them to express themselves. This gets worse in traumatic situations. Many times these children show psychosomatic disorders or other forms of physical illness such as allergies that are all linked to the trauma that they are facing. Behavioural issues are also very common.
What should be the focus of interventions with children who are displaced?
A lot of what the child thinks in these situation depends on the kind of conversations they are hearing around them. Victimisation begins with the 'Them vs. Us' conversation. The idea that they are pitted against an unfair world can become a Me against the world can become a way of life. The focus of any intervention is typically to encourage them to focus on the positive aspects of the current scenarios and move towards dev eloping an internal locus of control.
What are the different types of interventions done using art?
Usually the experiences the child has gone through and the background determines the type of therapy. I use meditation not in the religious context but as a means to focus on one's breathing and body. This helps children pause and observe their body including noticing the various aches and pains that they are facing.
Music is very healing for body. However, I prefer to focus on instruments that are organic such as brass singing bowls, flutes etc., that create sounds that can be calming. Children respond very well to this. Children also like the experience the creating their own song. The process of experimenting with various sounds, rhythms and lyrics is an empowering process. Children often create a 'go-to' song that they can draw comfort from in a situation where they have little control.
Creating stories is a similar exercise of self-expression and empowerment. Children are in control of characters, events and the conclusion of the stories.
Theatre exercises are used where children enact different situations that affect them. This is a useful method of demonstrating how they can make changes in their lives. Children are encouraged to enact issues and then pause in the middle of their enactment to focus on what they are feeling in the moment and what they can do to respond differently and thus change the situation.
Drawing and painting are great methods of self-expression and a great way to explore what the child is thinking especially if it is a younger child or someone who is finding it difficult to verbalise feelings. The stress of the pencil on the paper, the colours used, the content of the drawing, the materials used, themes explored can all help in understanding the child.
How do children of different age- groups react?
One cannot really say that particular interventions are more effective or suitable for a particular age group. A lot depends on the child in question. Differences in socio economic status, background of the child in terms of urban or rural all make an impact on how a child can respond to stimuli in therapy. However, children in the 0 to 6 years are very adaptable and resilient. The way they cope is linked to the parents' way of coping. Older children in the 10-15-year age group are more resistant to change and can be more traumatised by upheaval in their routine and their environment.
Is there a difference between displacement due to natural calamities and due to man-made reasons?
A man-made situation has a specific target to blame. Therefore, there is a lot more hatred associated with it especially if the child is listening to a lot of hate at home. The consequent anger issues have to be dealt with in therapy. On the other hand, a natural calamity can bring about feelings of confusion and betrayal as in a fatalistic society we are conditioned to believe that there are forces beyond our control that care for us. In both situations the feeling of victimisation is common and the desire to blame someone else is foremost. This has to be dealt with for recovery to be possible.
How can art therapy help children who are displaced?
The goal of therapy is to help the child reach their maximum potential in the current scenario given the resources they have and help the individual remove blocks and let go of inhibitions. They must move from victimisation empowerment. Art therapy helps express emotions and assists in breaking sown inhibitions. It helps children view their circumstances objectively and thereby build an internal locus of control and focus on how they can build happiness for themselves.