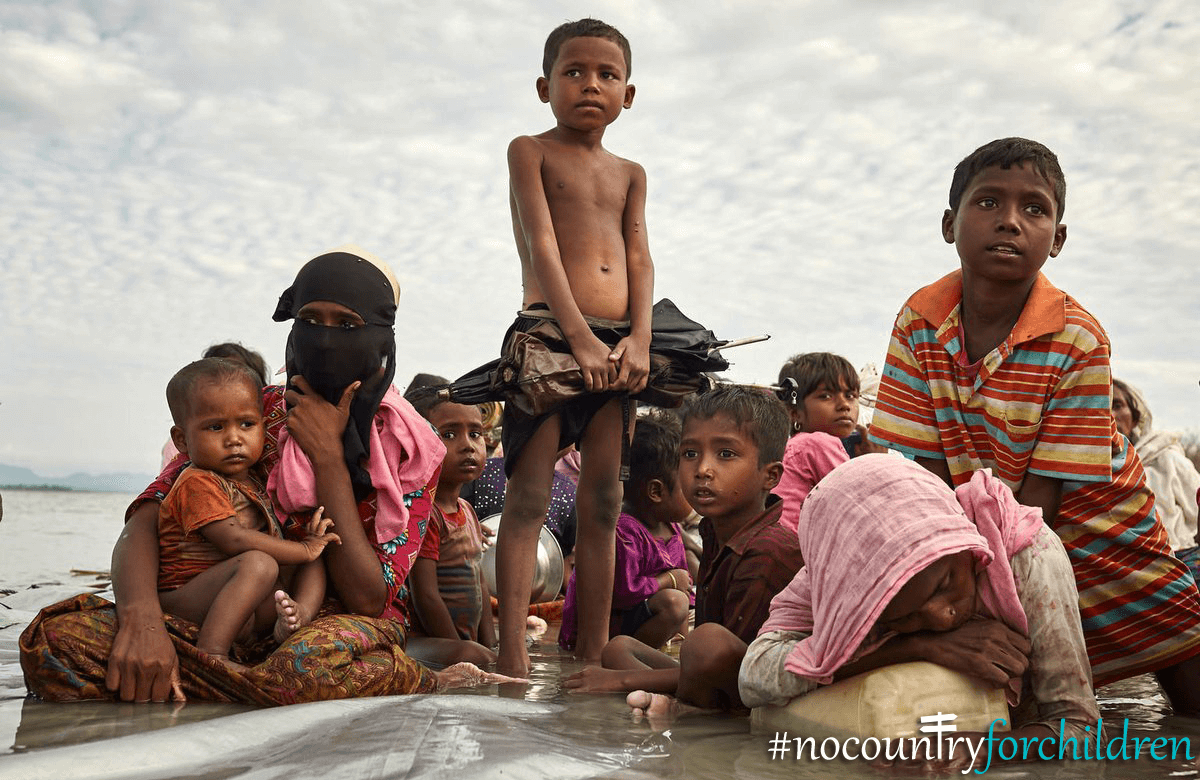 As thousands of Rohingya Muslims have made their way to Bangladesh and other countries, photographers have gone to incredible lengths to document their harrowing journeys, as they search for safety and better lives. Many photojournalists and reporters have shared images daily, making sure the world gets a first-hand look at the struggles involved.
"You are there trying to do your job with a camera in your hand. And then your heart overrules your head. I had been in the camps, where everything was quite settled. But then I saw the real chaos and the refugees' desperate situation. You hear about it. But seeing it is a completely different thing." – said Hannah McKay of Reuters. And yet these brave photojournalists, describe the indescribable battle for survival of the Rohingya against the heinous human rights violations, because they need to remind us, through their visuals, never to forget.
Never to forget the countless children who left home and drowned on their way to safety, never to forget the children who stand in queues for countless hours just for a spoon full of food, never to forget the young girls being married off early and the young boys working to make ends meet, never to forget the children trying to make a new place home but being denied the right to do so, and never to forget that the reason our children live to see such days, is because somewhere, we forgot about humanity.
Below is a selection of instagram accounts to follow that allow you to look at the Rohingya Crisis through a child's eyes.
1. Greg Constantine is a documentary photographer who works on projects that focus on human rights, injustice and inequality. In 2005, he began work on Nowhere People, that documents the struggles and plight of stateless communities around the world. He has received multiple awards for his work, collaborated with leading organizations like UNHCR and others that work with refugees, published numerous books inter-related to his Nowhere people project and delivered a Ted Talk too.
2. Ahmer Khan was previously, Communications/Photographer World Health Organisation, today, he is an independent documentary photographer and a radio journalist based in Srinagar, Kashmir, and covering social issues amongst other subjects across the world. His work has been featured in the leading publications like the Guardian, Vice, BBC and Aljazeera. Don't miss A Textbook Example of Ethnic Cleansing: Photographs of the Rohingya in Myanmar by Ahmer and follow him on twitter.
3. Burhaan Kinu, having grown up in Kashmir, started his career as a photo-journalist at the Kashmir Observer, where he documented the state's conflict. He currently works with Hindustan Times and was recently awarded the Ramnath Goenka Excellence in Journalism Award for 2015 in the Photojournalism category. Burhaan's main goal and focus is to effectively represent the world around him, to provide a space to marginalized voices and construct alternative visions. A glimpse through his instagram account will give you a peak at stories of Rohingya children living in refugee camps across Delhi.
4. Adnan Abidi is Reuters photo-journalist based in New Delhi. "In photojournalism you need to get beyond the visible and dig out a story within a story," he says and does as he documents visual stories of the Rohingya community fleeing to Bangladesh. His story 'Rohingya refugee boy works to support family' is a heart breaking reflection of what childhoods look like in a crisis.
5. Kevin Frayer, Canadian photojournalist, interested mostly in Climate Change and the "Ethnosphere", noted for his wartime work in the Middle East including the Gaza Strip, Lebanon, and Afghanistan, is narrating stories of the Rohingya Crisis too. Almost synonymous with broken childhoods of the Rohingya crisis, Kevin Frayer's iconic black and white documentation of their lives makes the crisis come to life for many of us far away from these harsh realities.
6. Patrick Brown, Australian documentary photographer, has been represented by the prestigious agency Panos Pictures since 2003 and continues to cover social issues that are often forgotten by the mainstream media today. Patrick's impressive volume of work, faultless in the portrayal of the human condition, hopes, and disillusionment, the everyday and the extraordinary are captured in almost all his photography. Patrick's coverage of the Rohingya crisis, and a focused emphasis on children is visible across almost every publication covering stories of Rohingya Muslims.
7. Danish Siddiqui, an award winning photojournalist with Reuters. Danish has covered several important and breaking news stories all over South Asia. His work has also included covering the war in Afghanistan to documenting the living conditions of asylum seekers in Switzerland. He has also briefly worked in London on a photo documentary on Muslim converts. "While I enjoy covering news stories – from business to politics to sports – what I enjoy most is capturing the human face of a breaking story," says Danish. His narration of the Rohingya crisis is telling of his passion for the medium and his desire to tell their stories.