Every once in a while one chances upon instances of Indian ingenuity, colloquially known as 'jugaad'. But in a perverse take on this ability to subvert challenges and find solutions, villagers in Eastern Maharashtra are participating en mass in the production, sale and consumption of a highly addictive substance, locally known as Kharra. It is a powdered concoction containing Betel Nut (Supari), Tobacco Flakes and Calcium Hydroxide (Lime/Choona). It is prepared using a jagged edged wooden contraption. All ingredients are ground and crushed together and then sold in pouches. The name Kharra in fact comes from the grinding sound made during the production of the powder.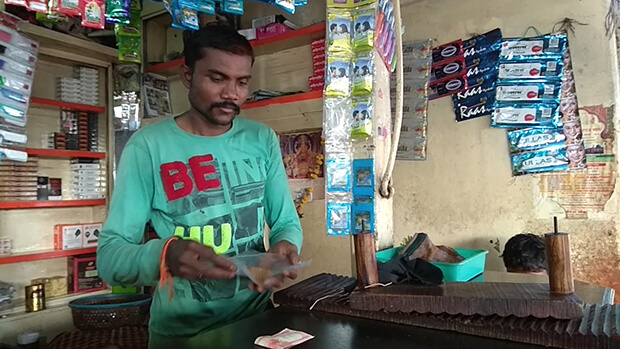 I discovered Kharra on my first trip to Nagpur and Yavatmal region a few weeks ago. What caught my attention was that this ubiquitous wooden contraption was present at all paan stalls not just along the highway or in rural areas, but also inside Nagpur city! Paanwalas could be seen hard at work grinding the Kharra and it got sold within minutes! It begins early in the morning in the villages. I was taking a walk in Yavatmal and the entire neighbourhood reverberated with the KharrKharrKharr grating sound of Kharra being manufactured. Freshly ground kharra was selling like hot cakes!
Apparently freshly ground Kharra is in high demand. The heady mixture is known to give the consumer a 'high' and is highly addictive. So strong is the lure of Kharra, that even women and children haven't escaped its temptation.
However, while there is a ban onpaan masala and gutkha, curiously kharraremains outside the purview of the ban and is easily available to even children and teenagers, many of whom have grown addicted to it. This is disturbing as the law is quite clear on the subject of protecting children. As per a 2015 amendment to the Juvenile Justice Act (Sec 77), "Anyone giving a child any intoxicating liquor or any narcotic drug or tobacco products or psychotropic substance, except on the order of a duly qualified medical practitioner, is liable for seven years of imprisonment and a fine of Rs 1 lakh."
What's worse is that Nagpur is the Oral Cancer capital of the world! According to data with regional cancer registry in Nagpur, more than one third of total cancer patients suffered from oral cancers or Tobacco Related Cancer (TRC). According to a study by Indian Council of Medical Research, 50 per cent of cancers in men and 20 of those in women can be directly linked to tobacco use. Over 10 lakh deaths occur due to tobacco in India every year and Maharashtra accounts for 10 per cent of that figure. Experts say about 4 lakh new cases of tobacco related oral cancers crop up every year in just Central India with a majority of those being reported from Nagpur and adjoining areas.
My visit to the region was related to NGOs who are working in the area of child protection in rural/tribal areas, there we had chance to interact with the villagers and members of Village Child Protection Committee (VCPC). When I asked them if anyone in their village suffers from any kind of addiction or 'nasha', initially people declined as to them addiction is only related to alcohol or other drugs. Kharra is not considered a narcotic substance or drug by them.
I persisted and went on to ask those around me how many consumeKharra. Shockingly, most of the people raised their hand and accepted they chew Kharra. They keep it in the mouth or chew it for long time and the juice gets absorbed through the fine membranes of cheek, inside the lips and under the tongue. After chewing for anywhere between a few minutes to a few hours, they spit the residue. There were tell-tale reddish brown marks on walls everywhere.
Now, it is important to note that it's not as if Kharra or similar substances are not consumed elsewhere in India. People in Mumbai and Gujarat are known to consume Mawaa, a version of kharra that is not ground, but rather crushed between the palms after wrapping it in polythene. Even Khainithat is popular in Uttar Pradesh, Madhya Pradesh and parts of Eastern India (and Nepal), is prepared by rubbing it together with lime, but without the Betel Nut.
This article was first published on Sabrang India on October 18, 2017 and has been republished with due permission.