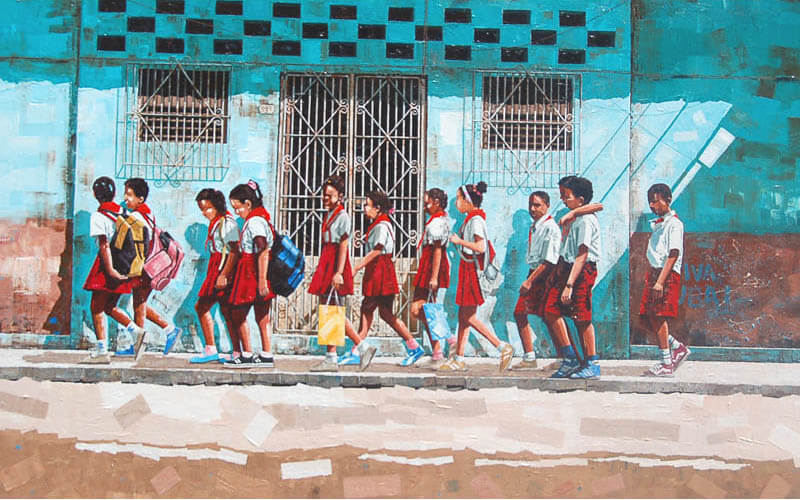 A 7 year old boy was murdered in the washroom of his school, after an attempt of sexual assault on him by a school bus conductor. There is an accompanying shock, disbelief and anger that this could happen to a child in school. My heart goes out to the parents of the little boy. Every adult should hang their head in shame, for being part of a society which has become complicit to all types of violence against children, by not speaking up enough, at the right time, and not demanding measures for their safety.
Angry parents have been protesting for justice without delay, and for the school to be particularly held accountable. The Police, School, Education minister, and CBSE have swung into swift action. The Education Minister has further promised to set this case as an example to send out a warning to schools and the people. Amidst the grief and shock of this tragic incident, there are some urgent questions that we all must ask ourselves– Are our children safe in schools? What can we do to ensure their safety and prevent incidents of violence against children in schools?
Let us look at a few cases of violence reported in schools in just the last one week itself. On 1st September, there was an incident of corporal punishment by a teacher in a school in Lucknow, where the teacher slapped a 3rd standard child 40 times, for failing to respond to roll call. On 8th September, a video of a 10th standard boy, studying in a school in Noida, being slapped by his classmate went viral on social media. What is equally disturbing is that the video of the whole incident was being recorded by other children to be uploaded on a popular social media platform. A school peon was arrested for raping a class 1 student in a school in Delhi on 9th September. There is a case of violence against children in school coming to light almost every day now.
These cases are indicative that schools can no longer be assumed as safe spaces for children. There is a need for schools to take responsibility and emphasize on protection of children as much as development and learning. Before parents raise concern about the academic performance of their children in school, they should demand to know if their children are safe in schools.
How can parents get involved?
There's a lot that parents can do, with the school to ensure that their children feel safe in school.
Find out about the school management committee in your child's school, as mandated by Right to Education Act 2009. Demand that it is constituted, active and start working with schools to make it a safe and secure place. Among the many roles of the SMC, ensuring the rights of children and monitoring incidents of mental and physical harassment, is an important function that the committee should undertake.
National Commission for Protection of Child Rights has issued guidelines on eliminating corporal punishment in schools which talks about constituting a corporal punishment monitoring cell under SMC. There is a need to expand the scope of the cell to include the mandate of protection of children from all forms of violence.
In schools which are exempted from constituting SMC, actively participate in parent teacher association/parent teacher meeting. PTA/PTM is an effective platform for raising questions, discussions and creating accountability. Demand that safety of children in school should constitute an important agenda of PTA/PTM.
Share your concerns with other parents in your child's school. Form class parent's WhatsApp groups/e-groups. Flag issues that are bothering you, discuss, gather information, collectivize, ask questions to the school authorities, demand answers from them, and suggest ways to work together. Let the school know that you are serious about the safety of your children.
Most importantly, talk, and listen to your children. Be interested and be there for them. Encourage children to share about their day, and report any problem that they might be facing in school or outside from any person.
What can schools do to ensure the safety of children from violence?
The school management is a safety provider and they cannot shirk away from this important duty. Every school should create avenues to positively engage parents and children to show their committment towards ensuring the safety of children.
Every school should formulate a child protection policy, which should clearly specify the code of conduct for dealing with children for every staff. The CPP should lay out reporting mechanisms for any violation, and mandate a course of action within a specific timeline. Schools should ensure that every staff has received training on CPP and child protection.
Empower children; build their life-skills to help themselves and other children. Schools should encourage formation of children's club/groups, and ensure linkages between SMC and children's group to create transparency and accountability.
Children should be informed of their rights and responsibilities. Every child should be able to recognize when his/her rights are being violated, and whom to report to in such an instance.
Make children aware of 1098. Install a complaint/suggestion box, and ensure that it is easily accessible to all children in school.
Take responsibility to raise children who are sensitive to other children and believe in a culture of peace, and co-existence. Introduce, and promote the practice of restorative circles in classrooms. Use the technique to encourage peaceful means of dialogue between peers to address differences rather than resorting to aggression and violence.
Conduct regular social audits. Child protection risk analysis should form as an integral part of the audit.
Dear parents and schools, it is time to get involved and act together to ensure the safety and protection of children in schools!