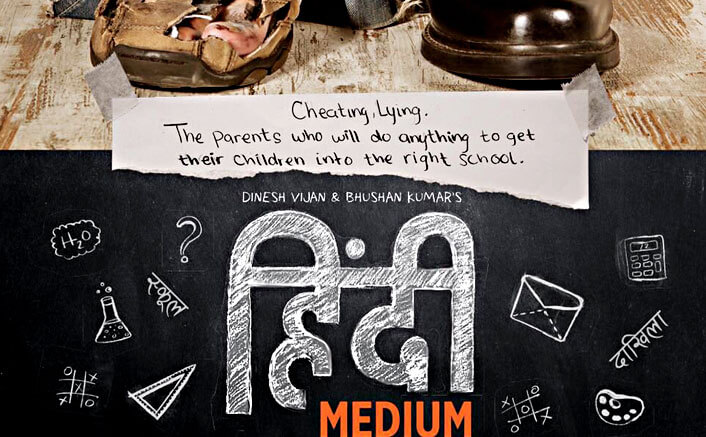 Let me start by saying that the film got me even by the stretch of the writer's imagination.
The gravity of the plot was well balanced by effortless comical flair delivered by well-polished actors. With its fine main cast and supporting cast, Hindi Medium scored well in the acting department. The film's relatable and smooth flowing storyline in the first half is what I took to – The characters are well woven into this on screen social and educational satire for which I give credit to the director, Saket Chaudhary.
An aww-inducing backstory provides a window into the current lives of Raj Batra (Irrfan Khan), a Delhi businessman from Chandni Chowk and his wife Mita (Saba Qamar), a homemaker and control freak who dreams of an illustrious life in Delhi's elite Vasant Vihar neighbourhood. A well-modelled business plan catapults them into richness and Mita starts turning her life long dreams into reality.
A skewed view of self actualisation is what fuels Mita in her drive for acceptance into Delhi's swish set. Raj, more often than not has to bear the brunt of her whims and fancies; one can't control sympathising with him through the film. Raj and Mita's lives have been turned around full circle because of Pia's impending school admissions and Mita's over zealous attitude but you can't stay mad at her for too long. She is highly aspirational and desires the best education in a top rated English Medium school for her daughter Pia and is willing to go to exaggerated lengths to make that happen.
Full marks to the writer and director on their nightmarish take on something parents are well accustomed to.
Shyam's (Deepak Dobrial) character strikes a chord. Doing great justice to his part, I found myself silently rooting for him, hoping he gets what he so rightly deserves.
Without him, Hindi Medium would not be the sleeper hit that it has turned out to be.
Hindi Medium provided fodder for many laughs and giggles with its stereotypes and archetypes but it also posed some important questions, which I believe, is the hallmark of a good film.
I couldn't help feeling a little gut wrenched when I left the theatre. Many called the film "preachy in parts" but how else does one highlight the irregularities in our education system which I've come to realize is a divisive issue?
I did introspect and put myself in the character's shoes on many an instance – What would I do as a parent in a similar situation? Would I usurp the seat of a less fortunate child? Would I pay an exorbitant bribe to secure a seat in a prestigious institution? Would I consider enrolling my offspring in a government run school? I went through a sort of catharsis and then realized – Our systems are flawed because we are flawed, our thought processes is flawed.
WE give way too much importance to social hierarchy and the caste divide.
WE would choose a private / international / IB schools hands down over a government or municipality run school.
WE perceive the command over the English language as a dignifiable trait often looking down on our vernacular counterparts.
The film highlights poignantly how if any child is given a chance, he/she will shine. A good and sound education is the right of every child regardless of their social strata or economic background. It is the basis of a bright future and every child deserves it.
Hindi Medium ends on a positive note by its lead characters doing a noble thing. Raj and Mita become positive motivators of change and progress by changing their thought process.
If only it were easy to change mindsets, we would be looking at a very bright lot of children across all institutions soon enough.