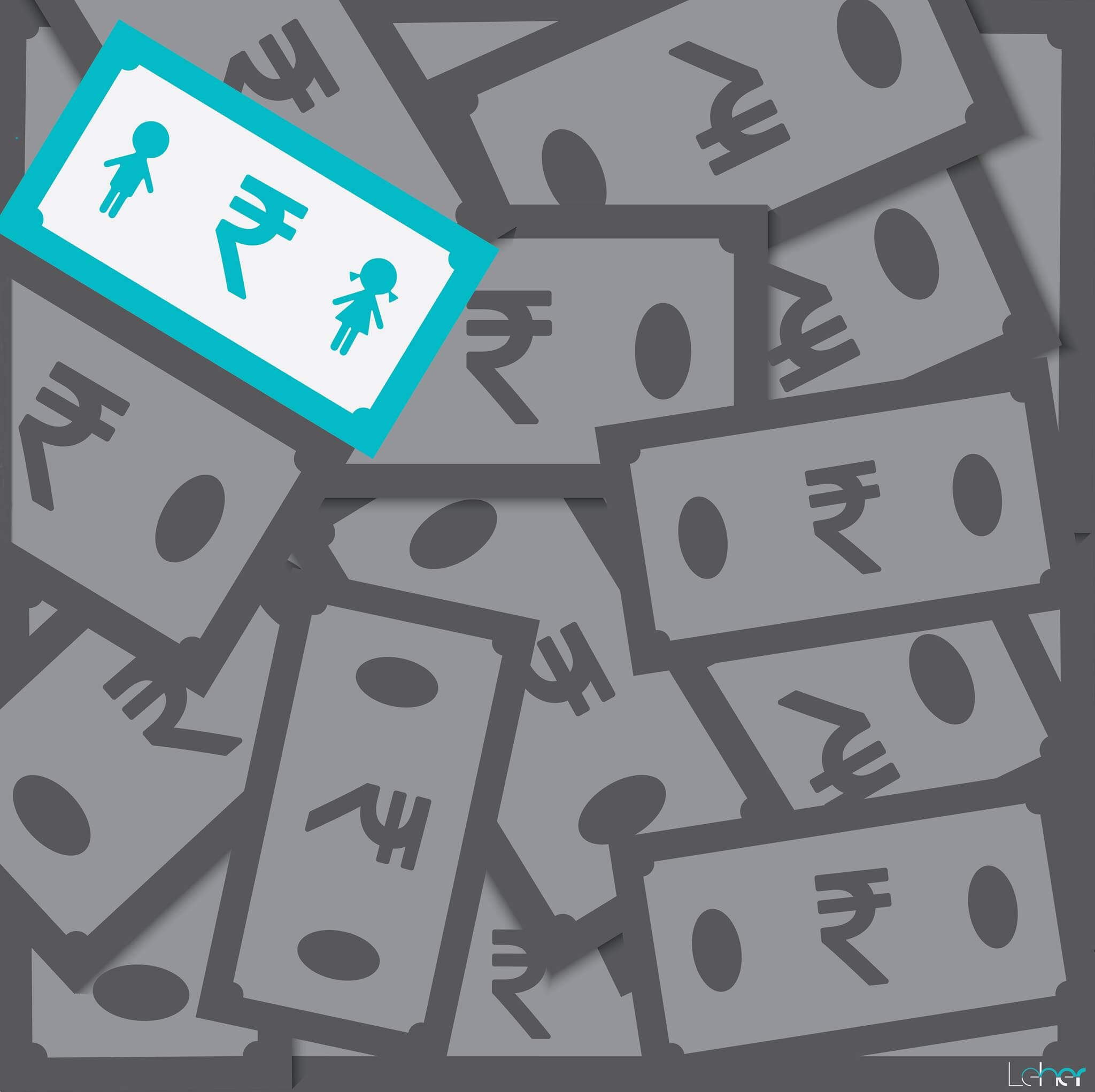 Indians love children as much as they love their motherland. A friend who was visiting from abroad remarked recently after attending the republic day parade, "It seems "Bharat Mata ki Jai"(Long live Mother India) has become very popular among schoolchildren now. It's good to develop love for the country". A very agreeable thought indeed even though he was talking only about the children of people like him as that's the only world he has ever known. A comfortable and economically secure world where children are encouraged to do as they please, work hardly, play more and dream big. Where mothers dote on their children with the help of full-time helps, and fathers check on them through facetime calls.
Understandably, the chants of "long live the motherland" appear to be real and cheerful when it comes out of the mouths of such well-fed, clothed, and as yet innocent children of India. However, it is not the world that ninety per cent of India's 47 crore children who live in plastic shacks, mud homes, and cramped one-room houses that are surrounded by disease and danger of abuse and violence. Besides the free protein gruel at the Anganwadi centre, these children are eligible for free education under the Right to Education in government schools till the age of 14. The mid-day meal scheme brings them to school but doesn't help them in acquiring knowledge as was acknowledged by the Finance Minister when he spoke of a new scheme to stem falling learning levels in school. The high enrolment rates are good but to reap the much-touted demographic dividend Indian schools need to do much better. For that they would need enough number of good teachers and physical infrastructure. For children to remain healthy and disease free, we require a functioning primary health system. All of this costs money and that's where the government fails once again. Well-spoken words are not enough to hide the entrenched indifference of the Indian state towards ninety percent of its 47 crore children.
Union Budget 2017-18
Every month, an average Indian family spends close to one-third of their income on one child. This covers school fees, clothes, food and medical bills if any. For an infant, this expenditure is about 12-18 per cent excluding non-regular expenses like medical bills and toys. To understand it better, if a couple in Delhi, together earns Rs 150,000 per month, they are likely to spend nearly Rs-30,000 to 40,000 on the child's school fees, fruits, milk, health supplements, stationery, toys, clothes and day care or a dedicated house help. The figures for other cities and small towns can be calculated by making the necessary adjustments in their respective cost of living.
Table 1
Share of BfC in Union Budget (in per cent)
| Year | BE (Budget Estimates) | RE(Revised Estimates) |
| --- | --- | --- |
| 2013-2014 | 4.64 | 4.56 |
| 2014-2015 | 4.52 | 4.16 |
| 2015-2016 | 3.26 | 3.62 |
| 2016-2017 | 3.32 | 3.29 |
| 2017-2018 | 3.32 | NA |
Source: HAQ: Centre for Child Rights
This year the budgetary allocation for children in this year's budget is 3.32 per cent(Rs 71,305 crores)of the total financial allocations in 2017-18. Noteworthy here is that this is almost the same amount that has been accumulated in bad loans to the top defaulters of corporate India. They owe banks Rs 70,540.34 crore.
The share of children by population in India's total is population is a whopping 39 per cent which means that almost every third Indian is a child below the age of 18. And yet their share in the union budget at 3.32 per cent is less than even a tenth of that. To simplify it further, centrally sponsored schemes like Integrated Child Development Scheme, Sarva Shiskha Abhiyan and the Integrated Child Protection Scheme and other schemes for children received altogether 10 paisa per Rupee.
However, compared to the previous year, the government has made higher allocations towards children. Last year, these schemes had received only 9 paisa out of a rupee.
When we look at sector-wise allocation towards children's welfare the situation remains the same. Minor increases have been made in Health but it still remains below the WHO guideline of 5 per cent of the GDP. In the below table is given the share of various sectors in the total allocation of 3.2 per cent(Rs 71,305 crores) towards children. A quick analysis of the table makes it clear that education is the priority and protection is the most neglected area. While the share for Child Development has increased to 24.21 per cent since 2015-16 the share of both education and health has fallen in 2017-18.
Table 2
Sectoral Share in Budget for Children (BfC) (in per cent)
| Year | Health BE | Development BE | Education BE | Protection BE |
| --- | --- | --- | --- | --- |
| 2013-2014 | 3.42 | 23.79 | 72.07 | 0.72 |
| 2014-2015 | 3.59 | 23.36 | 72.21 | 0.78 |
| 2015-2016 | 3.93 | 15.74 | 78.95 | 1.38 |
| 2016-2017 | 3.59 | 23.23 | 72.14 | 1.04 |
| 2017-2018 | 3.76 | 24.21 | 70.54 | 1.49 |
Source: HAQ: Centre for Child Rights
The government's intention towards children is not wholly apathetic though. According to the non-governmental organisation HAQ: Centre for Child Rights there has been a substantial increase in the allocations for girl child-focussed schemes like Beti Bachao Beti Padhao, National Scheme for Incentive to Girl Child for Secondary education as well as for the National Means Cum Merit Scholarship Scheme.(See table 3)
Table 3
Scheme/ Programme
2016-17 BE
2017-18 BE
Percentage increase
a. National Means Cum Merit Scholarship Scheme
35
282
706%
b. National Scheme for Incentive to Girl Child
for Secondary Education
45
320
611%
c. Girls Hostel for SCs
4
15
275%
d. National Nutrition Mission
360
1100
206%
e. Beti Bachao Beti Padhao
100
200
100%
f. Integrated Child Protection Scheme
397
648
63%
g. Assistance to Voluntary Organisations
for OBCs (Deptt. of SJ and E)
0.6
1.5
60%
Source: HAQ: Centre for Child Rights
The above schemes are only the lucky few to have got more funds in this budget as most of the schemes for children from marginalised communities have been downsized. The highest decrease in budget allocation is under the Pre-Matric Scholarships for SCs. The allocation for this scheme which is meant to provide crucial financial support to children from dalit communities has been cut down by as much as 91 per cent. The budget for scheme for the safety and care of child labourers also has been reduced by 33 per cen. This is even more befuddling as the government has recently regressed to pass amendments to the Child Labour Act that allow more children to work in hazardous conditions. (See table 4) It's not possible for the government to ensure working children are not exploited with a smaller budget.
There are heavy cuts in some of the key schemes/programmes:
Table 4
| Scheme/ Programme | 2016-17 BE | 2017-18 BE | Percentage decrease |
| --- | --- | --- | --- |
| Pre-Matric Scholarships for SCs | 495 | 45 | 91% |
| National Programme for Youth and Adolescent Development | 35 | 18 | 49% |
| Upgradation of Merit of SCs Students | 3 | 2 | 33% |
| Scheme for Welfare of Working Children in Need of Care and Protection | 3 | 2 | 33% |
| Manufacture of Sera and BCG Vaccine | 132 | 91.07 | 31% |
| World Bank Assisted ISSNIP | 450 | 400 | 11% |
Source: HAQ: Centre for Child Rights
Therefore, in conclusion, this budget as far as children's welfare is concerned is nothing but a mockery of their legitimate needs and concerns. The well-intentioned speech of the Finance Minister too had just three reference to children. According to the Haq report, "Government Budgets are the only powerful tool to show their willingness to reduce such inequalities… In the context of social sector and particularly for children, the Union Budgets have disappointed the marginalized community and the Union Budget 2017-18 further pushed its children to the periphery through severely reduced allocations." For the 47 crore children of India, Acche Din remain a fantasy.