What will the odd-even scheme in Delhi mean for children?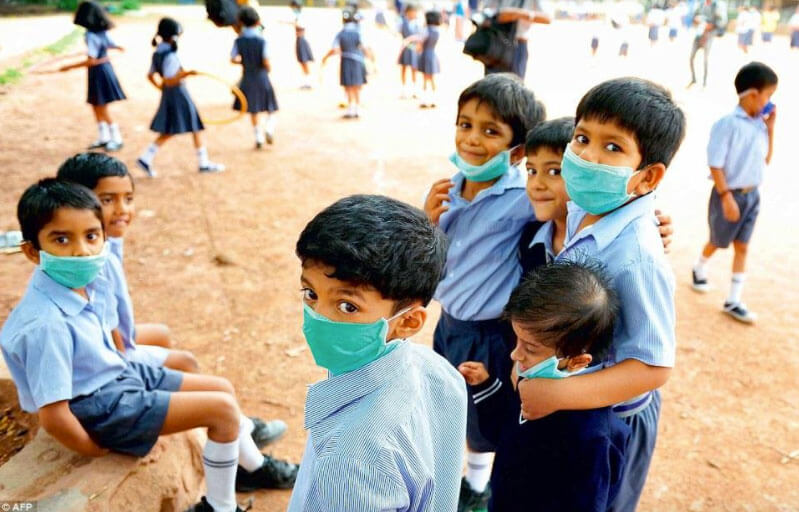 Delhi's rising air pollution poses health risks, especially for its children. Chief Minister Arvind Kejriwal introduced the odd-even scheme as an experimental initiative towards bringing down Delhi's pollution levels. While the scheme did not have a very significant effect on the pollution levels, it did meet with some success in-terms of creating awareness and deeper engagements on the issue of pollution and its impact. A lot remains to be done to make the drive to bring down pollution more sustainable and long term. Serious measures disincentivise people from owning and driving private cars, exponentially increasing quality public transport and last mile connectivity for commuters, disposal of dust on the streets are some to name a few. We hope that this initiative snow balls into something serious, bigger, and sustainable.
Children, Chennai and Unplanned Urbanization
The city of Chennai suffered its most devastating rains in 100 years, affecting its children gravely. While the effects of climate change are apparent across the world and India, the Chennai floods were a result of extreme weather conditions couple with unplanned urbanization that sank the city and washed away the basic rights of many people, especially children. The irony is that in the race for development, even the most basic rights to food, shelter, clothing and school become difficult, making children more vulnerable.
Politics, Paisa Or Priorities Where Do Children Fit?
India is one of the first countries in the world to have a separate budget for children, yet, in the Union budget presented by Finance minister, Arun Jaitley, children received a little over 3% of the total budget in 2015-16 compared to 4.52% in the 2014-15 budget, with a 29% cut in the budget for programme for children. The cuts were seen in schemes launched to address a range of issues including malnutrition, right to education, health, child protection and to support disadvantaged groups – the scheduled tribes and castes. The Integrated Child Development Services (ICDS) scheme was hit by a 54.19% cut. The Shiksha Abhiyan and the Mid-Day Meal scheme saw cuts too, as indicated by HAQ centre for child rights. While the world community declares its commitment towards better investment in the rights of children at the UN Human Rights Council, the consistent fall in the share of children in the Budget in India raises concern about the government's political commitment to its children.
Children legally allowed to work in home based work
The Cabinet cleared amendments to the child labour law allowing children below the age of 14 to work in select 'non-hazardous' family enterprises- helping their parents after school, and during vacations in fields, home based work or forest gathering. The Government envisages that this provisio will help impoverished families earn a living and give children an 'entrepreneurial spirit'. India has 10 million children who work. There are no systems or services in place to monitor, rehabilitate or even obtain justice for children who have been exploited at their work places. Such an amendment allows for millions of children to fall into the ambit of work. In the Indian context where definitions of family are ambiguous (everyone is an uncle and nephew), the provisio in the amendment will deny children who are being forced to work, the right to legal recourse. We would be fooling ourselves if we think that children who work under these conditions would be in a position to attend school, and have time left over for study and recreation. The bill now awaits approval from the Lok Sabha.
Selfie with daughter
A small initiative taken by a village in Haryana was noticed by the Prime Minister, and went viral across India – "Selfie with daughter" campaign- an attempt to recognize and celebrate the girl child as part of his Beti Bachao, Beti Padhao (Save the Daughter, Educate the Daughter) initiative. India, a patriarchal society, though joining in the bandwagon of taking a selfie with their daughters to post on social media, is in no hurry to dismantle patriarchal norms and systemic discrimination against girls and women. From skewed sex ratio, female feoticide, education, child marriage, discrimination, abuse and violence, the selfie with daughter campaign didn't resolve the the problems of girls rights even slightly.
The deworming drive
In an attempt to improve overall child health and address malnutrition, the Government launched the national deworming initiative, focused primarily to reduce the threat of parasitic worm infections and other forms of stomach worms seen in millions of children across India. Parasitic worms in small children interfere with nutrient uptake and can cause severe complications for them resulting in anemia, malnutrition and improper mental and physical development. The Union Minister declared that after making India polio free the target was to make India worm free by deworming all pre-school and school age children between the ages of 1 to 19 years, aiming to cover 48 crore children across the country. Yet, children in drought-hit UP are known to be eating rotis made of grass to fight hunger.
Girls and the Khap Panchayat
The unelected council of elders ordered that Kumari and her 15 year old sister — both members of the low Dalit caste in Uttar Pradesh — be raped and paraded naked with blackened faces, after their brother eloped with a married woman of a higher caste. Village councils in northern India aka khap panchayats, comprised of senior male members of the community's high castes, although declared illegal by the courts, their edicts are still observed in many parts of rural India, controlling the lives of girls in their villages. Kumari went ahead and moved the Supreme Court seeking justice for herself and her family. A global petition seeking justice to the sisters has collected thousands of signatures for the protection of the girls. Meanwhile, the Khap Panchayat has imposed the ban of jeans and mobile phones for girls.
Child rights activist for Nobel Prize
"The Nobel Peace Prize is not just for me. It is for those forgotten children who want education. It is for those frightened children who want peace. It is for those voiceless children who want change. I'm here to stand up for their rights, to raise their voice. It is not time to pity them. It is not time to pity them. It is time to take action, so it becomes the last time … that we see a child deprived of education." Said Malala, representing millions of children across the world, denied their basic right to education, and becoming the youngest recipient of the Nobel Prize. This award brought children issues to the global discussions and will encourage others to fight for young people's rights too. India had a big win with activist Kailash Satyarthi being awarded the Nobel prize for his work on child labour in India. We hope that his voice will contribute to the ongoing struggles for children's rights in India—currently the child labour bill which will bring millions of children into the ambit of work, and the long battle ahead for juvenile justice as a result of the passing of the new juvenile justice law.
Khoya Paya
Women and Child Development Minister Maneka Gandhi and Information and Technology Minister Ravi Shankar Prasad jointly launched the website 'Khoya-Paya', a platform for citizens to report children sighted as abandoned or lost. On paper, the website seems like a good idea. Any parent whose child is missing can update information on this portal which will be shared with the cops and authorities in real time. Anyone in the country can also update information on any missing children they are aware of. But how effective is this on the ground? Is this another idea to protect children that shall never be implemented effectively?
On the 31st December, 2015, the President gave assent to the Juvenile Justice (Care and Protection of Children) Act 2015, killing the spirit of 'juvenile justice' by introducing a judicial waver that allows children in the age group of 16-18 years apprehended for heinous crimes to be tried in adult courts, given adult sentences, and sent to adult prisons. In enacting this new legislation, the government ignored facts and pandered to public pressure based on a single case. Data on juvenile crimes tells us that since a decade juveniles apprehended for crimes have stayed at a constant 1% of all those arrested for crimes. 0% of the total population of children. Almost 80% of them come from uneducated, economically and social backward families. As the law begins to take effect, it is a serious worry that thousands of children who live on the fringes of society, struggling their whole lives for survival, will have no one to fight for them and will end up in prison. We need society to better understand the issue and support the struggle for juvenile justice. Sending children to prison is not going to make the country a safer place for women. #noprisonforchildren